Water fountains offer a more enticing way for dogs to drink than ordinary drinking bowls and rollerball-tipped faucets. These drinking stations provide a much cleaner and safer drinking area for puppies because of the continuous flow of water, preventing the formation of sediments in the bottom of the pan and keeping the drink tasting as fresh and clean as ever.
Selecting the best dog water fountain shouldn't be too difficult, but with so many products, it can seem confusing. So if you are having some issues zeroing in on the most appropriate dog fountain for your canine friend, then have a look at our list of the best dog water fountains around. We've reviewed these products, so you don't need to spend hours searching!
A Quick Overview of Our Favorites
Pros
Cons
Bottom Line
Rating
*Ratings are from Amazon at the time of publication and can change.
The 12 Top-Rated Water Fountains for Dogs
Best Dog Water Fountains: Buying Guide & FAQs
Picking the right pet water fountain for your pooch should be a pretty straightforward endeavor. You only need to make sure that the water is circulating through the system and you're good to go, right? Add a touch of something elegant and you've got a dog water fountain that looks more like modern décor than an automatic dog water dispenser.
Sadly, this is not the case if you really want to provide safe drinking water for your pet. The only way you can ensure you're getting the right product is to spend a little bit more time researching some of the essential elements of a good pet water fountain.
Things to Look For When Buying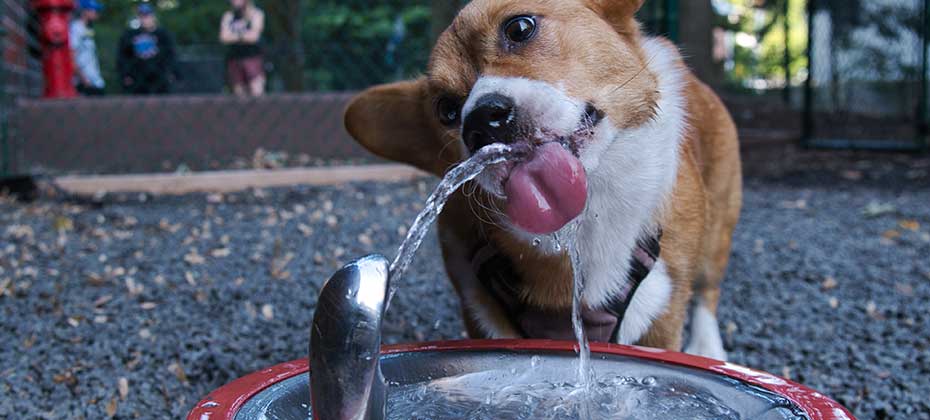 Materials Used
You have quite a handful of choices here. The three most common materials used in pet fountains include stainless steel, ceramic, and plastic or vinyl. Stainless steel and ceramic are more expensive, although they provide exceptional properties when it comes to safety and hygiene. Plus, the look of either ceramic or stainless steel can definitely add to the appeal of your home. This is not to say that a plastic water fountain for dogs cannot be as elegant. Plastic fountains can be cost-effective, which is great for a household on a budget, and they can often have fun and cute designs. However, to really optimize the advantages of plastic pet water fountains, you will need to make sure that it doesn't contain any BPA or other harmful chemicals that are often used in the manufacture of such products.
Filtration Mechanism
Two of the most common filtration systems in such products are charcoal and carbon filters. Most people think that these are essentially the same. While it is true that charcoal contains carbon, it also has residues of oxygen and hydrogen since it is typically made from pyrolyzing wood. It is the unique structure of charcoal that gives it its amazing adsorption capabilities. This allows it to attract pollutants and other microscopic debris in the water as a means of filtration.
Carbon, on the other hand, is an element just like oxygen and hydrogen. By itself carbon doesn't have any intrinsic filtering properties. However, many manufacturers have come to use the terms 'carbon' and 'charcoal' as one and the same. They brand their products as containing carbon, not charcoal, since the idea of using a byproduct of wood burning is simply unnerving to most people. Carbon, it would seem, offers a 'safer' profile for the product.
What this means is that products that are labeled as having a carbon filter are essentially talking about activated charcoal filters for the simple fact that there is no such thing as a pure carbon filter.
Noise Levels
You may also want to get a product that will not create too much noise. This is important as the sound of the motor running can interfere with the restful sleep of your pooch. Therefore, it is critical that you look for a unit that has quiet operation. Also, the splashing of water can be quite annoying, unless you're going to turn it into a soothing sleep aid. If not, there should be a mechanism where the fall of water can be broken to facilitate a gentler flow.
Ease of Maintenance
As much as possible, the various components of the device should be easy to remove, clean, and reassemble or replace. If it can be cleaned through your dishwasher then that would definitely be a big plus. Be aware than many of the pumps in pet fountains need to be cleaned out regularly. Pet hair gets caught in them over time and blocks the motor, which causes it to stop working.
Why is Water Important for My Dog?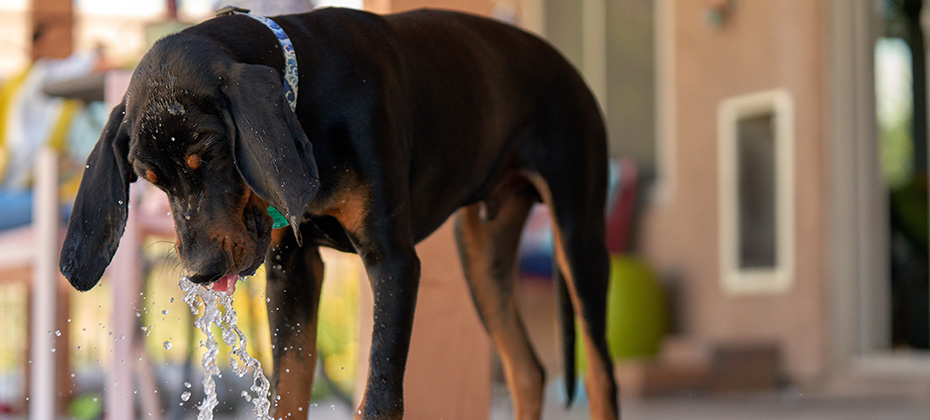 Water is a vital part of any dog's daily requirements. Inside a dog's body are a series of chemical reactions that require fluid to occur. Without a watery environment, many of these chemical reactions will simply not take place. If this happens, then our pooches will not be able to utilize the various nutrients that you have given them through their food. Eventually, this will lead to health issues. Not that a lack of water wouldn't already cause problems. In fact, your dog will deteriorate faster from lack of water than lack of food – just like humans do.
Water is also important for the regulation of body temperature, which dogs aren't good at. For humans, if our body gets too hot, we sweat to get rid of the excess heat. Dogs don't perspire, they pant. As they pant, they are slowly releasing carbon dioxide and moisture into the outside air. This helps them lower their body temperatures. Unfortunately, this often isn't fast enough to help lower down their body temperatures to normal levels. As such, they will require plenty of water; especially after intense physical activity, playtime, exercise, or long exposure to the sun.
How to Get Your Dog to Drink Water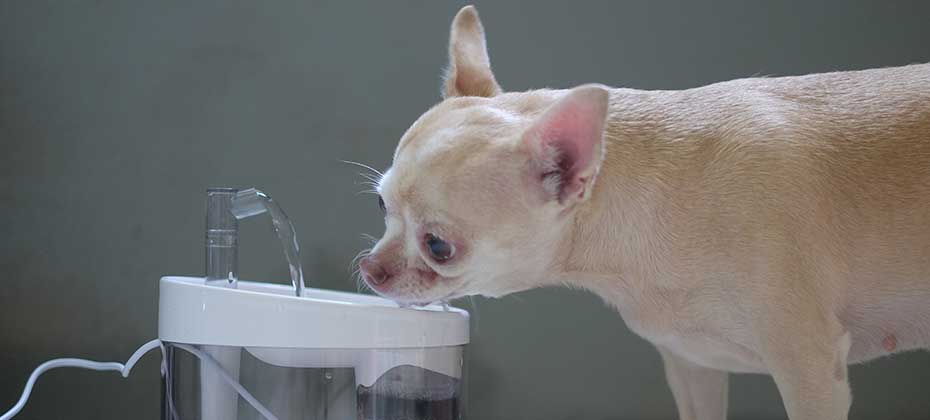 Pet parents understand how important water is to the health of their dog. Here are some tips for you to consider if you're having trouble getting your dog to drink more:
Place several water bowls or drinking fountains around your home, especially in areas where they frequent. However, just make sure that this is not located in the same area where they usually eat or poop.
Make sure your pet will be able to drink without having to strain their neck. That is why a water fountain is ideal since the spout is already located at a higher position.
Add some natural flavoring in your canine friend's drink, such as chicken or beef flavored broth. This helps provide a more enticing flavor for your pooch, making them want to drink more.
If you're not using a water fountain, make sure to change their water at least every 2 hours to prevent it from going stale and providing your pooch with fresh, clean water. It is for this same reason that water fountains are very useful as it minimizes frequent water changes.
Clean your pooch's container. Over time, sediments can form at the bottom of the dish which can make the drink quite unpalatable.
Consider giving your pooch wet or canned dog foods as these typically contain 70 to 80 percent moisture. You can also try giving them treats that are rich in water such as watermelons. Just don't give them the seeds or the rind, though.
Everyone needs water to survive, even our dogs. Dog water fountains are preferable to conventional bowls as these provide safer, healthier, and more hygienic drinking water for our pets. It also minimizes the hassle of changing the water. Choosing the right dog water fountain is easy. You can start with our list of the best dog water fountains or check out some of our tips on the selection of an appropriate product for your dog.
Sources:
Dr. Katie Grzyb, DVM, Dehydration in Dogs and Cats: How Can You Tell If Your Pet is Getting Enough Water?, PetMD
Water and Your Dog's Health, WebMD
Frequently Asked Questions
The majority of dog water fountains contain a motorized water pump that sits at the bottom of the fountain. The device pushes a stream of water up into the opening of the fountain, causing it to flow out of any available holes in the design. Somewhere along the way, there is usually a filter that the water passes through.
Even though it's temping to leave water in a fountain for longer, you should still change the water every day and check the pump for debris and pet hair. Bacteria can still enter the fountain, even with the filtering system. Fresh water is always best, and you won't know how much your pet is drinking unless you open the fountain and check the level (unless you buy a clear fountain, of course).
Certainly! There's no real difference between a dog or a cat water fountain. They're just marketed towards particular household pets so that pet parents can find the products using keyword searches. You'll find that all of your pets enjoy drinking from a water fountain. If you do have multiple pets, we suggest a larger capacity water dispenser.
Slime occurs because of your pet's saliva. When they drink, their saliva is introduced in to the water, and passes through to the reservoir. It's completely normal, but it can't be stopped. In fact, it's one of the reasons that you really should regularly clean the fountain.