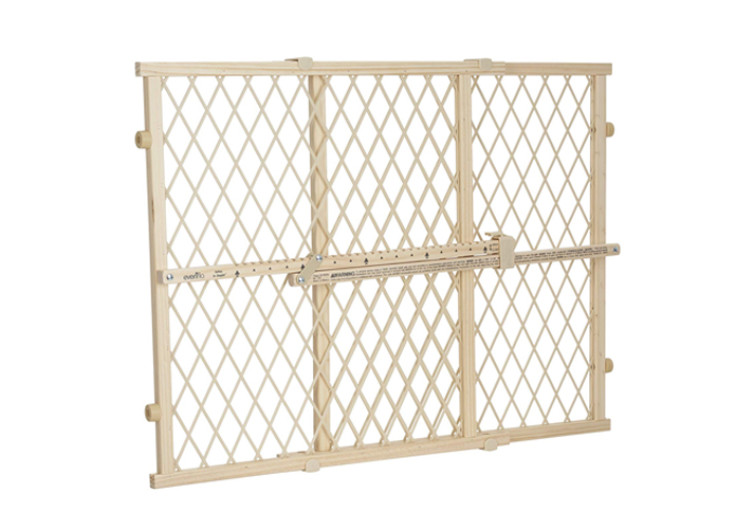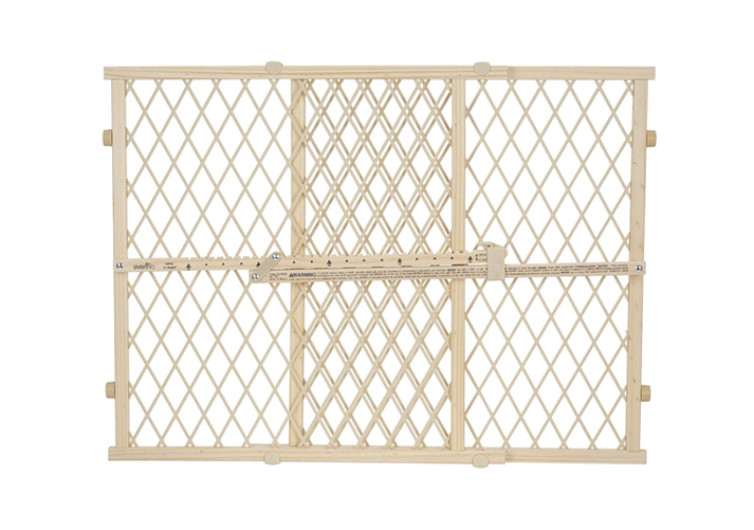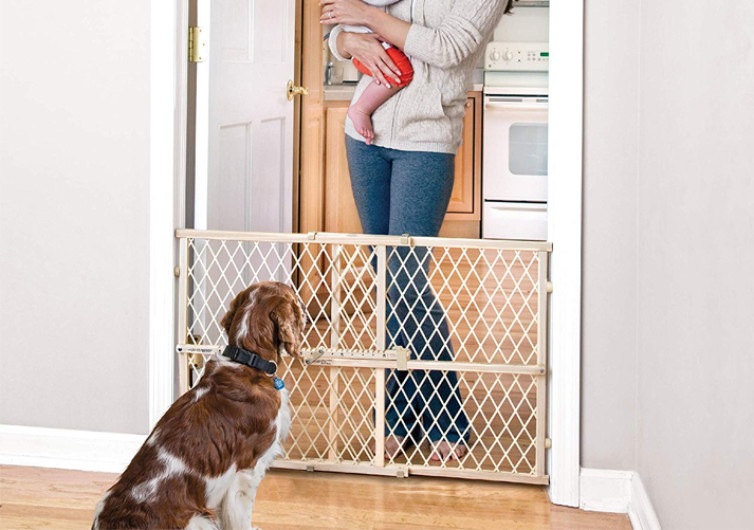 Evenflo Position and Lock Wood Gate
There will always be instances when you want your pet to stay in a certain part of the house. Some pet parents may want to keep their dog out of the kitchen, their workstation, or their newborn baby's nursery. Creating a barrier between your dog and these places is, therefore crucial. One of the best ways to do it is by installing a pet gate. Evenflo has the answer with its Position and Lock Wood Gate.
The Evenflo Position and Lock Wood Gate is a very simple barrier system that you can install in minutes. It fits in spaces that are not wider than 42 inches. The Position and Lock is less than 2 feet high, at only 23 inches. This can be very easy for certain breeds of dogs to jump over.
Installing the Evenflo wooden gate is easy. It comes with rubberized bumpers with pressure mounts. These bumpers push against the surface of two opposing walls to help secure the gate. There is a marked and notched locking bar that helps in the adjustment of the width of the gate. This also helps secure the gate on the passageway.
The vinyl-coated wire mesh design of the gate gives pets a clear view of the other side of the barrier. If you have young children, this is a great tool for introducing them to your pets, and vice versa. It is a neat device that can help in the early socialization process of both children and pets.
The Position and Lock Wood Gate comes in a neutral yet elegant farmhouse style. The warm tones of wood and the modern black accents of the mesh make this Evenflo gate easy to complement your home's interior décor.
High-quality wooden construction with durable hardware
Non-marring rubberized bumpers
Notched and marked secure locking bar
Neutral style with 4 available colors
How Does This Product Work?
The Evenflo Position and Lock Wood Gate works by creating a barrier between two spaces in your home. Because of the unique design of the portable gate, you can use it to create a safe space for your pet and your kids. As long as the Evenflo can fit into the width of a passageway, then it should be able to create a temporary physical barrier.
Installing the Evenflo is easy because it already comes with a unique locking mechanism. There is no need to drill a hole into the wall to fix the device with hardware. The sides of the Evenflo come with pressure-mounted bumpers that push against the wall. This helps keep the gate secure. To see how it stacks up to the competition, see our article on the best dog gates.