They grow up so fast. One day your kitten is a tiny lump of fur with razor-sharp teeth, and the next thing you know, they are free climbing the kitchen cabinets.
As they get bigger, you may ponder the best time to switch from kitten food to adult food. There's much to know about the transition to an adult food that is worth considering. This includes factors such as the difference between your average house cat and larger breed cats, ensuring they don't exceed the ideal adult body weight and the key difference between kitten food vs. cat food. Read on to find out more.
Can Kittens Eat Adult Cat Food?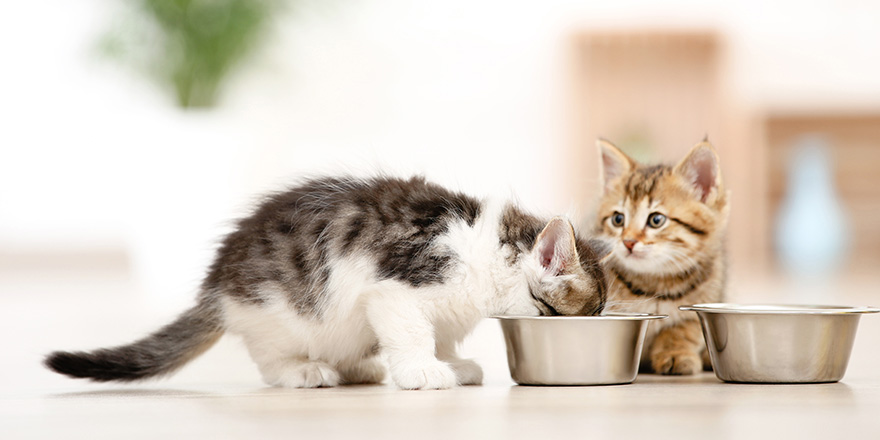 At such a young age, kittens have their own nutritional needs compared to adult cats. Kitten food has more nutrients, such as protein, fat, DHA, and extra calories, than adult cat food. Kittens will rely on these increased levels of nutrients to be able to develop and grow effectively.
It's not all about nutrition, either. Dry kitten food, in particular, is smaller so that their tiny mouths and teeth can pick it up and break it down.
Note: It's worth noting that if a particular cat food states that it is suitable for all life stages, it's perfectly acceptable to feed it to your kitten. However, the crucial thing to remember here is that you must pay special attention to the feeding guidelines. Just because it's safe for your kitten to eat doesn't mean they will require the same volume of food as an adult cat.
When Can Kittens Eat Wet Food?
Kittens can begin eating wet food when they are between four and eight weeks old. At this time, they are weaning or have been weaned and require a more balanced kitten food to support their needs.
When Can Kittens Eat Dry Food?
Kittens can begin to eat dry food around the same time (four to eight weeks old), but it's ideal to provide soft foods. If you eventually plan on introducing them to dry food, you must soften the kibble with water to make it easier to chew and digest.
The Importance of Making the Switch
As mentioned previously, kittens require a different level of nutrients compared to adult cats. Since they are growing fast and have significantly higher energy levels, they need these nutrients to support these factors and won't get what they need from an adult formula.
When they mature, your kitten's nutritional needs will also change. It will no longer rely on the extra support and therefore need to transition to adult cat food to prevent unnecessary weight gain.
When Can Kittens Eat Adult Food
You can begin feeding your kitten cat food when they reach their first birthday. To avoid digestive upset, you will need to gradually introduce adult cat food over a short period. You must transition your kitten over a seven to ten-day period.
How to Make the Switch From Kitten to Adult Cat Food
Take a look at the guidelines below, which detail how to make the switch to adult cat food
Day 1 – 2: Use 1/4 of the new food and 3/4 of the kitten food.
Day 3 – 4: Use 1/2 of the new food and 1/2 of the kitten food
Day 5 – 6: Use 3/4 of the new adult food and 1/4 of the kitten food
Day 7 – 10: Primarily use the adult cat food
Note: Since larger breeds, such as the Maine Coon will mature slower, you will have to wait 18 months to two years before transitioning your kitten food to cat food.
Potential Problems
When kittens eat cat food, it's not uncommon for them to experience digestive distress. If this is the case, it's completely safe for them to resume eating their previous kitten food. This also applies if you've found that your kitten has seemingly lost their appetite.
What to Do if Your Kitten Experiences Issues
Apart from giving your now adult cat kitten food, there are also a couple of things to consider to help them with the transition process.
1. First, when choosing your adult cat food, ensure it's a brand offering high-quality ingredients and nutrients.
Take the time to analyze what the food offers your feline friend. In particular, look out for the ingredients here and the amount that the food contains:
Protein – to support rapid growth and development. Felines require far more protein than dogs
DHA – contains fatty acids for brain and vision development
Fat – this also impacts rapid growth and development
Taurine – this supports vision, digestion, and heart muscle function.
Vitamins & Minerals – vitamin A, magnesium, and copper are crucial for kittens during development.
All the ingredients above are vital to your cat's well-being as they can help maintain their eyesight, heart health, immune system, and more. If you're unsure about the best option, give your fur friend a talk to your vet.
2. If you've attempted to transition to dry adult cat food, consider feeding them wet food instead.
As expected, wet food has a higher water content that is integral to your cat's weight and urinary health. In addition, wet alternatives can help prevent dehydration in cats.
3. It's a long shot, but it's crucial to understand that cats can develop food allergies. This is uncommon, but it can happen. If you notice troubling signs and symptoms in your kitten, take them to your vet.
Frequently Asked Questions
Most breeds are considered kittens until they reach around 12 months of age. This excludes the Maine Coon breed as they take a little longer to mature. Maine Coons are considered adults between 18-24 months.
A kitten should switch from kitten food to cat food at around 12 months old. Adult cats should not routinely be fed kitten food as they risk gaining weight due to the addition of nutrients and caloric content.
Absolutely. Switching brands is common and safe, but it's important to consider what the new brand offers compared to the old one. Your kitty should always be given the best option available.
Kitten formula, food, and adult cat foods are all perfectly safe for your fur friend. However, there are many human foods that you should 100% avoid giving them.
These include onions, garlic, grapes, raisins, chocolate, raw eggs, milk, and dairy products.