If you've never owned an outdoor cat before and need a little assistance in choosing an appropriate diet then you've come to the right place. Outdoor cats require different nutrition compared to less active/indoor cats. Not only do they burn more energy when out exploring the world but they also need an extra supply of vitamins and minerals to boost their immune system.
Additionally, during colder months, they will need a diet that will keep their coats thick and healthy to protect them from harsh weather. So if you've been on the lookout for the best cat foods for your outdoor feline, take a look at the guide below where we have broken down some of the highest-rated options. Moreover, we've put together a handy buying guide complete with some frequently asked questions so that you understand everything you need to know to feed your adventurous fur friend.
Did You Know?
Animal protein is the key ingredient in cat food as they are obligate carnivores. Protein is vital to the development and maintenance of muscle mass. Cats are physically unable to break down protein substitutes so animal protein is the only option!
Providing a wet food diet for your cat will ensure they are adequately hydrated as you can't be sure they will be drinking enough throughout their day.
Kittens, outdoor cats, and senior cats will need recipes with a higher protein content to fuel their current lifestyles.
Carbohydrates are not necessary for cat foods as their diet should mostly consist of protein. Some argue that carbs are 'fillers'. This is why you may see packaging stating that their formula contains no potatoes.
The 10 Top Rated Cat Foods For Outdoor Cats
Calories
First 5 Ingredients
Pros
Cons
Bottom Line
Rating
Best Outdoor Cat Food Buying Guide & FAQs
What to Look for When Buying Buying Cat Food for Outdoor Cats
Outdoor cats are naturally more active and will spend a lot of time exploring outside of the home, so there are things that you must take into account when feeding your adventurous feline.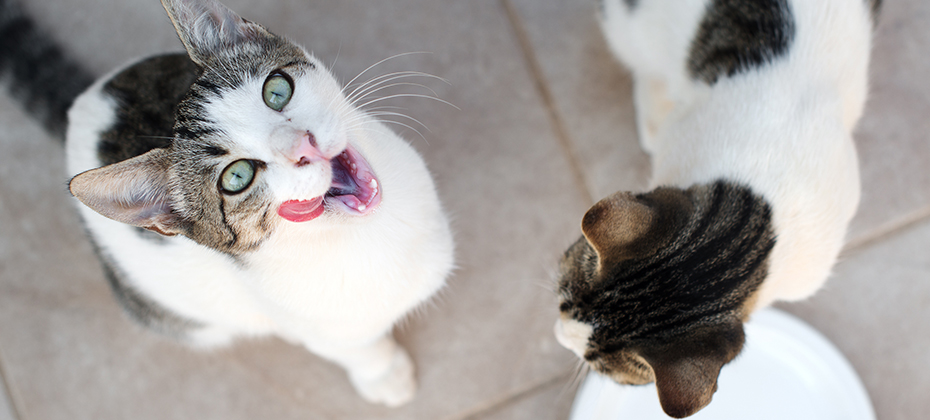 Since many commercial cat food can seem similar, it's important to understand what to look for when purchasing the best alternative for your feline friend. Take a look at this list below:
Protein
Cats need food high in protein and cannot survive without animal meat in their diet. Plant substitutes can make them sick as their digestive systems are not built to break it down effectively, so anything but meat is a no-go. Typically, cats need no less than 30% protein in their food to support their busy lifestyle.
Moreover, it's important to understand that the required protein content will differ depending on the cat's age. For example, kittens will need cat food with an extra amount to support their muscle development. Similarly, adult cats that like to spend their days stalking and exploring the great outdoors will need higher-protein cat food to supply energy.
Carbohydrates
Carbs are not a 100% essential ingredient in cat food as a healthy feline can typically survive without. Revisiting the previous point, cat food should be composed mainly of animal protein as it is the key ingredient to keeping them happy and healthy. However, fruits and veggies are also necessary in cat foods as they can benefit their organs, skin, and coats.
Essentially, carbohydrates are debated as 'filler' ingredients to cat lovers as they can decrease the room in cat foods that could otherwise be taken up by protein and healthy fats.
Hydration
Wet cat foods are an excellent additional source of hydration. Cats typically don't drink enough at the best of times, so wet food may be the solution if you're unsure or concerned that your cat isn't well-hydrated.
Fats
Fats are an essential part of diets as they are responsible for providing energy. They also help by transporting nutrients across cell membranes and influencing the absorption of various vitamins. So fats are something you shouldn't shy from as a cat lover.
Vegetable oil and animal fats are common fat sources in both cat and dog foods. Arachidonic and linoleic acids are essential fatty acids and are some crucial components found in poultry, pork, beef, corn, fish oil, and safflower oil. In addition to this, fish oil and flaxseed are also vital as they contain omega-3 fatty acids.
Vitamins and Minerals
We all know and understand that vitamins and minerals are an integral part of any animal's diet, but this goes especially for the outdoor feline.
For example, it's worth looking at recipes with important antioxidants as these will help support and strengthen your cat's immune system. This will make your cat healthier in general, and it can also potentially prevent them from being susceptible to outdoor factors that will threaten their well-being.
Although pets can typically generate their supply, cat food containing vitamins A, C, and E can help protect their body significantly. In addition, selenium and zinc are also on the list of most potent antioxidants, so always look out for fruits and veggies that will contain these in the ingredients list.
Indoor vs. Outdoor Cat Food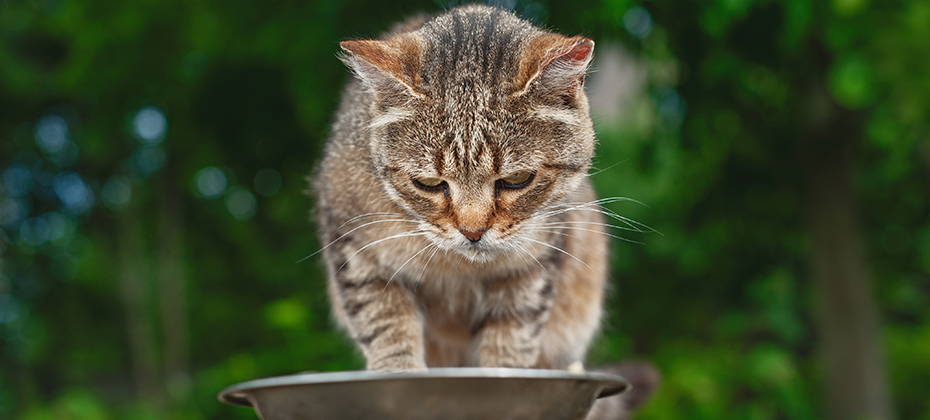 Since outdoor cats burn more energy during the day, they need a specific diet with a higher protein and fat content. As a result, their needs are very different from cats that are less active or spend all of their time inside.
An indoor cat, or one that doesn't get as much exercise as others, will require foods that have fewer calories to prevent them from gaining weight.
In addition to this, you can't always guarantee that your outside cat is adequately hydrated as they won't have frequent access to fresh, clean water. This is why it's important to feed them a wet cat food diet or even add a topper to their dry food. On the other hand, indoor cats will always have water, so it's more acceptable to feed them a dry food-based diet.
You may also like our review on indoor cat food.
Tips For Feeding Feral Cats

It's not uncommon for your cat to come home accompanied by a friend that will guilt you into a free meal. It's also admirable when cat lovers go out of their way to feed stray cats who need nourishment.
Below are some listed tips on feeding a feral cat:
Leave fresh water out for them to drink from to stay hydrated.
Try to establish a schedule. By doing this, you can observe them closely and be on the lookout for any illnesses or injuries they may have.
By observing the unfamiliar felines, not only could you potentially save their life, but you could also protect your cat from contracting something dangerous by seeking veterinary advice and assistance.
Like your own cat, you should look to feed feral cats twice a day.
Take note of how much they are eating and make sure that the food is eaten or disposed of. This will prevent other animals or pests from visiting and making themselves at home.
If multiple cats are visiting at mealtimes, give them their bowl if possible. This will reduce the chances of them fighting over food.
Frequently Asked Questions
Some cats are born for the outdoor lifestyle whereas others are content with life indoors. Those that live inside for the majority of their life generally have a longer lifespan as they are not exposed to the dangers that linger outside. However, it's debated that a lot of felines are happier when allowed to roam and enjoy independence.
Generally, there are a lot of factors outside that can put our feline friends in danger. These include cars, predators, diseases, injuries, harsh weather, fights with other felines, and sadly, human cruelty.
In addition, some cats can get lost when left to explore outside. Take a look at our detailed guide for finding lost cats if you're concerned this may happen to your own kitty.
Not all cat foods listed here state that they are specifically targetted for outdoor felines. The same stands for other cat food reviews as we have chosen options that will better suit the specific needs of a more active feline.
So with this in mind, you are able to widen your scope to other cat foods as long as you understand cat nutrition and what your feline needs to keep them healthy.
It's necessary to feed outdoor cats on a schedule. Preferably, you want to feed your cat twice a day, once in the morning and then again in the evening. Always use the instructions labeled on the cat food packaging, especially if they list guidelines for specific weights, ages, and circumstances. However, if you're unsure, you can always talk to your vet for some advice.
Similar to feeding feral and stray cats, your cat should be fed twice a day following the guidelines provided on the cat food packaging. Typically, your cat's food should provide them ample support day-to-day so that you won't need to feed them more which could prove to be more harmful than beneficial.
Cats might be well-intune with their hunting instincts but that may not necessarily mean that they are good at catching prey so they can't be guaranteed to feed themselves adequately. Besides, some of the best cat food for outdoor cats will contain ingredients that will boost their overall health and protect them against some of the dangers lurking in the great outdoors.