Dogs are capable of many things including loving you unconditionally, as well as stealing the show whenever you take them out for a walk. These pets are mostly beautiful but some turn more heads than others and people often stop to admire their natural beauty. But what features make a dog stand out and referred to as cute? It's not that easy to answer, as choosing the prettiest dog in the world completely depends on the eyes of the beholder but there are certain features that are visibly attractive and can't be mixed.
Pretty dog breeds mostly come with long fine coats which attracts more attention than anything else as it's always the first thing people notice. Additionally, when the dog has interesting colors and patterns on the long and shiny fur coat, the 'oohs' and 'ahhs' from admirers at the park will add up. Make no mistake about it; the best looking dogs are not just the ones with long fur coats. Other characteristics of a beautiful dog breed include graceful body lines and captivating cute eyes. In no particular order, check out some of these showstoppers we rounded up for you.
Samoyeds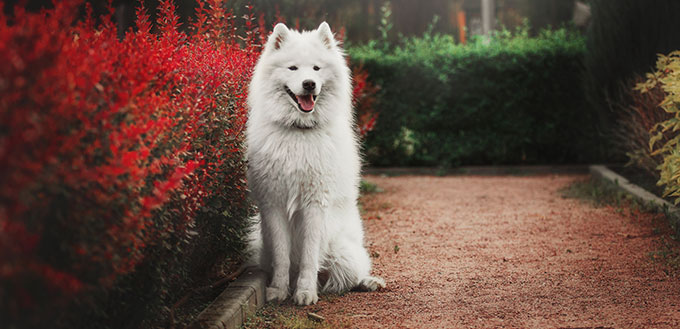 As cute as a button, the thick, white, double-layer coats of Samoyeds can't get any prettier. Not many beautiful dogs can hold a candle to the Samoyeds and they always elicit attention wherever they go. Before you consider getting one, however, keep in mind that the dense and fluffy coat needs constant grooming to retain its shine and beauty. Also, a hot climate is not suitable for this dog breed because of the density of hair it has but if you usually have cool weather conditions and can afford to take care of this fluffy fellow's grooming needs, there is absolutely no harm in adding a Samoyed to your household.
The dog breed is generally friendly and lovely to have around. They show so much love to members of their household and get along with everyone else outside the fold. Bred to work as hunting, herding, guarding, and sledding dogs, Samoyeds should be kept busy to keep them healthy and happy all the time.
Related Post: Samoyed Puppies for Sale
Pomeranian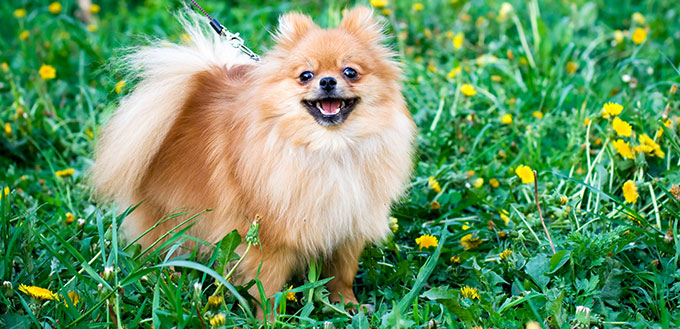 Not once has the Pomeranian failed to leave a smile on the face of anyone who beholds its cute little face. Its miniature size classifies the dog as a toy dog breed. Aside from the good looks, the Pomeranian is quite easy to train which makes the breed a great choice for rookie dog owners or those who don't have a lot of space at home. The fur of a Pomeranian is characterized by a dense and attractive double coat but unlike other breeds with such coats, this one doesn't require a lot of attention in terms of grooming. Intelligent and very active, the variety of colors this breed comes in include sable, red, orange, lavender, brindle, merle, chocolate and cream.
Also, among the toy dog breeds, the Pomeranians are one of the easy ones to train, though they are not mostly nice to strangers; this attitude stems from their natural instinct to protect the owner. Don't underestimate the breed because of the size as it has a very loud barking voice which it brings to the fore whenever something suspicious pops up. Additionally, they are not to be left alone with children without supervision as the kids might hurt the dog since it's very small. Generally, Pomeranians get along with everyone in the household, including cats.
Maltese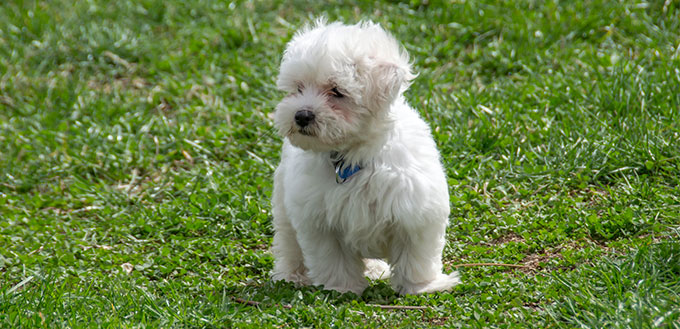 Equally a member of the toy dog group, the Maltese is definitely one of the most beautiful dog breeds in the world right now for all the right reasons. The elegant breed has a flowing (floor-length) white coat that turns heads and warms its way into anybody's heart, no matter how you feel about dogs. The Maltese can charm anyone and get them to do their bidding with those cute eyes and face. They also have a lovable personality that helps them socialize with people very easily. You just can't say no to one of these cuties.
Related Post: Dog Food for Maltese
Maltese may look all adorable and cute but can display an unexpected level of bravery and ruggedness. They are equally smart which makes them easy to train. Seeking adventure is part of what the Maltese are known for, thus, the owner must be ready to keep it engaged and active. For a dog with such a long coat, regular grooming must be done on this breed to bring out the best looks they have to offer. If you want a dog you can play dress-up with, consider getting a Maltese.
Related Post: Dog Bandanas
Chow Chow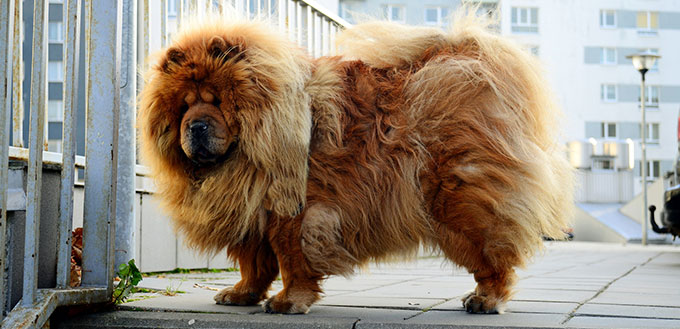 You will be forgiven if you mistake the Chow Chow for a lion cub, thanks to the thick hair around the neck. This Northern China bred dog is also called Songshi-Quan which means puffy-lion dog. Chows are generally good looking in their unique coats that come in colors like blue, cream, red, cinnamon and black. Its black-blue tongue and straight hind legs set it aside from other breeds.
Chows are not known to be playful or exactly cuddly in the actual sense and are mostly reserved, preferring to keep to themselves. This makes them the wrong choice for new dog owners who are in desperate need of cuddly companions. However, if you spend a lot of time away from home, a Chow Chow is a suitable choice for you because it won't mind being left alone for long. On the other hand, you need to be careful with this one as it tends to wander off to embark on adventures. The aloof mood of Chows makes them independent and often stubborn, thus, training them from puppyhood is best for better results. If well trained, a Chow Chow gets along with people and fellow pets.
Siberian Husky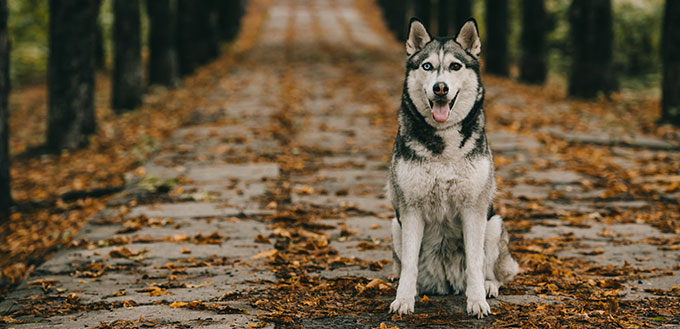 Characterized by a thick double coat and triangular ears that are always erect like that of a wolf, the Siberian Husky has distinctive markings on the coat that attracts attention. The medium-sized dog is an Asian breed made for sled-pulling, guarding, as well as keeping the owner company. It is active, energetic, and resilient, with captivating almond-shaped multi-colored eyes that can drown you in their glory. While beautiful blue eyes may not be found in all Huskies, their gaze is very expressive and you might get lost in those cute eyes.
Huskies are also mischievous in nature but loyalty remains their watchword at all times. There's never a dull moment around these furry fellows. However, they are known for their intelligence and can be very friendly which makes them a bad choice for a watchdog as they can befriend anyone. When trained properly, this dog breed can be a great pet but if you admire this breed and want to get one for the family, be prepared to exercise it daily to meet up with its breed requirements to stay healthy and happy. The breed loves to work and stay busy all the time. They might be one of the pretty dogs in the world right now but that doesn't stop the Huskies from working hard. They can pull sleds through long distances, making them a suitable hiking companion.
Alaskan Malamute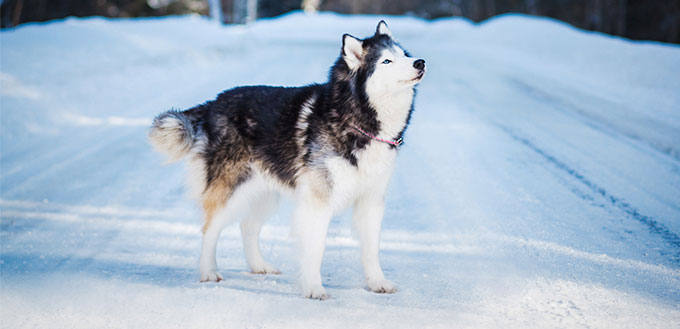 Similar to the Siberian Husky, the Alaskan Malamute also looks like a wolf and is known for its strength that helps it drag heavy items as a sled dog. The Alaskan bred beauty has the muscular structure of a wolf, complete with a long thick coat, erect ears and a unique blend of white, grey and black markings on the body. For dog owners who don't mind exercising their dogs regularly, as well as grooming and doing all kinds of stimulation procedures, an Alaskan Malamute will surely make a great companion dog. However, if you are new in the business of dog ownership, it is important to know that these cuties require serious maintenance like frequent grooming, regular exercise, as well as attention.
Proudly one of the oldest dog breeds still existing in the world today, Malamutes come in a variety of colors, including light grey, sable, black & white, grey & white, as well as red & white. The beautiful color combination makes it one of the most beautiful dog breeds around. A family-oriented dog, a Malamute is very friendly, thus, might not be a suitable watchdog but cohabits well with children and other pets if it's well trained.
Poodle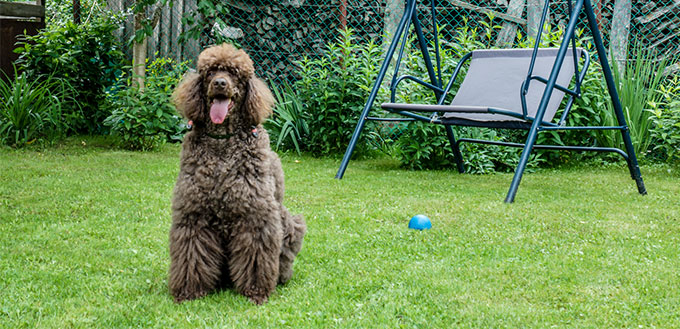 Whether it's a Standard Poodle, Miniature Poodle or Toy Poodle, Poodles are generally adorable in unique ways. The dog breed sports elaborate hairstyles and exudes elegance but if you think it is all beauty and no brains, you need to brace up for the amazing things the Poodle is capable of. They may appear comical and toy-like but Poodles are highly intelligent. They come in different colors such as black, white, sable, silver, black & white, brown, apricot, cream, blue, red and many more.
Only second to the Border Collie on the list of most intelligent dog breeds, Poodles are efficient in many activities including circus shows, tracking and more. Their intelligence and cuteness have been rewarded with awards at several shows around the world, including the Westminster Kennel Club Dog Show and the World Dog Show. The level of intelligence found in the Poodle makes it easy to train the breed. Regular grooming is also required for this breed but when done properly, a satisfactory result is what you get. Notably, Poodles love swimming and can be useful with anything that has to do with water.
Saluki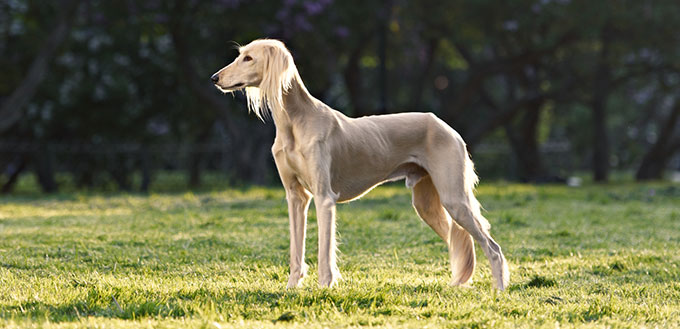 Effortlessly beautiful, the pretty dog breeds are not complete without a mention given to the long-legged Saluki. In the dog world, the Saluki would easily pass as a supermodel with its slender and picture-perfect body structure. It comes in different colors with attractive patterns on the coat while the aesthetics are accentuated by its elongated snout, lithe body, fluffy drooling ears and elegant tail.
Just like their adorable appearance, Salukis are friendly and intelligent which makes it easier to keep as a family dog. However, when it's not inactive (which hardly happens), the Saluki can give you a run for your money. They are very energetic and fast; those long legs have to be put to good use after all. As such, this breed requires a broad fenced compound to roam free and training it can be tricky.
Afghan Hound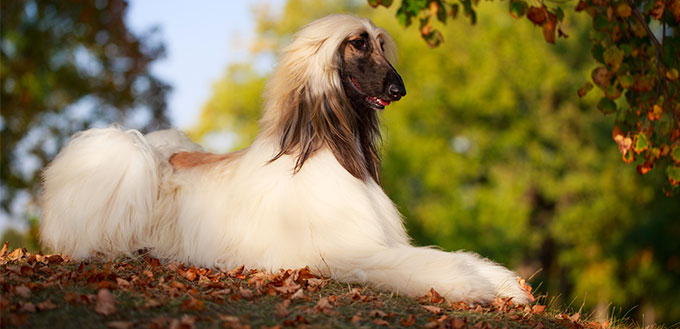 Known to be one of the most elegant breed of dogs in the world, some people believe that the Afghan Hound is the prettiest dog in the world. The breed is distinguished by unique features like its thick, fine, silky, long coat, accentuated by a beautiful tail with a ring curl at the end. Just a few dog breeds can compete with this Hound when it comes to sporting the best coat, as well as combining pretty and spooky in a strange manner. This feature is evident in their long faces.
As a dog developed for sight-hunting, the Afghan Hound needs plenty of space to run free and can be difficult to train. They also shed a lot, considering the density of hair on their coats, that must be quite a handful. Consider these challenges before getting one of these cuties but also know that the affectionate and sweet nature will make you fall in love.
Papillon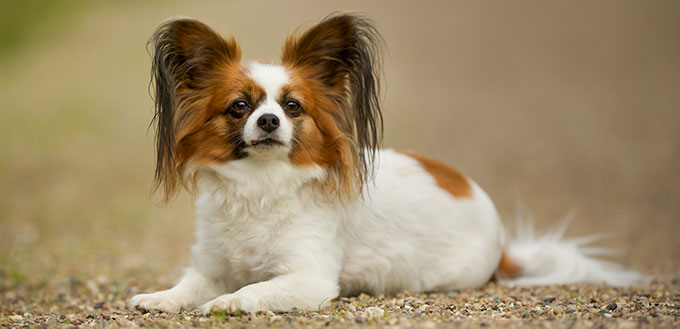 Rounding up our list of the most beautiful dog breeds is the Continental Toy Spaniel, popularly called Papillon. One of the oldest among the adorable toy spaniels, this breed looks like a butterfly when the long and fringed hair on the ears are erect, thus the name Papillon which is French for butterfly. Papillons are just too cute to ignore, with their sweet eyes and inquisitive expression, you just can't help but be in a good mood when around this breed. Their long silky coats also come in a variety of attractive colors combined perfectly.
The agile Papillon dog breed is easy to train, thus, new owners can enjoy their company. They also do well in professional competitions or learning a few tricks to impress anyone who cares to watch. They may look like lap dogs but the Papillon is not one to stay in one place for long, its agile nature means you should keep it busy most of the time.