Balancing safety with the need for freedom is tricky for cat owners, leading to many felines becoming confined indoors.
Indoor cats can still live a full, happy, active, and productive life. Plus, it gives humans peace of mind that they are safe from the dangers of modern urban life. But is it cruel to deny a cat the opportunity to roam?
My Pet Needs That enters the indoor cat vs. outdoor cat debate to explore the pros and cons of each so that you can decide.
The Rise of the Indoor Cat
Before the 1950s and the widespread availability of kitty litter, most domestic cats could roam freely and, in many cases, had access to indoor and outdoor spaces. But with the arrival of cat litter, pet owners were given the option of hygienically keeping their kit inside.
Coupled with increasingly urbanized areas, a rise in traffic volume, and general safety, health, and pet welfare concerns, the number of permanently indoor cats have been steadily on the rise ever since. Today, 63% of all domestic cats in the US are indoor cats.
Wildlife concerns have also figured in the shift in popularity from outdoor to indoor cats. With felines prolific hunters, it has been estimated that up to four billion birds are killed yearly by domestic cats in the US alone.
Pros and Cons of an Indoor Cat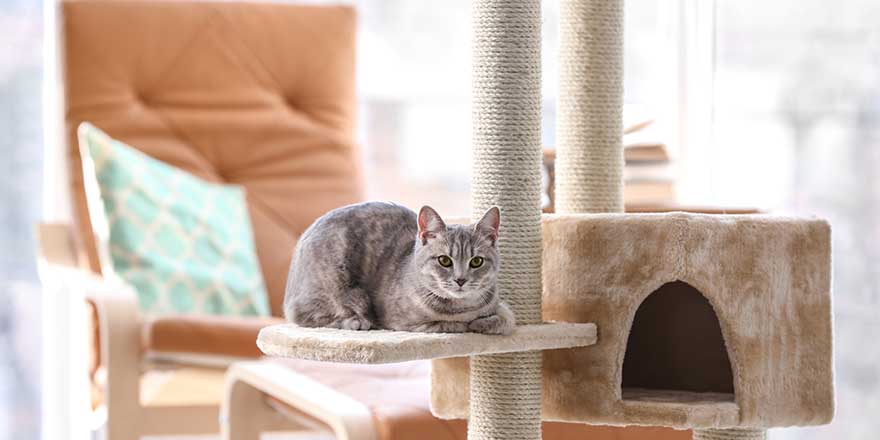 Contrary to popular belief, cats are not always aloof and super-independent. Many cats love company and can happily spend their time inside with their human family. But they do need to have all their needs met to live their best indoor life.
The decision to permanently keep a family cat indoors is often driven by concerns over your pet's health, well-being, and safety if left to wander outside. Here are the main pros and cons of owning and caring for an indoor cat.
Pros
Life expectancy. One documented benefit of keeping an indoor cat is that they typically live longer. According to researchers from the University of California-Davis, an indoor cat has an average lifespan of between 10 and 15 years, compared to an exclusively outdoor cat lifespan of just 2-5 years.
Health. Outdoor cats are at greater risk of illness, injury, and other dangers than their indoor-living counterparts. Indoor cats are at a reduced risk of accidents such as being hit by a car or attacked by predators such as coyotes. They are also protected from catching illnesses and infectious diseases from other cats, such as feline leukemia, feline infectious peritonitis, and feline immunodeficiency virus (FIV). Feline distemper is another highly contagious disease you can prevent by keeping your cat indoors.
Suits their personality or breed. Some cats show a clear preference for staying indoors and avoiding going outside. However, all cats are individuals, and their personalities may be best suited to indoor life. Certain breeds are also best kept indoors, especially pure breeds that are expensive and may attract unwanted attention or even be stolen.
Hairless cat breeds, white cat breeds, and breeds with long, dense coats are also best suited to being away from the dirt and elements of the outdoor environment.
Avoids territorial disputes. Keeping your kit indoors also reduces the likelihood of an unpleasant or aggressive encounter with other cats in their 'hood. Disputes over territory can lead to stress and injury, especially if your cat is the less dominant type.
Cons
The lure of the outdoor. Many indoor cats are still curious about what's happening outside, so it can be a 'flight risk' if you accidentally leave a door or window open. The danger with this is that your indoor cat is less streetwise and may find life on the outside difficult, even dangerous. They can also be startled and, as they have not marked their outdoor territory, can get easily lost.
Boredom. The biggest impact of being an indoor cat can be on their emotional health. Separated from the stimulus of the outside environment, there are reduced opportunities for an indoor cat to be, well, a cat. From interactions with other felines to hunting, exploring, and living an active cat life, the indoors can become predictable and unstimulating. And feeling frustrated or bored is not a good place for any cat. They could then start acting out, for example, displaying aggressive behavior, spraying, or becoming destructive around the home.
Dependency. To prevent boredom and ensure your indoor cat has a full and enriched life, you will have to spend more time and attention than perhaps you would with an outdoor kit. From mealtimes to toileting, your indoor cat totally depends on you for all their needs, which can create a heightened sense of dependency. To your indoor cat, you are their world, and so you may also see signs of separation anxiety if you leave them alone for too long.
Accidents can still happen. Your indoor cat is not immune from mishaps, and your home could be a minefield of obstacles and potential incidents. Cats are curious creatures and so can be vulnerable to everyday objects, from poisonous houseplants to getting stuck inside your washing machine. So, vigilance is required if you are caring for an indoor kit.
Pros and Cons of an Outdoor Cat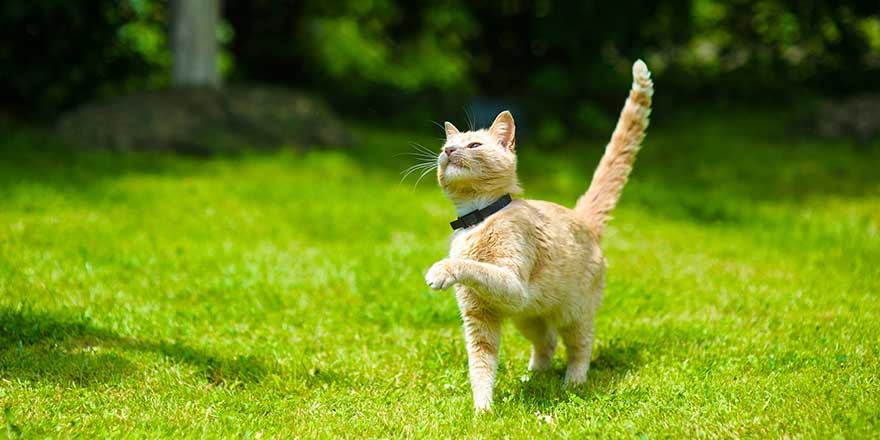 The outdoor life suits many cats, especially if they have the option of coming home to curl up warm inside at night. An outdoor cat can also exercise his full feline 'rights' to the full, from hunting and marking to roaming at will. But, as we have seen, modern life can be hazardous to any pet, especially in an urban environment. So here are the main pros and cons of having an outdoor cat.
Pros
Plenty of natural stimulation. The outdoors can be a fabulous playground for your cat, providing a plethora of stimuli to keep his mind and body active, healthy, and engaged. In addition, he will have the space to flex his natural cat muscles and hunt, climb and patrol within his territory.
Better weight management. With his active lifestyle, an outdoor cat is less likely than an indoor cat to become obese. However, you need to ensure he has the best cat food for outdoor cats, providing the right nutrition to support a healthy and active life.
It can be easier to manage. Owning an outdoor cat can be less 'labor intensive' than an indoor cat. There's less need for a litter tray as your cat can go potty outside, and with a cat flap or open access, he can come and go as he pleases. And, if you are a multi-cat household, your cats can take themselves outside when they need more space, meaning you can create a harmonious feline household.
Cons
Increased risk of injury or illness. The outside world can also be a dangerous and challenging environment for a cat, especially in built-up districts or areas of high traffic. This means an outdoor cat is at a greater risk of injury and even death. They are also more susceptible to certain health concerns, including diseases that can be transmitted from cat to cat. And, as you cannot always control where they go and what they eat, they are also more likely to pick up unwanted parasites. Therefore, a regular worming and flea control program is essential for an outdoor cat. For more information on the essential health checks, such as heartworm medications for your outdoor kitty, read our guide to how often you should take your cat to the veterinarian.
Risk to wildlife. It is widely documented the dangers to local wildlife that domestic cats present, with millions of birds and other small animals being killed by outdoor felines every year.
Clashes with other cats. Felines are territorial creatures, and too many cats on the block can add up to a heap of trouble. While outdoor cats tend to avoid each other, territorial clashes happen, which can cause physical and emotional injury and distress for your kit. Unfortunately, and especially in densely populated urban areas, these disputes are inevitable, meaning your cat's day-to-day experience of the great outdoors is more stressful than pleasurable.
Creating the Ideal Environment for an Indoor Cat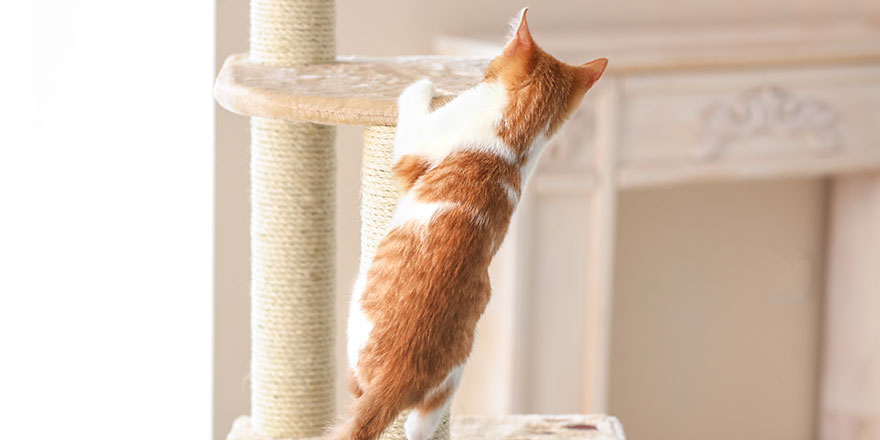 As a responsible cat parent, every effort must be taken to ensure your indoor kit has a stimulating and enriching life. Yes, keeping your cat indoors may be the safest option, but it also must be a positive and healthy experience. And that means creating the ideal indoor environment for your kit to thrive.
They need plenty of exercises and mental stimulation to keep them physically and emotionally fit and healthy, so ensure there are plenty of toys and scratching posts around the home. Make time to play with them so they have one-on-one attention and company. Hiding places and spaces in the house where they can climb are also a good idea, as is the opportunity to see outside, with a window perch ideal so they can watch the world go by. And if your cat is inclined to spend time outdoors or needs some fresh air, consider creating an enclosed backyard run, or even invest in a harness and leash for short bursts of walks outside.
And don't forget their diet as it needs to be appropriate to your indoor cat's health, age, and activity levels. Always feed them indoor cat food, which will have fewer calories than an active outdoor pet; otherwise, they are prone to putting on weight and health issues such as diabetes.
How to Keep Your Cat Safe Outdoors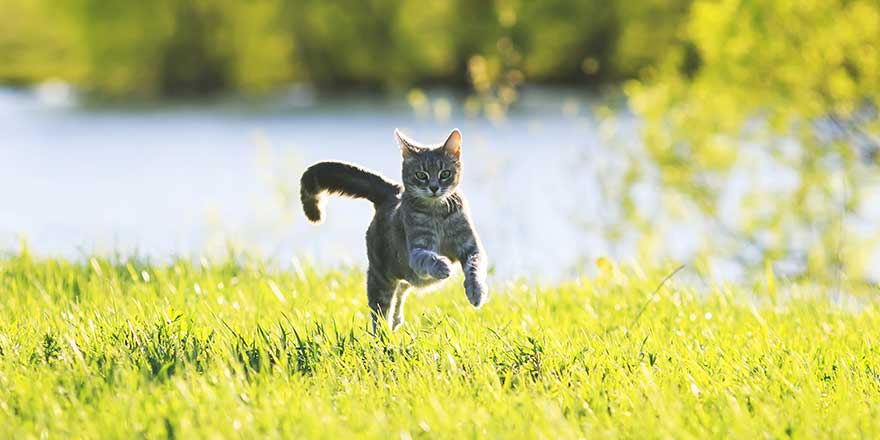 Just because your cat spends independent time outside, it doesn't mean you should leave him to his own devices. You can take steps to help keep outdoor cats safe when they are not inside the house.
Ensuring he is up to date with all his vaccinations and medications can protect your feline friend from the main health conditions and infections. Making sure he is chipped is always a good idea, so if he gets lost or hurt and is taken to a rescue or vet, he can be traced back to you. Bringing your cat in at night is also a good routine.
And if you are concerned about his safety or there are too many other cats in the neighborhood but don't want to confine him, then a mesh outdoor cat enclosure should satisfy most backyard cats.
Indoor or Outdoor – How to Decide
While you should always consider their safety and well-being, the indoor vs. outdoor cats debate has no right or wrong answer. It is a personal decision that only you and your cat can decide. But working through the pros and cons, we have highlighted in this guide can help you to make the right decision. And whether you opt to have an indoor or outside cat, their health, well-being, and safety should always be your priority.
Source:
Indoor vs Outdoor Cats – American Humane Society