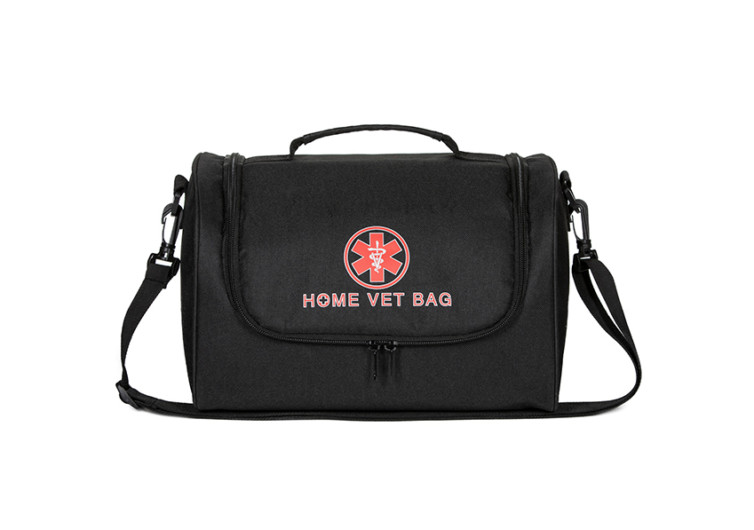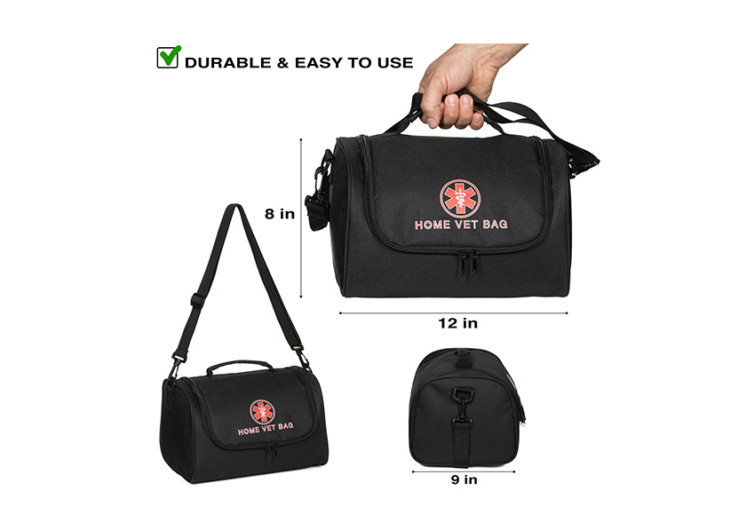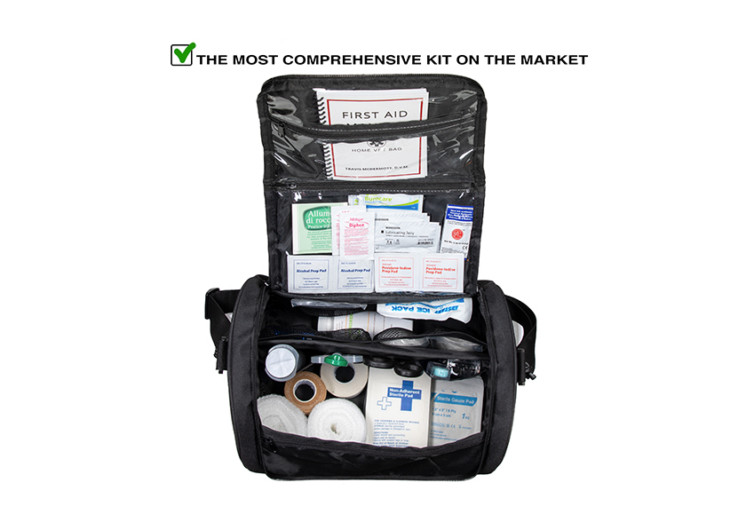 Home Vet Bag (2022) Review
Finding a first aid kit that provides you with everything you will need to make sure your pet is well cared for in a time of emergency can be extremely difficult. With so many kits out there that pad out their components with wraps, gauze, bandages, and tongue depressors which are rarely used, you are hard-pressed to find something that gives you all of the true essentials (even those you wouldn't think of!). Fortunately, the Home Vet Bag has proven to be an invaluable pet first aid kit, and here is why we think so.
What's Included in a Home Vet Bag?
The Home Vet Bag has an extensive 58 piece content with everything you could need from minor to major first aid emergencies. They have gone out of their way to produce a kit that provides you with only the best equipment and has made a point of leaving out the unnecessary fillers that are so often used in first aid kits.
Medical Bag
First      Aid Manual with Online Videos
Bandage Scissors
Thermometer with Lubricating Jelly
Tweezers
Flashlight
Instant Cold Pack
Pet Piller
Pill Cutter
Styptic Match Book
Syringe for Syringe Feeding
Saline Eye/Wound Flush
Hydrogen Peroxide 3%
3X3 Gauze
Cast Padding
Non-Adhesive Pads
Self-Adhesive Bandage Wrap
Medical Tape
Medical Gloves
Betadine Scrub Wipes
Alcohol Scrub Wipes
Topical Sting Cream
Antibiotic Ointment
Honey Packet
Antihistamine
Other Considerations
The biggest consideration to have when purchasing a product like this is how you will deal with a first aid emergency when one arises. Be sure to stay calm and remain focussed and utilize any information that is given to you that may help you to deal with the situation more efficiently, it does not do your pet well to panic in a time of emergency.
Kits like the Home Vet Bag can provide you with a plethora of medical supplies that can be instrumental to helping your pet in a time of need, however, you need to know your limits. If you feel the first aid situation you have found yourself in is too much for you, do not hesitate to contact your local emergency vet for additional help or advice. There may be a lot of information at your fingertips with the Home Vet Bag, but if an emergency is beyond you or the information provided, you need to recognize where help is needed and seek it out.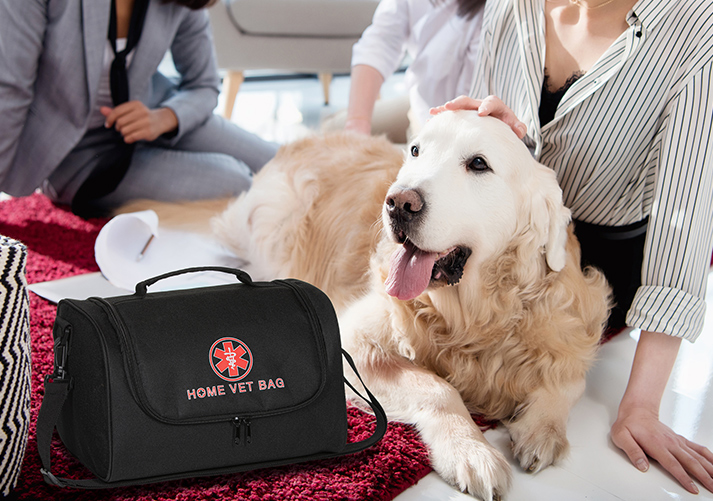 Comparison Table
| Brand | Price | Antihistamine | Antibiotic Ointment | Styptic Matches | Flashlight | Saline Flush | Sting Cream |
| --- | --- | --- | --- | --- | --- | --- | --- |
| Home Vet Bag | $69.99 | Yes | Yes | Yes | Yes | Yes | Yes |
| Pet First Aid Kit for Dogs & Cats | $32.79 | No | No | No | Yes | No | No |
| ONETWOTHREE Pet First Aid Kit | $48.70 | No | No | No | No | No | No |
| Perpetual Pet First Aid Kit | $49.99 | No | No | No | No | Yes | Yes |
The Competition
The Home Vet Bag is a step up above all other pet first aid kits. They may be at the more expensive end of the spectrum, but when compared to the next leading brands it is very clear why that is.
The Onetwothree Pet First Aid Kit does not carry any of the general essentials that can be the most useful in day-to-day situations, such as antihistamines, saline solution, and string cream.
Though the Pet First Aid Kit does carry a flashlight to visibility, this too does not carry the day-to-day essentials that the Home Vet Bag carries and brags a 60 piece set predominantly made up of swabs, plasters, bandages, and gauze, think that are rarely needed with dogs as they are much tougher than humans.
When it comes to the slightly more expensive competitors, the Perpetual Pet First Aid Kit may carry some of the more useful essentials such as saline solution, sting cream, and a first aid book, but it is lacking in the more important elements such as antihistamines for allergic reactions and antibiotic ointment to stave off infection.
A flashlight is crucial in a first aid kit if you want to ensure you have visibility no matter where or when an incident occurs, however it is surprising to see that very few pet first aid kits seem to carry them. And when one of the biggest problems many pets tend to have is allergy-based, it would do you well to have a kit containing an antihistamine for just such an occasion, which once again is lacking in every other pet first aid kit can find.
Take a look at our latest review of the Best Dog First Aid Kit.
How Much Does the Home Vet Bag Cost?
The Home Vet Bag retails at $99.99, however, they have been known to have sales which can take the price as low as $69.99. Though this kit is more expensive than most, it provides you with many more helpful components and is absolutely worth every penny.
Contains a 58 piece set with everything you could need in an emergency.
Does not use any unnecessary filler that is seen in other kits, only the absolute essentials.
Easy to take away, ideal for camping holidays, road trips and outdoor adventures.
This kit provides a pet first aid manual as well as exclusive online instructional videos.
Developed by a veterinarian using his professional experience and extensive knowledge.