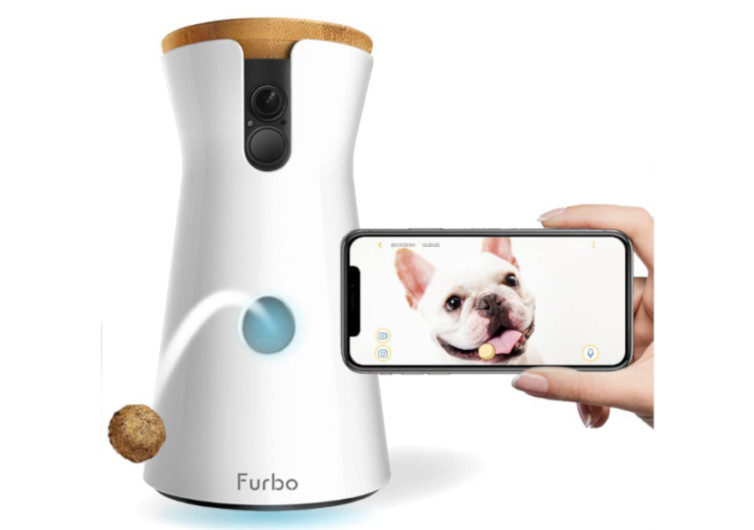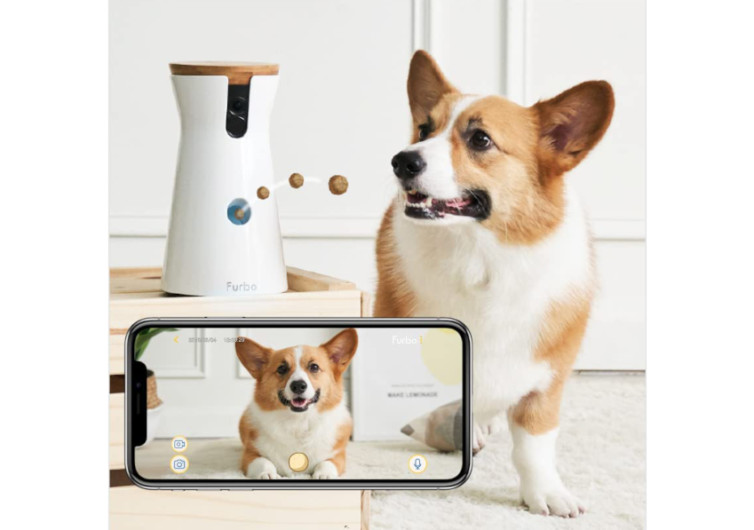 Furbo Dog Camera (2022) Review
Sometimes you just need that extra bit of security when it comes to leaving your dog at home alone. Many people believe that it is only the dogs that can struggle with separation anxiety, but it is just as real for their owners. Our dogs are our babies, and we want to know they're okay when we're not home. The Furbo camera is designed to help you to keep an eye on your pup and even provide them with treats when you're not home to reassure you and help you to keep your dog safe. We have done a full breakdown review of the Furbo Dog Camera so that you can be sure about what you are buying before you buy it.
Design & Build Quality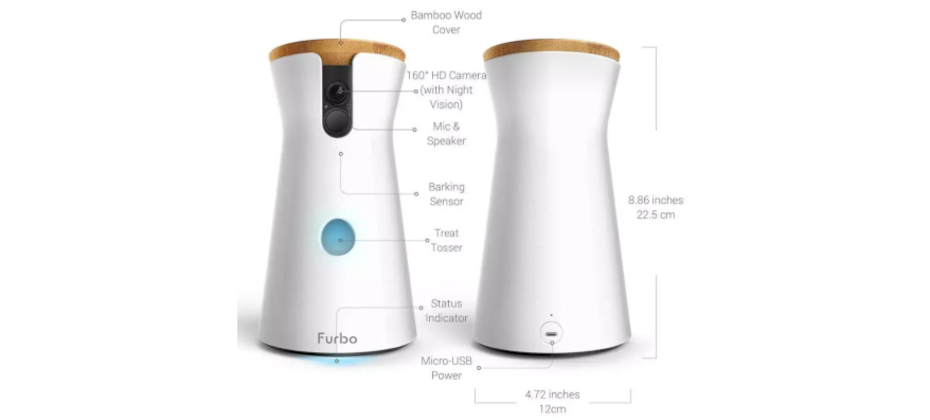 The Furbo Dog Camera is designed to fit into any home. It could easily be mistaken for an air freshener with a glossy, clean white finish and a natural wooden lid to cover the hopper refill area. And with adhesive tape on the bottom (and even a tripod mount), you can ensure that it stays put wherever you choose to set it up.
The treat hopper is easily accessed by removing the wooden lid and pouring the treats into the top, but be careful of what size treat you use, as smaller treats may be dispensed several at a time.
The camera used is a full HD 1080p wide-angle lens providing a 160-degree viewing range and the addition of night vision.
Just behind the Furbo logo, there is an LED light that will change color according to whether the device is connected or not, this indicator is extremely helpful with setting up and maintaining your Furbo Dog Camera.
Setup
The initial setup of this device is quite simple. First, download the Furbo app so that you have access to the device when you are not home. Once the Furbo app is downloaded, you will need to create an account to continue, and then the quick-start guide to the setup is as follows:
Once the app is downloaded, and your account is made, switch on your Bluetooth and plug in the device.
Once the Furbo camera is plugged in, wait for the light to turn green.
Go to the app and select the type of Furbo device you wish to set up.
Once you have selected the device you wish to set up, the app will begin to look for it. Once it has found your Furbo Dog Camera using Bluetooth, it will require you to enter your Wi-fi details. (your Wi-fi will need to be 2.4GHz)
Once it has connected to the Wi-fi, the light will turn yellow, this light will be blue when the camera is being used.
You will be asked to name your device, this can be done using a preset name or a custom name of your choosing.
You can then save your newly named Furbo Dog Camera to the app.
The basic wifi setup is extremely simple, the app will then continue to guide you through the rest of the setup process, beginning with helping your dog to adjust to the device and treat tossing system, as well as showing you how the treat dispenser works.
User Interface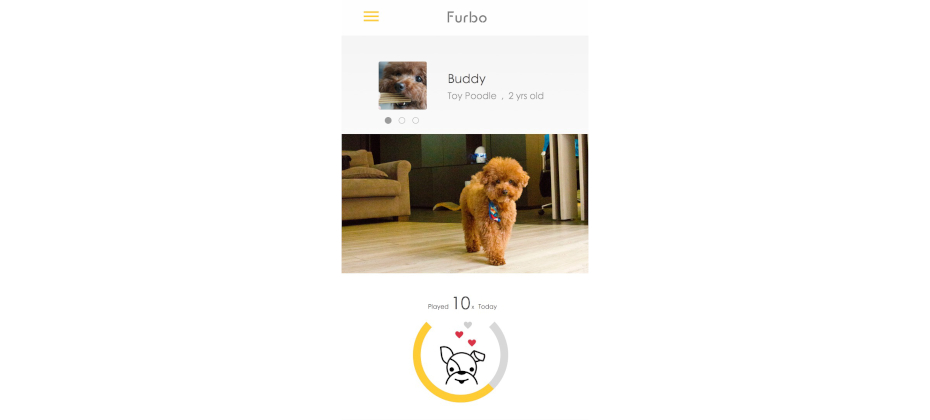 The Furbo app uses clear and concise instructions to show you exactly how best to introduce your dog to the new treat dispenser and utilize this fantastic device's different features.
The barking alerts on the app trigger a notification telling you what is causing the disruption and provide you with a quick click-and-go way of accessing the camera to check what is happening.
Furbo have gone out of their way to take all of their customer feedback into account and adapt the app to make the user interface even more user-friendly, with constant updates so that those who have purchased their Furbo before the changes were made can still reap the benefits.
Smart Features
Barking Alerts: The Furbo Dog Camera barking alert can recognize the difference between howling, crying, continuous barking, or occasional barking. This recognition is key to understanding whether your dog is just excited to see the mailman at the front door or if your dog is struggling with separation anxiety and is crying in your absence. This barking alert feature sets it above many other pet cameras, which often only recognize general sounds.
Other Recognitions: The HD camera, as well as recognizing your dog's different vocalizations, can also tell the difference between a human and a dog, notify you if a carbon monoxide or smoke alarm is going off, and will trigger a notification in the app that will give you quick access to the video feed.
Doggy Selfie: A super cute and fun extra smart feature with this product is that when your dog feels like getting up close and personal with your Furbo pet camera during the day, it will snap a quick selfie and send it over to you for a little extra boost to make you smile while you're at work.
Doggie Diary: Doggie Diary is a super fun function that takes all of your dog's activity during the day and combines it into one fun video to give you the highlights of their day to watch back at the end of the day.
Image Quality
This camera has proven to be much crisper than many other home security cameras, for better peace of mind, with the following specifications:
HD 1080p high-quality camera.
Wide-angled 160-degree lens for a better view of the room.
Night vision so that you can watch your dog while you sleep.
The Furbo camera will adjust to bright spaces.
4x zoom in case you can't determine what your dog is up to.
The Furbo camera is a high-quality HD camera that captures a wide space, ideal for the living room or any space where your dog spends most of its time. Though the camera is extremely good quality, it does have the unfortunate pitfall of being a static camera, meaning it cannot be rotated left, right up, or down; this should be taken into consideration when deciding where you place the camera in the room to get the best image and the most out of the video feed.
Additionally, you do not lose any picture quality when the video switches to night mode, so you can still see clearly what your pooch is getting up to on a live feed while you're tucked away in bed.
Sound Quality
The Furbo Dog Camera has a noise and echo suppression feature, which helps you to get a clear sense of what is causing the disturbance in your house, as well as a two-way audio feature so that you can speak to your pooch no matter where you are.
Furbo reviews across the board have remarked on the usefulness of being able to speak to your dog when you're not home. However, customers have also pointed out that the built-in speaker could stand to be a little louder and that they may sometimes have to call their dog's name several times before they are heard. If your dog is constantly barking, they may not hear you trying to get their attention, which can impede progress with barking training.
When it comes to the responsiveness of the microphone, some owners have mentioned that it is extremely sensitive when it is initially set up, which can trigger unwanted alerts, though fortunately, the Furbo app allows you to adjust the sensitivity so that it does not pick up any unwanted ambient sound from your living room.
Furbo as a Treat Dispenser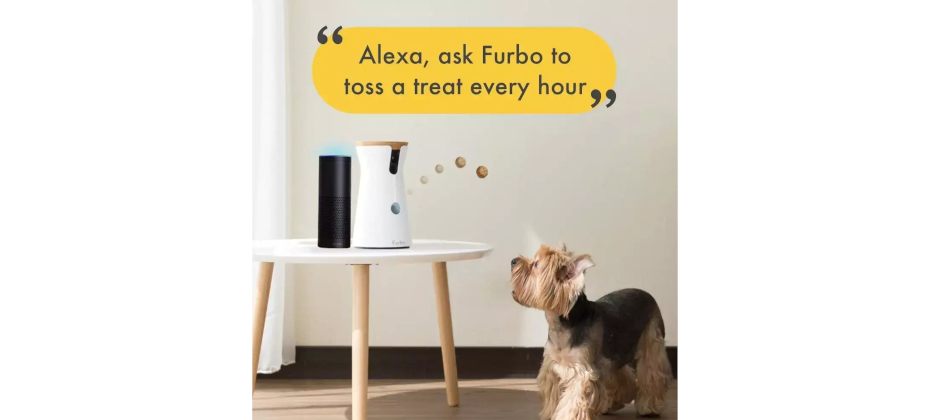 Furbo suggests using dry, firm, and ideally, round treats that measure around 0.5cm in diameter, though some owners have found that dry kibble and freeze-dried vegetables like sweet potatoes can work very well.
If you choose to go with smaller dog treats in your Furbo, it is worth noting that it may toss treats several at a time, so you should keep an eye on your pooch and how many treats they have a day. If you find that your Furbo is giving your dog too many treats with each toss, simply size up the treats you are using to limit how many it can launch.
The Furbo device can become slightly warm with use, and while this is nothing to worry about in terms of safety, it does mean that softer treats can become sticky and start to gum up inside the machine, so be sure to use completely dry treats and snacks to avoid this issue.
Other Considerations
The main thing to consider with your Furbo is what you are using it for.
The Furbo camera is a fantastic product for anyone looking to keep a close eye on their pup throughout the day, especially if that pup struggles with separation anxiety or is a troublesome little thing that loves to bark a lot. It can be quite a useful training tool if used correctly. Just be careful not to fall into the trap of accidentally rewarding your dog for barking because you could just make things worse.
If you choose to treat train your dog with your Furbo, simply make a point of having your Furbo toss treats to your dog whenever they are calm and relaxed. This is a brilliant positive reinforcement technique.
Comparison Table
| Brand | Price | Treat Dispenser | Two Way Audio | Night Vision | Bark Detector | Motion Detector | Wifi | Bluetooth |
| --- | --- | --- | --- | --- | --- | --- | --- | --- |
| Furbo | $249 | Yes | Yes | Yes | Yes | Yes | Yes | Yes |
| Petcube Bites | $249 | Yes | Yes | Yes | Yes | Yes | Yes | No |
| WOpet Smart | $129 | Yes | Yes | Yes | No | Yes | Yes | No |
| Petzi | $169 | Yes | No | Yes | No | No | Yes | No |
| Pawbo Life | $149 | Yes | Yes | No | No | No | Yes | No |
The Competition
Furbo has many competitors on the market, but nothing quite matches the sheer volume of features that Furbo has to offer. Petcub Bites is currently Furbo's biggest competitor. While it offers most of the same features as Furbo, it does not have Bluetooth capabilities. Customers have commented on its inability to stay connected to the wifi and the Furbo, which begs the question of why you would get a Petcube Bites camera when you can get a Furbo for the same money.
WOpet Smart Pet Camera is the most affordable on our list of competitors. However, the money you save is saved at the cost of convenience. With no sound detector built-in, it does not trigger notifications to let you know when your pooch is active, meaning you will have to check manually.
The Petzi Treat Cam, though it does offer the same video quality and treat dispensing as the Furbo, lacks many of the other key features, such as night vision and sound or motion detectors. If you work from home and can listen out for your dog, it works well as a general monitor, but when it is almost the same price as the Furbo, it leaves a little to be desired.
At the more affordable end of our selection is the Pawbo Life Pet Camera. However, it is clear that the reduction in price results in a much simpler end product with no smart alerts, Bluetooth capability, or night vision. This camera provides great video quality, two-way audio, and treat dispensing. However, that is where the similarities end.
How Much Does the Furbo Dog Camera Cost?
The Furbo camera retails at $249, though it can be as much as $100 cheaper in their Black Friday sales and can be found at an average price of around $169- $189 on Amazon sales.
FAQs:
Furbo will work just as well whether you are in the next room or the next country! So long as your Furbo device remains connected to the Wi-fi, you will be able to easily check on your pooch no matter where you are.
The basic function of a Furbo camera will always remain free to you, however, Furbo also offers an optional subscription service known as Furbo Dog Nanny, for which you will receive a 90-day free trial, with the option of continuing on for an extra 3 months at 99¢ a month should you wish you extend your use of the premium service for a little bit longer.
If you feel that you are liking all that the Dog Nanny service has to offer you can continue on the service for $6.99 a month, or for an annual cost of $69.
[table id=2 /]
No. The Furbo camera does not record 24/7, however, it will automatically store all of your recorded event footage (the times that it was triggered) onto the cloud for safekeeping so that you can scroll back through all of the events of the day. This way you don't have to worry about missing something whilst you're working, so you can focus on the task at hand and check back later.
Furbo claims that all of its Dog Cameras use 2048-bit RSA Private Keys in order to connect with the cloud storage service, which means that they claim to be a highly secure service (we're talking bank-level secure). However, the best thing that you can do if you worry about having your camera hacked is to ensure that your w-fi network has a strong password to provide an additional level of security.
No. Your Furbo device does require a secure Wi-fi connection in order to work, though it does have Bluetooth capabilities to help make the set-up go smoother.
Yes! Furbo offered two-way audio communication, so not only can you hear your dog, but your dog can hear you. So you can say hello to your little buddy and let them hear the sound of your voice when you're out and about. You can even train them to respond to your voice in order to get a treat!