"If there is a heaven, it's certain our animals are to be there. Their lives become so interwoven with our own; it would take more than an archangel to detangle them"- Pam Brown.
Losing a pet is a painful experience that nobody can ever be ready for. We never want to think about it, but we know it will come around sometime because dogs have shorter life spans than humans. So if you are dealing with the soul-crushing experience of losing your dog, please accept our sincere condolences.
When your pet passes, one of the hardest parts is that you still have to handle a few time-sensitive matters even amid this bleak moment. Start by figuring out what to do with your pet's body, and pet cremation is probably one of your options. Some of the reasons that make cremation a popular choice is that it is convenient and affordable. Let's look at the average costs of this service and what it entails.
Understanding Dog Cremation Costs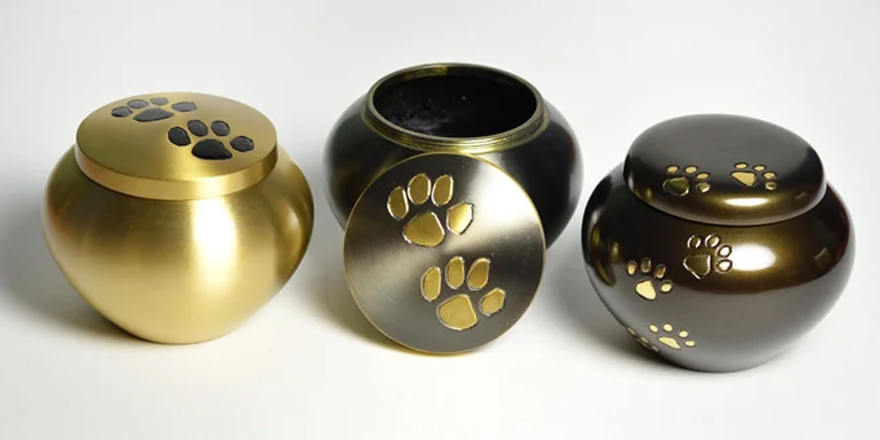 The cost of cremating a dog can vary widely, from $30 to $250. The cost of pet cremation depends on the cremation method and the pet's size. You may also have to pay for extra costs such as pick-up services and special urns.
Factors That Determine Dog Cremation Costs:
Pet cremation could be a personal choice or a recommendation by your veterinarian. Whatever the reason behind deciding to cremate your pet, you need to factor in the pet cremation cost. And this starts with choosing the way you have your pet cremated.
There are three main methods of pet cremation, which you need to discuss with your cremation service provider:
Private pet cremation
Individual pet cremation
Communal pet cremation
1. Private Cremation
With a private cremation, only your dog's remains will be in the cremation chamber. So, there are minimal chances of your pet's remains being mixed. Once the private pet cremation process is completed, the service provider will pulverize the ashes and give them to you. Unfortunately, this method attracts the highest cost.
2. Individual (Divided) Cremation
It is considered a "semi-private" method. Several pets are cremated at the same time, but the animals are kept in separate chambers. So, there is a possibility of cremated remains mixing but not a high one. The exact method of such a divided cremation varies from one crematory to another, and so does the cost. However, individual pet cremation is generally cheaper than private cremation but more expensive than communal cremation.
3. Communal Cremation
If you are looking for a cost-effective way of cremating your dog, then you should opt for communal cremation, where your dog's body is cremated alongside others because it is the cheapest. The method involves cremating several animals at the same time. Since all the animals are kept in one cremation chamber during a communal cremation, it is impossible to give the owners the dog remains. Therefore, the crematory disposes of the ashes. Some crematoriums scatter the remains in a garden or field dedicated to this purpose.
Pet Cremation Costs by Size
The general rule is that the larger the dog, the more you will spend on pet cremation costs and expenses. So, for example, a Labrador owner will pay more for his dog to be cremated than a Pomeranian. The logic is that large pets take up huge spaces in the chamber, take more time to cremate, and longer to process.
The specific price will depend on where you take your pet to be cremated. Some group weights into classes, such as 10 to 20lbs or 30 to 50 lbs. In other words, there isn't a specified standard for the exact pet weight ranges, although the cost for cremating large breed dogs will inevitably be higher than small dogs. Therefore, you ought to call many pet cremation providers to get quotes before settling on a particular crematory for your beloved companion.
How Much a Typical Dog Cremation Can Cost
The dog cremation price will vary depending on the size and weight of your dog and the type of cremation you choose – whether that's a communal or individual cremation or if you opt for a private cremation service. It can also vary from state to state. So, as a rough guide, below are the average dog cremation costs you can expect to pay.
| Size of Dog | Private     | Individual                   | Communal |
| --- | --- | --- | --- |
| Under 30lbs    | $175   | $110  | $75 |
| 30-60 lbs  | $200     | $125  | $90 |
| 60-90lbs  | $225    | $135 | $110 |
| 90-120 lbs  | $250    | $145 | $125 |
| Over 120 lbs | $275+ | $150+ | $125+ |
In addition to the actual cost for cremation, you also need to factor in any extras you decide to have, such as urns, memorials, and a pet burial plot.
Additional Cremation Services That Could Affect Your Dog Cremation Cost
Transfer Fees
The core pet cremation costs, whether private or communal, do not include the cost of transferring the dog from the veterinary clinic or home to the crematory. Sometimes the vet may contract with the crematory on pick-up charges. Whether or not such an arrangement exists, you will have to pay for the body's transport to the crematory. Most service providers can come to your home and pick up your dog at an additional charge, ranging between $50 and $75.
Viewing Fees
If you wish to be present during the cremation, you may have to cough up more money because some crematoriums charge viewing fees. Many pet owners are open to the idea that witnessing helps in the healing process, but it adds to the overall pet cremation service cost.
Cremation Urns
If you opt for a private pet cremation service or the individual cremation method, you will undoubtedly require a container to put the ashes. You don't have to buy a special urn, but many pet owners choose to get one in honor of their furry friends. You will find an array of urns from the pet cremation service company. They vary in price, quality, and specifications, so you are sure to find one that suits your needs.
Memorials
Once you have the remains, you are at liberty to decide what to do with them. If you choose a pet burial service, you might fancy a dog memorial stone marker. It can be a large garden stone or a simple granite plaque. Of course, you can also go for the conventional upright memorial marker.
Mausoleum Niches
If you reside in a populated area, you can consider laying your dog's ashes to rest in a mausoleum or niche, which can be found at a local pet cemetery. Therefore, you ought to pay for the area you will be burying your beloved canine friend.
Burial Plots
Some crematoriums and cemeteries offer packages that include burial plots in a pet cemetery. The cost of using a pet cemetery relies on the size of the space you wish to place your beloved pet's ashes. However, you may have to pay for the marker for your dog's plot in the pet cemetery separately.
The Dog Cremation Process – What to Expect
Many pet owners are hesitant about the pet cremation process, which is understandable because it is a relatively new option compared to burials. That is why you ought to familiarize yourself with the process to know what to expect.
Start by Contacting a Local Pet Crematorium
You can make this call when your dog passes away. However, if your pet has been suffering from a severe illness or is of age, you can inquire about pet crematoriums in advance. This will save you the agony of planning for your dog's cremation while grieving.
The staff at the crematorium will take you through their cremation services and the procedure, explaining the different available options. For instance, there are several pet cremation methods and ash preparation procedures. After you decide on the cremation services you require and schedule an appointment, you can pay for the staff to pick up your deceased pet from the vet's office or your home.
The Staff Will Place Your Dog in the Cremation Unit
Depending on the pet cremation you choose, your dog may be placed alone in the cremation chamber or with other pets. The staff will turn on the machine, and it will attain temperatures ranging between 1400 and 1800 degrees Fahrenheit. Such temperatures can vaporize your pet's remains, leaving behind dust and small bone pieces.
They Will Remove Inorganic Materials from the Ash
Before handing over the ash to you or sprinkling it in the garden (depending on the type of cremation you chose), the staff will remove inorganic materials from the ash. This includes things like collars, microchip implants, and surgical pins. Some crematories do this by hand, while others use magnets to expedite the process.
The Pieces of Bone are Then Crushed Further
The small pieces of bone are ground to obtain a uniform texture of the ash.
The Remains are Put in a Container and Returned to You
If you have chosen a private or individual cremation, the staff will place the ashes in a pot and hand it over to you. As for communal cremation, the ashes are disposed of, probably in a garden, as agreed earlier. The type of container they put the ashes in depends on personal preferences and the particular crematory. If you have purchased an urn, you can ask them to put the remains in it.
The pet cremation process is often over in a few hours, and you can pick up the dog's remains on the same day.
You may find our article on how to cope with the loss of a pet helpful.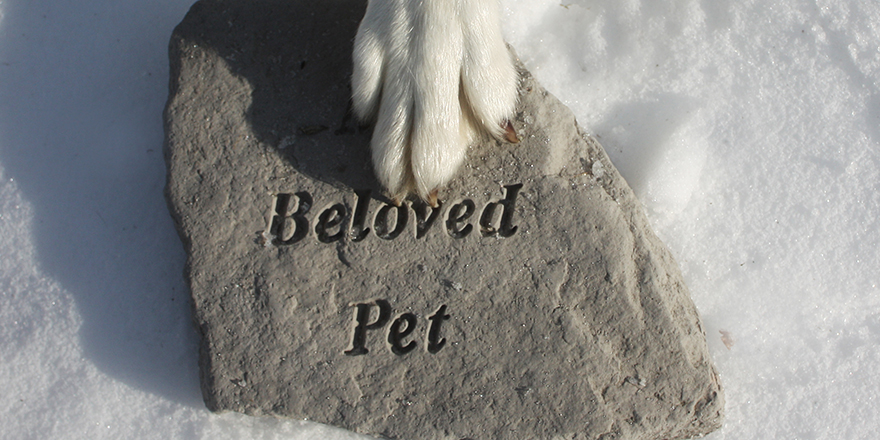 Final Thoughts
Losing your beloved dog can be a distressing and stressful time. This guide is intended to help relieve the pressure of making crucial decisions during times of grief on how you want to say goodbye to your beloved four-legged friend. So, if you are experiencing loss at this time or have previously, we offer our sincere condolences.
Sources:
Dr. Patty Khuly VMD, On Private Pet Cremation, Vetstreet
Frequently Asked Questions
Choosing to cremate your dog is ideal, particularly for grief-stricken owners. When you cremate your beloved pet and place the ashes in an urn, you have a physical reminder of your furry friend. Surprisingly, this can offer more comfort than one could ever imagine. Sometimes dog cremation can be the only option. Some communities do not permit the burying of pets on either private or public land due to the risks associated with digging and hitting underground utilities like sewer lines. Depending on the dog cremation costs and the additional costs one has to spend, pet cremation can be cheaper or more expensive than other alternatives.
The average pet cremation cost for dogs varies from $50 to $150. The price is based on the type of pet cremation you choose (e.g., a private pet cremation), your location, the size of your dog, the additional services, and many more.
Typically, the entire pet cremation takes about an hour. However, this also varies according to the weight of your pet.
Once your dog has been cremated, you will receive a package containing the remains of your canine friend. You can handle these remains in several ways:
Put them in an urn – this is one of the most popular and affordable ways of storing your pet's ashes. Pet cremation urns come in various styles, sizes, and costs, so you are sure to get one that suits your needs.
Bury – many pet owners choose to bury their dog's ashes. In most cases, this is done in the family's yard. That way, the family can visit their pet whenever they like on their property, which can help with the grieving process. In addition, the remains are buried close to the ground, so there isn't a risk of interfering with the underground utilities. If you opt to bury your pet's ashes, you can use a biodegradable urn.
Cremation boxes – You can get a unique wooden box to contain your pet's ashes. Displaying the box in your home will leave a lasting memory of your dog.
Scattering ashes – some dog owners feel that scattering a pet's ashes symbolizes the final departure of their pets. Where you scatter, the remain is a personal choice. You can decide to scatter your pet's ashes in a park, across space, or at sea. If you decide to scatter in water, it's advisable to use a water urn.
A headstone – if you scatter the remains in the garden, you can buy a headstone and place it there. This will be a beautiful memorial for your lost pet.
Jewelry and key chains – If you want to keep your dog's memory close to your heart, there is no better option than a chain with a small amount of remains.
Keychain keepsakes – another way of keeping the remains close to you is by placing a part of the ashes in a key chain made for a specific purpose. Some of the jewelry that can be made with your dog's ashes includes ankle chains, rings, and bracelets.
Many crematories offer collection services. Therefore, you can call the provider to pick up the remains. You should, however, note that most crematoriums charge more for collection services during the weekend and out of business hours.
Most vets do not perform pet cremation, but they have links to people who do. Therefore, you can ask for recommendations for a quality service provider and pet cemetery.
This will depend on the specific crematorium. Some allow the blanket to be cremated as long as it is made using natural fibers. Most do not allow toys or plastic materials to be cremated. Whether they permit it or not will depend on the environmental regulations in the area and the implications of doing so.
No. A casket is not a pet cremation requirement. Instead, you can choose to wrap your beloved canine friend in their favorite blanket. All the same, you can get a casket if you wish.
This should not be a concern as long as you hire a reputable crematorium. Qualified staff ensures that they follow the right techniques to ensure that they put the cremation remains of the pets separately. This is done with the aid of identification tags.