A dog crate has the ability to create a safe environment that your pup can retreat to when they're feeling stressed or want to be alone for some time. Dog owners also use dog crates to keep their canine companions out of the way when strangers are visiting, or people who are scared of dogs come over.
In the wild, canines sleep in dens for protection, so it's not strange to have a crate inside your home that your dogs can use as a bedroom. Like humans, dogs appreciate having their own space. Crate training can be very useful for pet owners, even if it's just to help their dogs feel more comfortable when they're going to the vet. To learn more about crate training and our top picks for the best crates, check out the rest of our guide below!
Key Takeaways
Small dog crates are never suitable for long-term use.
Always buy a crate with enough room for your dog to turn around.
Fabric playpen crates may not stay in place if you have an active dog.
Add comfort items and blankets to your dog's crate to help them feel more at home.
Crate training can help your dog feel more secure.
A Quick Overview of Our Favorites
Pros
Cons
Bottom Line
Rating
*Ratings are from Amazon and Chewy at the time of publication and can change.
The 10 Top-Rated Crates for Goldendoodles
Best Dog Crates for Goldendoodles: Buying Guide & FAQs
When choosing a crate for your dog, the sheer number of choices can make your decision harder than it needs to be. There's the soft crate, which is a great place to keep your dog if you just need to move them out of the way for a couple of hours, or there are more heavy-duty crates for Goldendoodles that need something sturdier. This section of our guide will cover what to look for in a doggy crate, including how to select the correct size and how to introduce your dog to their new crate.
Why You Should Use a Dog Crate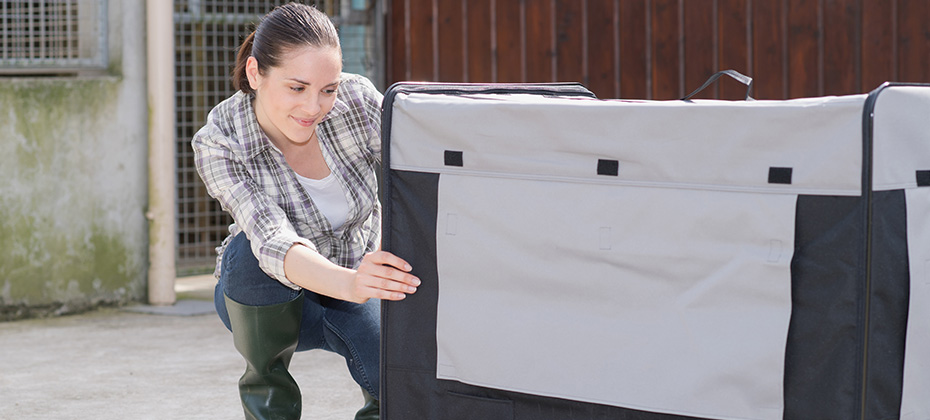 There are many reasons that pet parents choose to employ the use of a dog crate in their homes. Using a dog crate can help others feel safe when they visit, but it mainly provides a sense of security and safety for your pup. Dogs who are particularly destructive will benefit from the use of a dog crate. And, provided you choose the right crate size, you can easily make the crate into a small bedroom structure for your pup.
That might sound unnecessary, but experienced dog parents will already be aware of the benefits of having a dog kennel or a similar object that their pet can use to get away for a while. Dogs enjoy a little me-time as much as humans do, and a busy household can sometimes become overwhelming.
Here are some common reasons to use a dog crate in your home:
Preventing destructive behavior
Keeping your guests safe
Getting your dog ready to travel
Training your dog
Giving your dog their own safe space
Creating a place for your dog to go when bored, stressed, or tired
Introducing a new dog and needing to keep them separate during socialization
Your dog has separation anxiety or other types of anxiety and you want to make a safe, comfortable place for them to hide
Keeping your dog safe/out of the way when moving furniture
You should not, ever, permanently keep your dog in a crate. Crates are not suitable for long-term use and dogs should be able to freely move in and out of the crate unless they're in there for safety reasons or being transported.
Different Types of Dog Crates
Dog crates are a very varied set of products these days. Everyone is familiar with the portable dog crate or carrier, often used to take dogs to the vet, and the metal dog crate that is one of the more affordable options (though often very plain and boring). Modern dog crate brands have created wondrous wire crate alternatives, including those that look more like wooden furniture than a place to put your dog. These almost decorative wooden crate products are an excellent way to seamlessly blend a crate in with the rest of your home, instead of having a folding metal dog crate shoved into the corner of your living room or kitchen.
The main types of dog crates that you'll come across are:
Metal dog crates, which usually fold down so that you can store them or keep them as a permanent structure.
Wooden dog crates, which are designed to stay up in your home and look more appealing than metal dog crates.
Soft dog crates, which are temporary crates that aren't particularly durable, but can be great if you need a dog crate quickly. These are usually made from mesh and fabric or something similar.
Portable dog crates or carriers, which are excellent if you often find yourself on the move or just want to double-up a large pet carrier as a temporary crate to keep your dog out the way for short amounts of time. They are usually plastic crates, though can also be metal.
What to Consider When Buying a Dog Crate for your Goldendoodle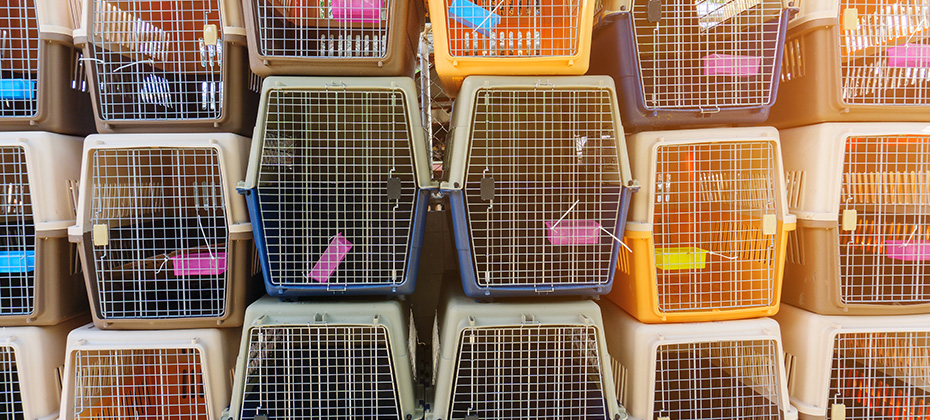 The biggest thing to consider when buying a dog crate for your Goldendoodle is the size. Before anything else, having the right size crate is crucial. Your Goldendoodle puppy or adult dog should be able to stand up and turn around in the crate, with room to spare. If they can't, the crate is not suitable for use as a permanent part of your home.
You'll want a durable dog crate if you're using it as part of your home. The best dog crate for that situation would be a wooden dog crate that can become part of the room it's in, or a simple metal dog crate that you can cover with a crate cover.
Past size and style, you should also consider the climate you live in and what your dog needs in their environment to be happy and comfortable. For example, a dog who prefers colder climates because of their breeding won't be comfortable in a heavily covered and sheltered crate. They need more air flow to stop them from overheating. Take your dog's breed and your home's temperature into consideration when outfitting their crate.
How to Choose the Right Size
If you're having trouble figuring out what size crate you need, try creating some boundaries on your floor at home and having your dog turn around within them. If any part of their body crosses the "lines", go bigger and try again. Once your pup can turn around in the space, take the width and length measurements, and then look for a crate that is that size and at least a head taller than your dog's full height.
When you're between two sizes, pick the larger one to be on the safe side, and not the smaller one. A larger crate will enable you to add more decorative furnishings like pillows and blankets, and may even have room for your pet's food and water if you want a space inside the crate for them.
For travel crates or carriers, you won't need something as big, but you should certainly still buy a crate that is at least bigger than your dog's own measurements.
Goldendoodle Crate Training 101
Crate training may seem difficult at first, but there are a few easy steps that you can follow to make it easier. Thanks to their parentage, the Goldendoodle is an intelligent and fairly easy-to-train dog. Alongside the crate you've chosen for your pup, we would recommend a selection of toys and treats to make training sessions more enjoyable.
Start by introducing your Goldendoodle to their crate. You should do this during the day and put a blanket or pillow inside that has their scent on it already. Don't force them inside the crate, just wait patiently for them to investigate it. Be sure to prop the doors open so that they don't close and startle your pup.
You can use treats to temp your dog into the crate when introducing them to it for the first time. Crates with double doors are better because they look more open and provide a clear exit for nervous dogs. Be sure to praise your dog for going into the crate, even if they immediately get back out. Keep attempting to lure them back into it using treats and toys. You could even try using a puzzle toy that has treats inside of it to keep them in the crate longer.
Once your dog has explored the crate and is happy about the new object in their home, start adding more of their possessions that have their scent. Your dog will eventually realize that the crate is a safe place full of things that they recognize, and will come to use the crate without any prompting. Be patient and spend some time every day getting your dog in and out of the crate.
Price Comparison for Dog Owners
When looking at the price for each listed product, do remember that every product we listed here was chosen as one of the best dog crates for a specific reason. For example, though the EliteField crate seems like it's expensive, we chose the 42-inch version with standard Goldendoodles in mind, as opposed to the IRIS crate, which is sized for toy Goldendoodles.
| Product Name | Price |
| --- | --- |
| ‌IRIS Exercise Dog Playpen with Door | $59.99 (4-panel version) |
| MidWest iCrate Fold & Carry Single Door Collapsible Wire Dog Crate | $41.99 (30-inch version) |
| Amazon Basics Foldable Metal Wire Dog Crate | $56.54 (36-inch single-door version) |
| EliteField 3-Door Collapsible Soft-Sided Dog Crate | $118.99 (42-inch version) |
| Amazon Basics 2-Door Top Load Hard-Sided Dog and Cat Kennel Carrier | $28.99 (23-inch version) |
| Diggs Revol Double Door Collapsible Wire Dog Crate | $475.00 (medium version) |
| Unipaws Furniture Corner Dog Crate with Cushion | $369.99 (large version) |
| Petmate Sky Dog & Cat Kennel | $159.99 (36-inch version) |
| Ruff 'N Ruffus Portable Foldable Pet Playpen | $44.97 (large version) |
| SMONTER Heavy Duty Dog Crate | $254.99 (38-inch version) |
Frequently Asked Questions
Choosing the best size crate for your Goldendoodle will depend on how big they are. As an example, a standard Goldendoodle adult dog will likely thrive in a crate that is a few inches taller and wide enough for them to turn around and walk a bit. Standard Goldendoodles are an average of 22 inches tall from floor to shoulder, so we would recommend a crate that is at least 30 inches high and almost double their height in length.
To make your dog's crate more dog-friendly, try adding blankets and pillows that match your home's decor. Be sure to let your dog sleep with these for a few days first, because that will help transfer their scent to the furnishings and they will be more accepting of whatever you want to add to their crate. In addition, add colorful dog toys, and consider buying a crate cover.
Crate training any dog can be a great thing to do. Crate training isn't cruel, but crates can often be misused by inexperienced or unfit dog owners. Your dog is not supposed to live in their crate, just use it as a safe place to retreat to on their own terms or as a secure location when strangers are visiting.
You shouldn't put your dog in a locked crate for long periods of time. It's unfair and can be cruel. If you absolutely must crate your dog for more than a couple of hours, be sure to let them out for breaks and give them adequate food and water while they're inside. There's no reason to constantly keep your dog in a crate while you're at home.
If you are crating your dog at night, they need to have food, water, and some kind of mental stimulation. This can be a puzzle or interactive toy, but it should be something they can get some use out of without needing you there. We don't recommend crating your dog every night where possible.
Covering your dog crate can help your dog feel more at ease when they're being left alone. It will also help block out any light, which will help your dog fall asleep and stay asleep for longer. If you choose to keep the crate uncovered, try to give your dog a better feeling of security by backing the crate against a wall or corner.