Advances in genetic science over the last two decades have triggered a curiosity about our own genetic makeup and that of our pets. Now, cat owners can join in by using the best cat DNA test to find out more about what makes their kitty the unique individual that they are.
Cat DNA tests are fairly new and up until a few years ago were only used by vets to test for genetic diseases. Then, breeders started to use them to predict what the offspring of a particular pairing would look like and to screen for diseases in their breeding stock. Now, the tests are available to cat owners. But which one should you choose? Here, we give you everything you need to know about the best tests on the market and what you should look for before trying one out for yourself.
Key Takeaways
Cat DNA tests are useful for vets, breeders, and cat owners
Not all tests look for the same thing
For some tests, you must know the breed of your cat
Some tests give an accurate diagnosis of a genetic disease
Some tests identify the breed and then simply lists the diseases most prevalent in that breed
Most tests are carried out with cells from a cheek swab
The 10 Top Rated Cat DNA Tests
Pros
Cons
Bottom Line
Rating
*Ratings are from Amazon at the time of publication and can change.
Best Cat DNA Tests: Buyer's Guide & FAQs
Cat DNA tests work in different ways and it is important to understand the differences so that you can choose the most appropriate one for you. Here we explain how they work and what you should consider before buying one.
What a Cat DNA Test Can Tell You
These tests analyze the genetic makeup of your kitty by looking for specific DNA sequences. By doing this, the tests can identify a number of characteristics. Firstly, they can detect the presence of genes that cause diseases and conditions such as Burmese Head Defect. This can be essential for diagnosis, health planning and to give you information prior to breeding. Secondly, they can be used to identify genetic traits that affect your cat's appearance such as coat color and length.
Finally, they can be used to look at your cat's ancestry and determine their breed or breeds. Some tests create a wild cat index that tells you how closely your cat is related to wild cats. It can be fascinating to find out your cat's heritage in this way.
How Does a Cat DNA Test Work?
All of the complicated scientific analysis goes on in the laboratory. All you need to know is how to collect the DNA sample. You will be provided with everything you need to collect your cat's DNA in a kit. This collects some of the tiny cells that contain the DNA.
There will be a swab that you wipe on the inside of your cat's cheek. The instructions will tell you when and how to do this. You must not collect the sample right after your cat has eaten as it will cause contamination. It can be a little challenging to use the swab for some cats but if you enlist the help of another human it can usually be achieved quite quickly. It is not painful and does not harm your cat.
Then, you simply pop the swab into the container provided and send it off. The test results will either be available via a website or in writing.
Benefits of Doing a DNA Test on a Cat
There are several benefits of using a cat DNA kit. The health screening will give you information on health risks from a wide range of diseases. This enables you to plan your cat's health care and will help you decide whether to breed from them or not. Genetic diseases are passed down from parent to kitten and if a parent cat is carrying the gene for a particular disease you may prefer that they did not breed.
Finding out appearance traits is also very useful for breeding purposes. If you know what traits (e.g. coat color or length) your cats carry the genes for, you will have a pretty good idea of what the kittens are going to look like. If you are aiming for a particular look, the test will take the guesswork out of the breeding program.
Finally, some tests will tell you the breed of your cat if you do not already know it. The breed test tells you which breed or breed your cat is. Breed analysis is useful – not just because of curiosity about your cat's heritage. Certain breed groups often have particular personality traits. For example, the Siamese cat is known for being very friendly but needs constant companionship whilst the Maine Coon likes to play. Once you know this, you can provide your cat with the stimulation they need to keep them happy. Your cat's breed may also affect your health insurance because some breeds have certain health risks.
Things to Consider When Buying

The best cat DNA tests are clear about what they can and cannot tell you about your kitty. Here are the main things that you should consider before you buy one.
Different Types of Tests
Not all DNA tests are the same! The situation with feline DNA testing is more complex than for dogs. This is because dogs have been actively bred for specific tasks for thousands of years. In contrast, most of the cat breeds we see today and under 100 years old and that is a short space of time in genetic terms. There is not a clear genetic code associated with each breed which makes analysis more complex. Basepaws cat DNA test is one of the few that actually give you ancestry information. Here is a summary of the different types of tests that you can get:
Analysis of cat breed: looks for genomic regions associated with a particular breed
Trait analysis: looks for specific regions associated with physical traits such as eye color, folded ears, or coat length
Health analysis: looks for specific regions associated with inherited diseases
Wild cat index: gives you an idea of how closely related your kitty is to a wild cat
Cost
The cost of these tests is quite variable. Therefore, it is advisable to look closely at what you are getting for your money. In general, the more accurate and comprehensive a test is, the more expensive it will be. If you have a tight budget, it would be best to choose one of the companies that offer a range of cheaper tests that only test for a few characteristics. This will avoid you having to pay for information that you do not need.
Collection Method
Cat's DNA is present in all cells of their body. To collect a specimen you need to get some of these cells to send to the laboratory. The most common cells to collect are blood cells, fur (hair) cells, or skin from the inside lining of the cheeks (buccal swabs).
The tests featured here require you to collect buccal swabs. You will be provided with everything you need including the swab and full instructions. The basic method is to wipe the swab several times across the internal surface of the cheek. This will not harm your cat in any way but they may not be very impressed with it. It may help if another adult holds your cat still while you collect the swab.
Speed of Results
Some tests are available in as little as three weeks but others can take a couple of months. If speed is an issue for you, contact the test provider and ask what their turn-around times currently are.
Dog vs. Cat DNA Testing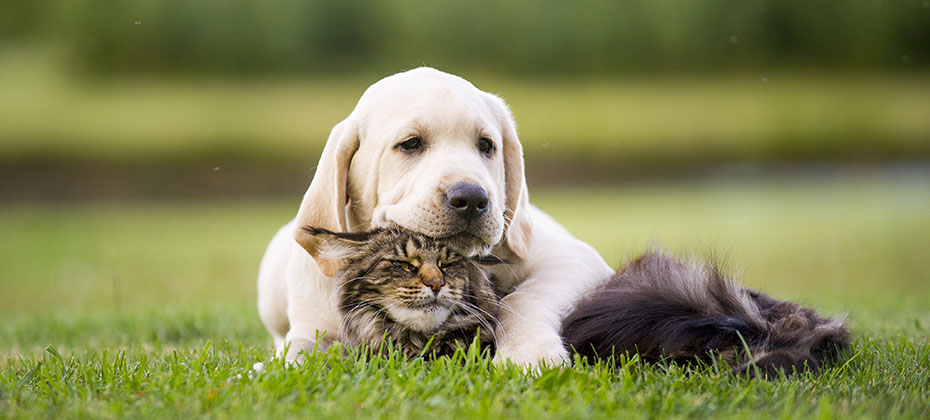 Dog DNA testing has been around for longer than feline testing. In general, dog DNA testing is more sophisticated.
The principles involved in dog and cat tests are the same. However, the cat DNA test options are often more limited. This is because dogs and cats have been domesticated in very different ways. Humans set out to domesticate dogs. They captured wild dogs and purposely bred them to achieve particular traits such as herding ability, bravery, or retrieving ability. For companion dogs, we selected small sizes and friendly nature.
Cats, however, domesticated themselves. Wild cats realized that human settlements were places where they could get food and shelter. Cat breeds have only been around for a hundred years or so and there are not yet any clear genetic markers that are 100% accurate.
Sources:
Frequently Asked Questions:
The costs of these tests are very variable. At one end of the scale are sophisticated tests that look for multiple traits, breed information and health issues and are highly accurate. These can cost several hundred dollars.
At the other end of the scale and the budget tests that just screen for a few diseases and look for a few traits and these cost under $50.
At the moment there is little data to indicate how accurate these tests are. As time goes on, they will improve and the accuracy will be assessed. However, up until now, very few studies have been carried out. Because cat breeds have only been around for about 100 years there is no clear genetic marker associated with each breed and this makes the tests less accurate.
The DNA analysis for specific diseases is more advanced and is considered accurate however.
You can get a cat tested at any age. The complete DNA profile of your cat is fixed at the moment that they are conceived. It stays the same throughout the cat's life. Therefore, the test can be carried out at any age.