Horses are truly magnificent creatures. They are graceful, caring, intelligent, powerful, loyal, and incredibly fast. The speed at which a horse can run can be somewhat baffling, as they seem to almost fly along the ground at tremendous speeds. But just how fast can a horse run? The speed of a horse depends on the breed, their environment, and the ground they are on.
We have broken down some of the key information you may find useful when determining how fast a horse can run. Additionally, we have included some interesting facts about horses as well as a bit of history around the records currently held for the fastest horses in the world.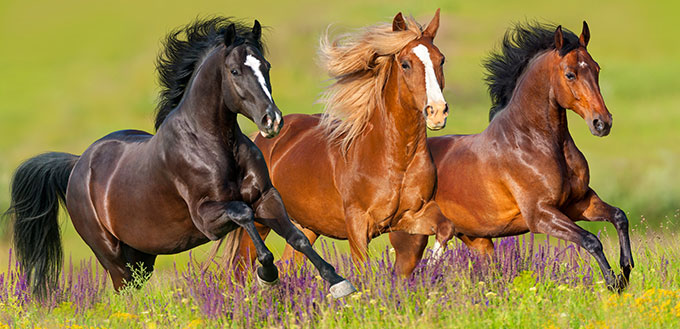 The Fastest Horse Breeds
Generally speaking, racehorses and thoroughbreds are the fastest, owing to the careful breeding process of these horses. The average speed of each horse breed is quite varied, hense why only certain breeds compete in horse racing. Here we have listed what are considered to be the top 3 fastest horse breeds.
1. Quarter Horse
Quarter Horses have been recorded running as fast as 55mph. Quarter Horses are a popular racehorse, with Quarter Horse racing going back over 200 years, originating with the forming of the American Quarter Horse Association (AQHA).
The Quarter Horse got its name from the distances they would run, which was usually the quarter-mile. However, there are eleven different distances recognized for Quarter Horse racing ranging between 220 yards and 870 yards.
2. Thoroughbred
A thoroughbred by the name of Winnie Brew was able to break the world record as the fastest Thoroughbred in 2008 when she ran at the Penn National Race Course and was clocked going 43.97mph! Bearing in mind that the average speed for a Kentucky Derby winner is 37mph.
Thoroughbreds have better endurance than the Quarterhorse, making them a great breed for running longer distances, and so they are used as racehorses in longer races.
3. American Paint Horse
An American Paint Horse was once recorded running 41.5mph! This isn't surprising, however, as the American Paint Horse had Quarter Horse mixed into the pedigree, giving them speed the Quarter Horse and Pinto endurance.
"Paints" were developed in American by horses brought to the states by the Spanish Conquistadors in the 1500s. Eventually, the American Paint Horse Association was founded in the year 1962.
4. Arabian
Arabian horses are slender, lean, and powerful, and are better known for having high endurance as opposed to being a fast breed. However, the fastest Arabian horses have been known to run 40mph, making them faster than a Kentucky Derby Winner.
5. Standardbred
Standardbred horses are fast trotters as opposed to fast gallopers. They have a lot of endurance and are built with a good trotting speed to make them ideal long-distance traveling horses. The fastest Standardbred horse was able to run at a speed of 33.9mph, slower than the other breeds on our list, but still impressively quick.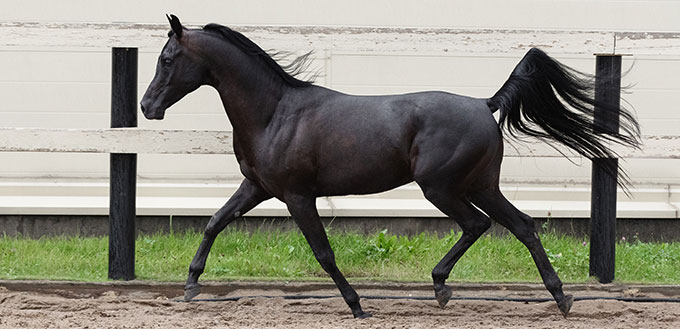 The Average Horse Top Speed For Different Gaits
Horses have various movements as they move which are categorized as "gaits". Many people ask "how fast do horses walk?", and knowing the different gaits helps you get an idea of the increments at which a horse's speed increases.
Walking
The horse equivalent of walking is the same as that of a human, and the average speed for a walk across all horse breeds settles at around 4.3mph (7kph).
Trotting
Trotting is a gait that can be likened to that of a light jog with a human and tends to average around 8.1mph (13kph).
Cantering / Loping
The canter, otherwise known as a lope or three-beat gait, is a little bit faster still, and closer to the jogging/running speed for a human. The horse speed for cantering is usually around 10-17mph (16-27kph).
Galloping
A horses' gallop is the human equivalent of running quickly, but unlike humans, horses can run at incredible speeds, with a gallop averaging around 25-3omph (40-48mph).
The Fastest Single Mile Runs on Record
When it comes to knowing the fastest 1-mile runs by horses, you need to know that horses' run times are calculated depending on the surface they are running on. Different ground surfaces present different challenges due to the texture and density. There are two records for a 1-mile run by a horse, one of them being on turf and the other on dirt.
Fastest Horse on Dirt For 1 Mile
The fastest 1-mile run ever done on dirt by a horse was 1 minute 32 seconds. This super-fast mile was run in 1968 at Arlington Park. The horse that achieved this magnificent feat was a thoroughbred by the name of Dr. Fager when he won the Washington Park Handicap.
This record has been held for over 50 years, and the only horse ever to come close to it was a horse named Najran. Najran was able to tie the original record but unable to break it. Something worth noting was that Najran was 21 pounds lighter than Dr. Fager. Less weight meant less to carry and so Mijran technically should have been quicker, however, pound-for-pound, Dr. Fager still works out to be the quickest of the two.
Fastest Horse on Turf For 1 Mile
Although it is usually said that horses can run their fastest on dirt, the record for the fastest mile ever run by a horse was done on turf. The record time for the 1-mile turf run was 1 minute 31 seconds, which was done by Mandurah. Mandurah ran a handicap race at Monmouth Park on June 6th, 2010, beating Dr. Fager's record on an unconventional ground surface.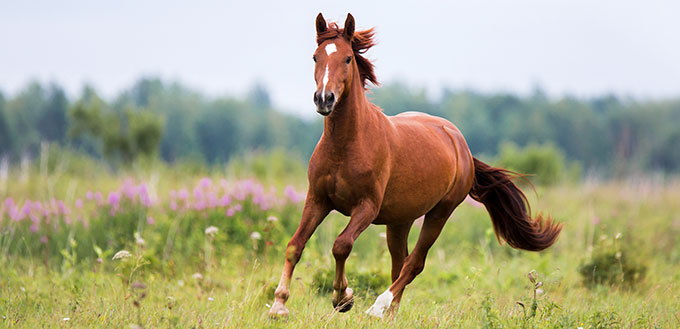 FAQs:
Q: What is the fastest speed a horse has ever run?
A: The world's fastest horse was able to run at a top speed of 55 miles per hour (88.5pmh).
Q: How fast does a horse run 1 mile?
A: There are two runs that have taken place on different ground surfaces, and because of the different surfaces, they each count as record speeds in their own rights. The fastest dirt run was a mile in 1 minute 32 seconds (39.1mph), and the fastest turf run was 1 minute 31 seconds (39.5mph).
Q: What was the fastest 1 mile and 70 yards ran by a horse?
A: The fastest recorded 1-mile and 70 yards run for a horse, was done in 1 minute 37 seconds (or 1:37.90 to be specific). This record was set by two racehorses named With Probability and Schedule. Schedule set the original benchmark in 2004, followed by With Probability, who was able to meet that same time in 2005.
Q: Can a horse outrun a car?
A: That would depend on the speed of the car! Horses generally gallop at around 25-30mph, and so they could probably outrun a car driving in a built-up area, going the speed limit. But a horse most definitely would not be able to outrun a car on the freeway.
Sources:
Quentin Mercier, Optimal Speed In Thoroughbred Horse Racing, PLOS
Mim A. Bower, The Genetic Origin And History Of Speed In The Thoroughbred Racehorse, Springer Nature