We are growing increasingly aware of the effects of dementia in humans, but did you know that your dog can undergo similar difficulties as they age? While your senior canine companion can't really forget where they put the house keys or try to wash the dishes in the tumble dryer, they can experience 'senior moments'.
Canine cognitive dysfunction – the canine equivalent of Alzheimer's may be present if your dog stops enjoying things they used to love, such as greeting you excitedly at the door or chasing their favorite ball. Forgetting the route of the daily walk they have taken for years' is another sign that their memory might not be what it used to be.
There are numerous reasons for the onset of canine cognitive dysfunction. The accumulation of abnormal proteins in the brain is one common cause. When this occurs, it causes a build-up of plaque, eventually damaging nerves and resulting in a loss of brain function. This affects your dog's motor functions, learned behaviors, and memory.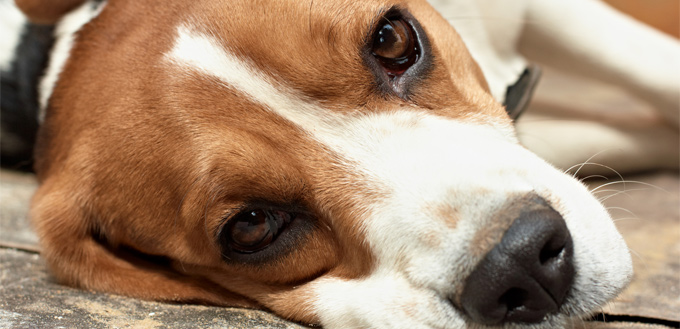 Canine Cognitive Dysfunction and Different Breeds
While there are many conditions that are breed specific, research has shown that it is not the case in canine cognitive dysfunction (CCD). Research carried out in Slovakia determined that the dogs sex, weight, reproductive state, and housing had no significant association with cognitive decline. Nutrition played an influencing role in determining risk factors, but age was the most prevalent and significant factor.
Research carried out at the University of California found similar results, showing that most dogs experience some degree of CCD as they age, regardless of their breed. In dogs between 11 and 12 years of age, 12% showed at least one sign of cognitive impairment, this rose to 68% in dogs aged between 15 and 16 years.
Becoming Aware of CCD in Your Senior Dog
One of the many problems with CCD is lack of awareness. Owners do not know to look for it in their dogs, so often miss the early signs, putting changes down to behavioral issues or physical difficulties. It is crucial that if you notice changes in your dog's behavior, routines, or abilities, which have no obvious cause, you take them to your regular veterinarian to determine the cause.
Another issue is that the signs and symptoms are often similar to those that present in other age-related conditions such as arthritis. Your dog may not be chasing the ball as much anymore because it hurts, or it could be that they just don't remember why and don't enjoy it anymore.
Your veterinarian will carry out appropriate testing to rule out physical causes and other age-related conditions including arthritis, diabetes, cancer, and kidney issues. They will also test for things such as sight and hearing loss. It is hard for your dog to greet you at the door if they can no longer hear the key turn in the lock.
It is also worth remembering that the signs and symptoms of CCD come on gradually, making them less obvious. Therefore, even slight changes in your dog should be noted and monitored, particularly as your dog ages.
However, there is also a widely accepted acronym, DISHA, used by many within the veterinary profession to help owners recognize the signs and symptoms of canine cognitive dysfunction. DISHA stands for:
D – Disorientation
I – Interaction
S – Sleep/wake cycles
H – House soiling
A – Activity levels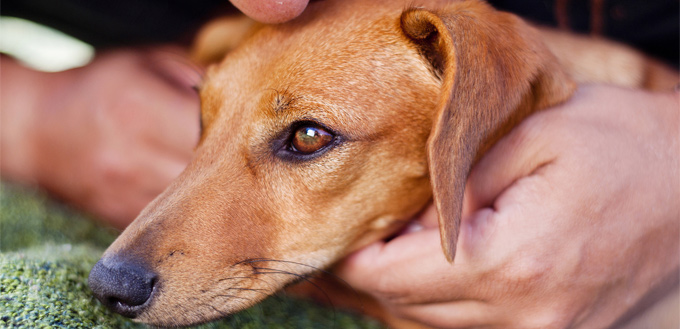 Changes in any of these areas, or a combination of different areas, can point towards CCD. There is not necessarily a progression through the symptoms, but the more frequently a sign is seen or the great number of signs that are being experienced does relate to how significant the problem is. Given this, it is important to understand each of the signs in detail.
Disorientation is one of the most common signs that owners notice as their dog ages. It is particularly noticeable when it happens in familiar surroundings, such as the home environment. You may see your dog go to the wrong door to try to return from the garden or go to the wrong side of the door to try to get out. When this happens, it is a sign that the part of the brain that deals with orientation is being affected.
Spatial awareness may also be affected. Your dog may wander into a tight space, such as behind the couch, and then realize that they do not know how to get out or even whether they are. Similarly, at bedtime, your dog may be in a completely different part of the house to where they normally sleep and seem unable to find their bed or sleeping place.
Take a look at our guide on the Most Comfortable Dog Beds.
Your dog's interactions with other animals and people can be affected by CCD. A popular and sociable dog can become irritable and cranky. They may now growl at passing animals, not just at other dogs that they see as a threat. They may also growl at members of their human family, including children. Care needs to be taken if your dog shows any signs of aggression or unusual interactions as they may lash out without reason and this could be serious, particularly if you have children or other pets in the home. There are of course, many reasons for such changes in interactions, so at the first sign, a visit to the veterinarian is a good idea. This allows them to check for physical issues, such as painful joints and potential illnesses that can cause such changes.
Not all dogs with CCD react in this way. Some instead become withdrawn. They may stop interacting with family and other pets or doggy friends; they may stop greeting visitors, refuse to play with toys, or stop barking at the mailman. Something as simple as your dog not recognizing their favorite treats should be enough to take a senior dog for a checkup. For more options head over to our guide on healthy dog treats.
Changes in sleep patterns are one of the more specific symptoms that are related to canine cognitive dysfunction. You may find that your dog now paces all night, where they once slept soundly. Disruptions to circadian rhythms can mean that your dog reverses their schedule, doing their daytime activities at night and sleeping during the day. This can be very tiring for owners as well as being disorientating for your dog. White noise or a nightlight can help relieve the symptoms, but your dog still needs to see a vet, who can offer further advice or medication if needed to help reestablish normal sleep cycles.
If your previously well-housetrained dog starts to defecate or urinate in the house, then this is a common sign of canine cognitive dysfunction. Once physical causes have been ruled out, it could be that your dog has either lost the ability to control these bodily functions or now lacks the ability to let you know that they need to go outside.
You may also like our article on the Best Carpet Cleaners for Dog Urine.
Canine cognitive dysfunction may cause dogs to show an increased desire to explore. Dogs with CCD may also exhibit decreased responses to people, sounds, and things in their environment. They may no longer respond excitedly to their favorite toy, run to greet you when you call or want to fuss as they once did. They may exhibit altered responses to stimuli, including food and drink. If they drop something they were eating, they may have difficulty finding or recognizing the food again. They may even forget where their food and water bowls are kept, even if they have been in the same spot since they first joined your family.
General activity levels may also decrease. While all dogs become less active as they age, if they are also exhibiting repetitive motions or are restless, then these are signs of CCD. Common symptoms include pacing in circles, head bobbing, and leg shaking. Excessive barking in a usually quiet dog or barking for no evident reason should also be treated seriously.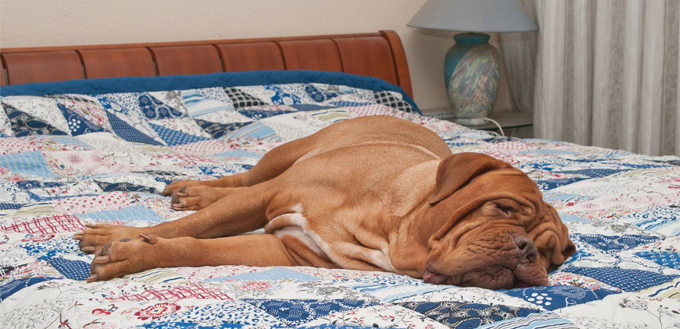 Supporting a Dog with Canine Cognitive Dysfunction
Being told that your dog has CCD is devastating, and watching them lose their cognitive abilities can be a disturbing and difficult process. While there is no cure for CCD and no way to reverse the effects that are already present, it is possible to slow the decline and ease the discomfort and confusion that your dog is likely to be experiencing.
Your dog's diet can have a huge impact on the speed with which CCD develops. Foods that provide balanced nutrition, but that are also high in antioxidants and omega-3 fatty acids can slow your dog's cognitive decline. Omega-3 acids and anti-oxidants achieve this by strengthening and promoting cell health.
Check out our guide on High Protein Dog Food for more info.
Active brains tend to be healthier brains, so providing an environment that is mentally stimulating can slow the degeneration of your dog's mental capacities. Introduce food balls, schedule regular play seasons, continue their training to reinforce the skills they learned as puppies, and take them out whenever possible to keep them socialized.
Your dog's decline can be slowed using different medications and supplements, but it is vital that any new medications are discussed with your vet. A plan that is established between you and your vet is less likely to include drugs that react negatively with one another and cause your dog further problems. If you are looking for more options, check out our guide on the best supplements for older dogs.
Monitoring your dog's health is essential, but so it is relaying this information to your vet through regular checkups. Older dogs should see their regular vet at least twice a year. Your vet is likely to pick up on changes that you don't see, simply because you are with your dog every day. It also means that your vet can check for other health problems that can be masked by the CCD.
Understanding canine cognitive dysfunction and knowing what to look for can help your dog have a happy, healthy, and productive life for many years to come.
Sources:
Risk factors for canine cognitive dysfunction syndrome in Slovakia, PubMed Central®
5 Signs of Dog Dementia, PetMD