In the midst of elections and serious debates, it's sometimes hard to imagine some of our finest leaders curled up on the couch petting a furry companion. In fact, amongst other well-loved pets, White House cats are fairly common. Lincoln and Roosevelt were among many presidents with cats roaming the halls and grounds of the White House. To welcome Willow into the White House, we've taken a look back through time at some of the most well-known and loved felines to grace the presidential home.
Presidents Who Owned Cats
Cats are a popular pet in many households, not just the White House, but you may be curious as to what felines have been lucky enough to explore the rooms and corridors of the enormous presidential home. Below are some of history's famous felines owned by presidents.
President Abraham Lincoln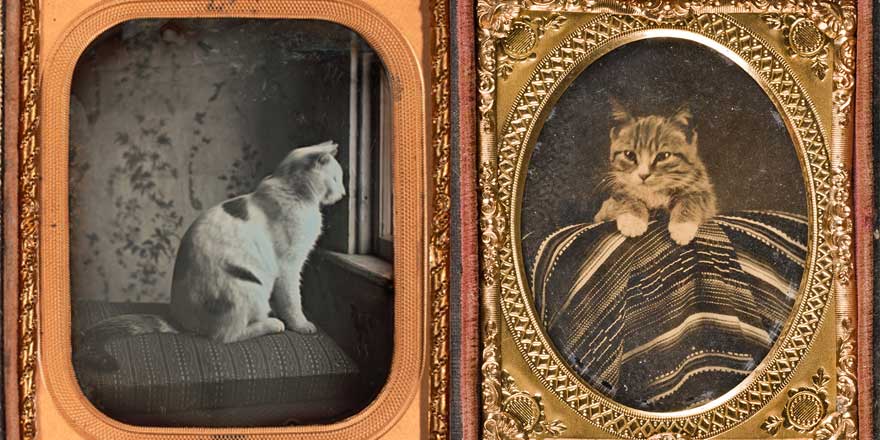 The first cat in the White House is said to have been introduced by Lincoln. Rather, Abraham Lincoln brought two cats into the house, named Tabby and Dixie. Like other cat lovers, it is believed that this president used to pet his cats to relieve stress.
President Rutherford B. Hayes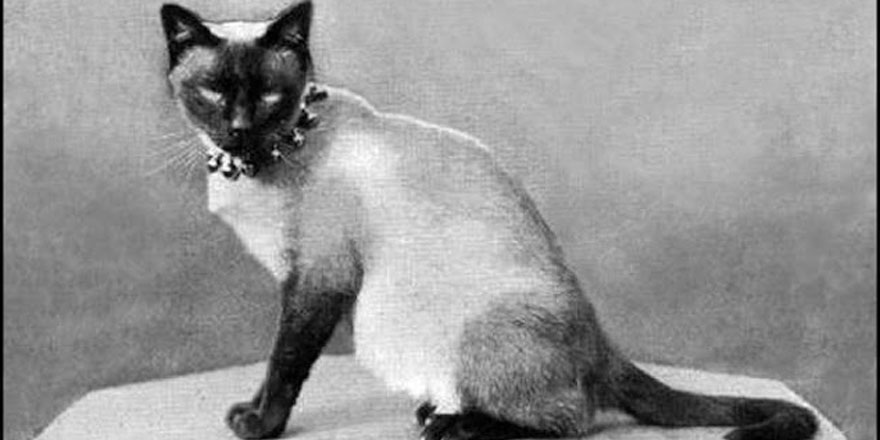 The first Siamese cat arrived in the US as a gift to the first lady Lucy Hayes. After finding out that Hayes was an avid cat lover, David B. Sickels, an American Diplomat in Bangkok, sent over the feline which the Hayes named Siam.
President Theodore Roosevelt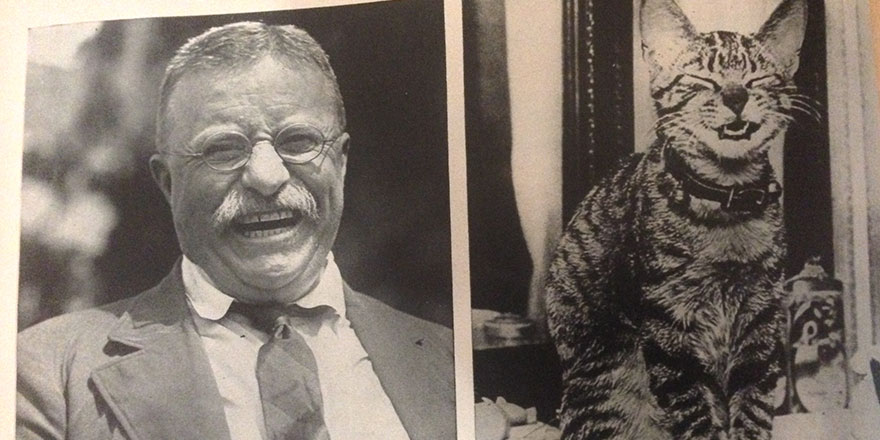 A May 17, 1937 Issue of Life Magazine. Credits: InfiniteSerious/Imgur
Roosevelt was known to home many pets throughout his lifetime including dogs, cats, rabbits, horses, and a great deal more. His two cats, Slippers and Tom Quartz could often be found in the kitchen. Slippers especially liked to sprawl out and take naps in the White House halls forcing visitors and household members to tip-toe around her.
President Calvin Coolidge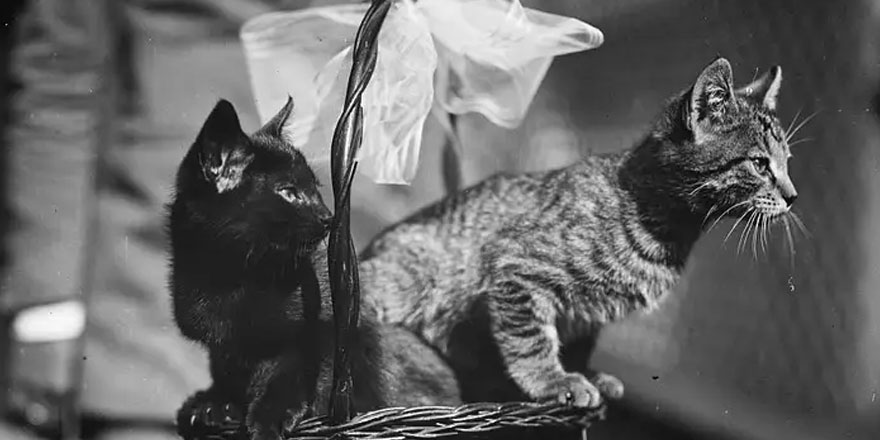 President Calvin Coolidge's cats Blackie and Tiger. Credits: Library of Congress 
President Coolidge owned two cats named Tiger and Blacky. Since Tiger's time in the White House, those that work and visit keep a special eye on the felines that roam around, especially those that like to prowl outside on the White House grounds. This is because Tiger, Coolidge's short-haired tabby, was riddled with curiosity and often went missing. On one occasion Tiger escaped but was later found in the Navy Building. Although he was brought home, Tiger eventually went missing one last time and never returned.
President John F. Kennedy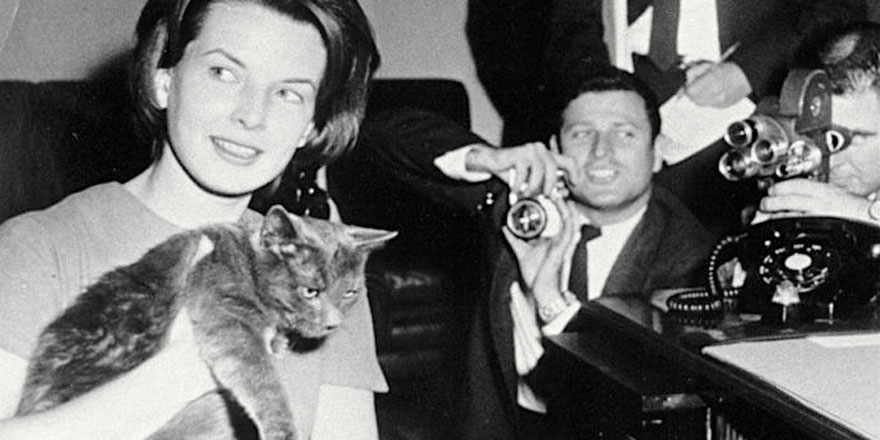 Pamela Turnure, First Lady Jacqueline Kennedy's press secretary, introduces the media to Tom Kitten, Jan. 24, 1961. Photo: Abbie Rowe/White House, courtesy John F. Kennedy Presidential Library and Museum.
President Kennedy was not short of White Housepets. Amongst the family's furry friends were dogs, hamsters, and a cat named Tom Kitten. Despite having a lot of family pets Kennedy suffered from allergies when it came to the cat. Therefore, shortly after the cat arrived in the White House, Tom Kitten was sent to live with a staffer.
President Gerald Ford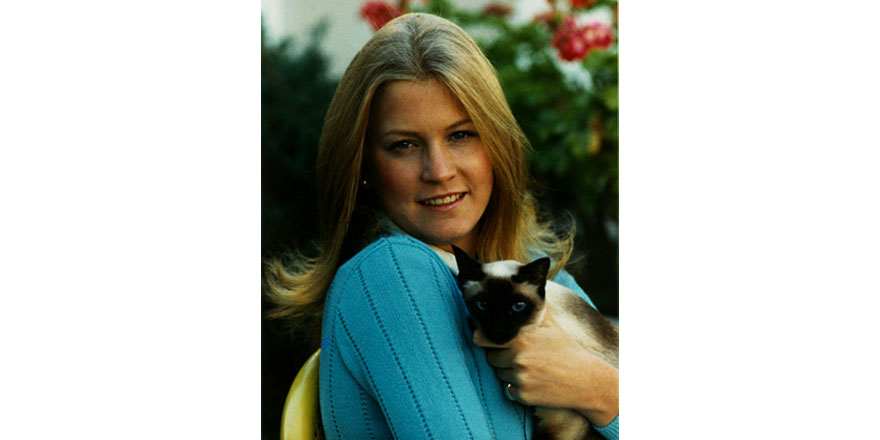 Susan Ford with Shan, the Ford family's Siamese Cat. October 4, 1974. Credits: Gerald R. Ford Presidential Library & Museum
President Gerald Ford's daughter, Susan Ford, introduced yet another Siamese cat to the White House named Shan. Shan the seal point siamese loved nothing more than taking a snooze beneath the furniture in the Lincoln bedroom.
President Jimmy Carter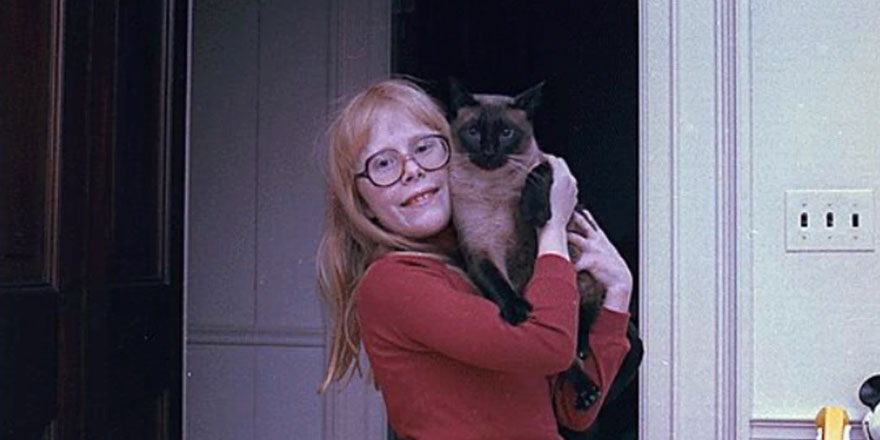 Amy Carter with Misty Malarky Ying Yang, Jan. 20, 1977. Credits: The Presidential Pet Museum
Amy Carter, President Carter's daughter, brought another Siamese pet cat into the White House. Misty Malarky Ying Yang was a male Siamese cat that eventually had a song named after him by Gabor Szabo. The Carters often took the Kitty on their vacations to Camp David.
What Amy Carter didn't know was that Misty would be the last cat in the White House until President Clinton would move in with his own feline friend.
President Ronald Reagan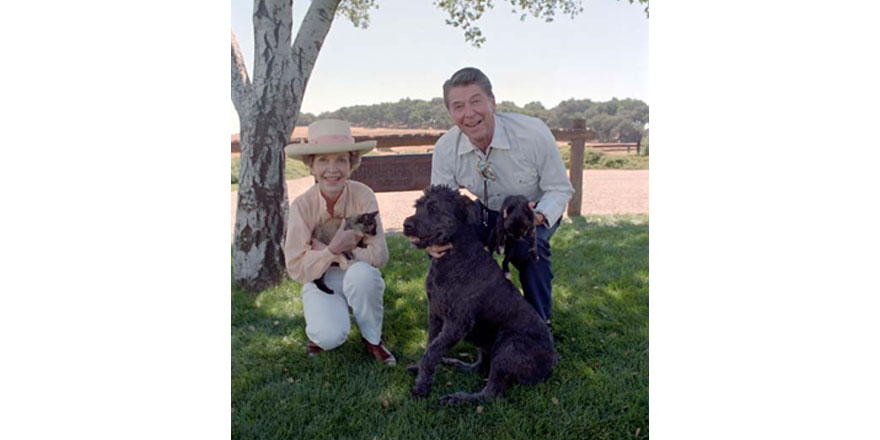 President Reagan and Nancy Reagan with their dog "Lucky" and cats at Rancho Del Cielo in Santa Barbara, California. Credits: Reagan Library 
Much like other Presidents, Ronald Reagan homed many pets including two cats of the same breed called Cleo and Sara. However, these tortoiseshell felines didn't get to explore the halls of the White House much as they resided at Reagan's ranch near Santa Barbara. Despite this, this doesn't make the former president any less of a cat lover.
President Bill Clinton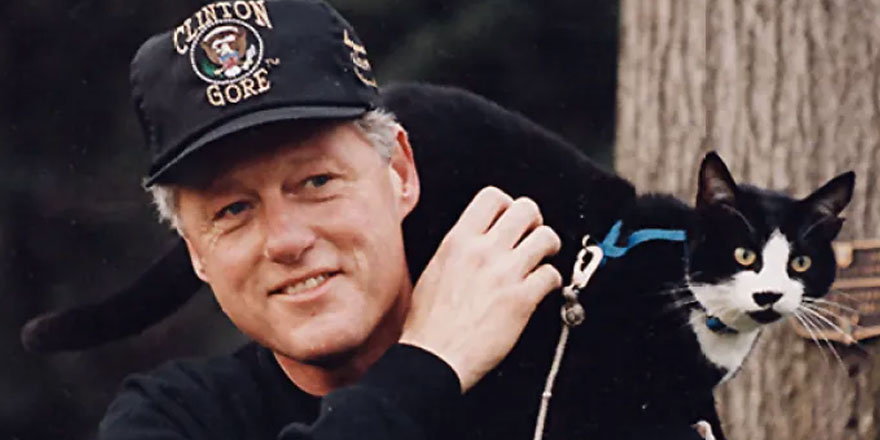 President Clinton and Socks go for a walk. Credits: The Presidential Pet Museum
A well-loved White House cat was Socks Clinton, a former stray who chose the right family to adopt as her own. During the tuxedo cat's stay at the White House, she built an incredible fan base which meant that she was often confined to the inside of the building for her own safety. However, according to Presidential Pet Museum, Socks sometimes accompanied first lady Hillary Clinton to events held in Washington, D.C as well as visits to local hospitals.
There are many adorable images of Socks that are easily accessible online however one of the most famous is of her sat looking somewhat startled at the resolute desk in the oval office. Another popular image that cropped up during our research was that of Socks peering over the podium in the White House briefing room.
President George W. Bush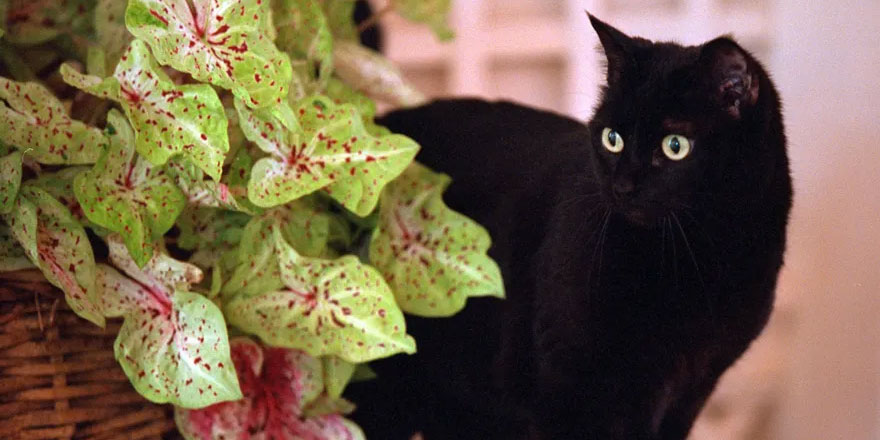 India peeks around a plant at the White House, July 10, 2001. Credits: George W. Bush Presidential Library.
The next famous kitty to grace the presidential residence with her charm was a black cat named India who made quite an impression on the general public and was pictured in adorable outfits and playfully crossing paths with the Bush family dog Miss Beazley on the south lawn.
The White House cat lived a whopping 18 years and was adored by her family. Her favorite room in the White House to relax in was the library most likely because it was a quiet place for her to nap and remove herself from the hustle and bustle.
Who Looked After The Presidential Cats?
Presidential pets were often cared for by the first families themselves. However, the residential staff is typically always ready to step in and care for the animals as and when necessary.
Which President Had The Most Pets At The White House?
According to our sources, the 26th president, Theodore Roosevelt had the most pets. Amongst roosters, flying squirrels, a hyena, a barn owl, kangaroo rats, and other animals it's said that Roosevelt owned:
11 horses
Six dogs
Five guinea pigs
Two cats
One pig
One badger
One hen
One rabbit
One lizard
One snake
One rat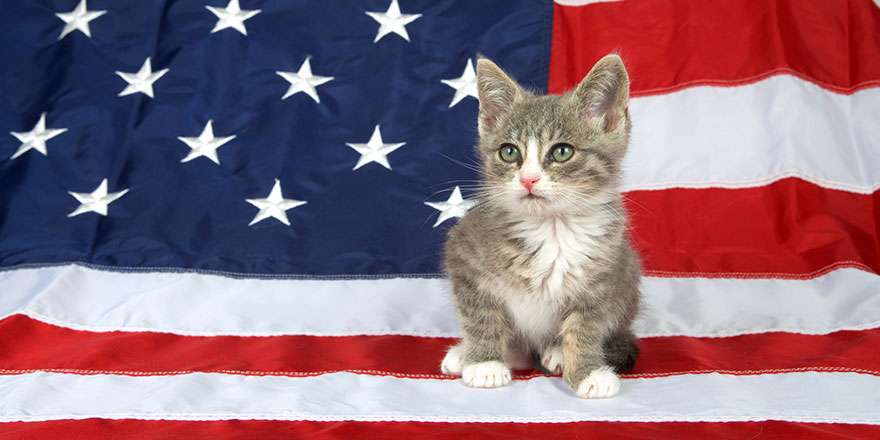 Fun Facts About Presidential Pets
The first president to bring a cat into the White House was President Lincoln whereas the first dogs are believed to have been brought in by George Washington.
During Lincoln's time in the presidential residence, the White House stables sadly caught fire killing a number of horses and ponies.
According to the Herbert Hoover Presidential Library and Museum, Hoover was gifted a Persian cat named Kitty.
Theodore Roosevelt's cat was named after a fictional feline in Mark Twain's Roughing It. His guinea pigs also had names such as Fighting Bob Evans and Father O'Grady.
Roosevelt's kitty 'Slippers' is believed to have had six toes.
It is also believed that Roosevelt also owned roosters. Specifically, a one-legged rooster.
William H. Taft owned a cow named Pauline that used to casually graze the White House lawn.
Only three Presidents didn't own cats including Donald Trump, Andrew Johnson, and James Polk.
The White House Historical Association webpage offers many plush versions of well-loved presidential pets including president Joe and lady Jill Biden's late german shepherd Champ and former president Clintons Socks.
Our Current Presidential Feline
The Biden family introduced their gray tabby cat named Willow into the White House in January after staying with a foster family according to the first lady's spokesman. The two-year-old tabby is fondly named after President Joe Biden's hometown in Pennsylvania, Willow Grove.
How Did President Biden Get Willow?
Associated Press were previously told that the former farm cat welcomed herself onto the stage during a 2020 electoral campaign stop in Pennsylvania. After sensing an immediate bond, the farm knew that Willow belonged with the Bidens who eventually welcomed her to the presidential home this year.
Willow is now settling into her new home nicely with plenty of room to explore and play in amongst lots of treats and cat toys.
Other Furry Family Friends
President Joe Biden and first lady Jill Biden previously owned two German Shepherds named Champ and Major. Sadly, Champ passed away at the age of 13 however adorable Champ plushies are currently sold on the White House Historical Association webpage. Major now lives with a new family after being unable to adapt to life in the White House.
Recently, the Biden family got themselves a new dog, another German shepherd called Commander, since the couple can't be without a canine in their lives. This new addition lives comfortably alongside the family and Willow the cat.
Final Thoughts
Pets have been a major presence in the White House for decades. American citizens have seen a number of well-loved and admired animals share the home with their leaders which has significantly impacted how people perceive and care for their pets. Seeing cats in the White House encourages cat people and animal lovers to rescue and adopt a new fur friend as well as find a common interest with their president. Who's life isn't improved with the presence of an animal companion?