Petey the West Highland Terrier stole the show at this year's annual dog surfing competition in California. After a wild run, the extra small pup was awarded "Best in Surf" against all other competitors large and small – putting this tiny pooch on the top of the podium.
Helen Woodward Animal Center's 16th Annual Surf Dog Surf-A-Thon which takes place in Del Mar, California, is a much-loved tradition. The animal welfare organization originally setup up this super fun event 16 years ago to raise funds for the charity. It has always taken place on a dog-friendly beach in Del Mar for all to enjoy.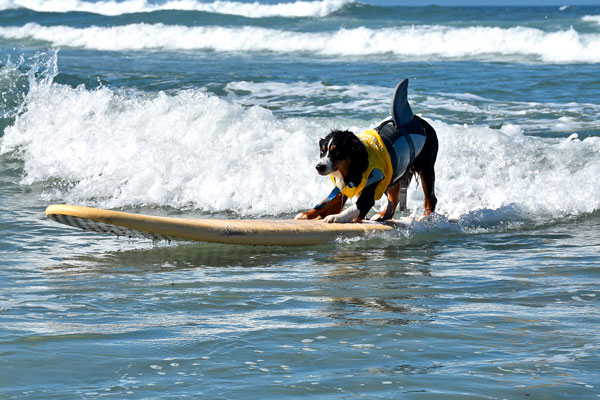 This year's Surf-A-Thon attracted a whole host of water-loving canines to the beachfront to test their skills on the board and try their hand at winning the coveted top prize. The "Best in Surf" title winner is awarded a Surf-A-Thon medal for what the judges feel to be the best dog of the day.
Harkening all the way from the "extra small" weight class, this year's winner was Petey! A snowy white Westie whose love for the water translates to excellent surfing ability. Third and second place were both taken by dogs significantly larger than Petey. With second place going to Derby, who is a Goldendoodle rescue pup, and third place going to Rothstein, a heavy-weight Bulldog that known how to balance.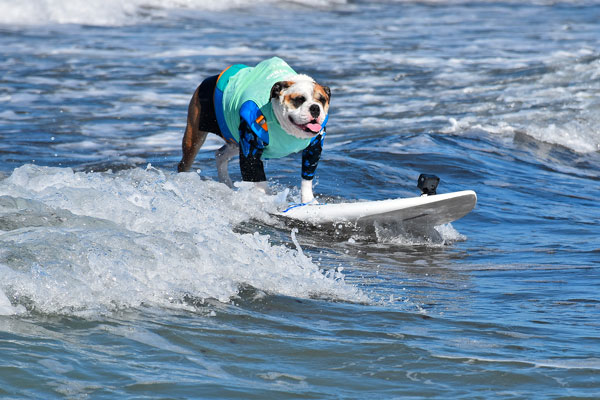 The judging of the competition is simply to see how well the dogs can surf, but also to see how much they are enjoying themselves. No dog should be forced to learn to surf, and if a pup is afraid or uncomfortable it will show in their face and body language. Fortunately, the canines involved in the Surf-A-Thon all seemed to very much enjoy themselves!
Though it may be a day of dog surfing, it is not limited just to that. The Surf Dog Surf-A-Thon holds two other contests for spectators to enjoy. The main event is for single canines, as we know, with a second competition for their owners. Then last but most certainly not least is the competition for surfing dogs that prefer to surf in packs. These contests were judged on creativity along with having a small side-competition for costumes.
It is a competition designed to be enjoyable for all involved and gives dogs of all breeds, sizes, and backgrounds the chance to show off their skills. And with the tremendous success of Petey the Westie, it goes to show that anything is possible!