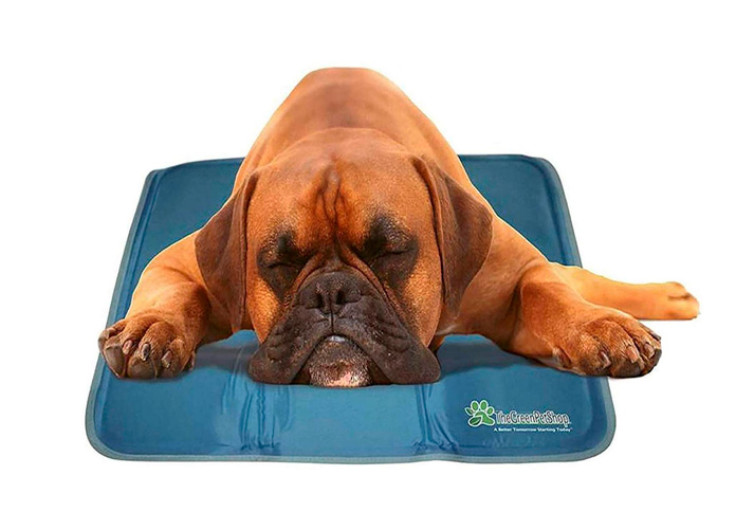 The Green Pet Shop Dog Cooling Mat
Summer time can be a very stressful period for certain breeds of dog. Bulldogs, Frenchies, Pugs, and other brachycephalic breeds have a tendency to overheat because of their short snouts. That is why these dogs should always stay in an air-conditioned room. However, doing so can also increase your electric consumption. A better alternative will be to use the Green Pet Shop Dog Cooling Mat.
The Green Pet Shop Dog Cooling Mat is a simple yet ingenious contraption that can cool your dog down. It features a pressure-activated gel technology which also recharges itself without any input from a person. The cooling effect of the Green Pet Shop cooling mat can last up to 3 hours.
Conventional cooling mats call for the immersion of the device in water or its placement in the freezer for a few hours. There are also products that require electricity to recharge. None of that is required in recharging the Green Pet. It is ready to cool your dog within 15 to 20 minutes of not being used.
There is one thing that pet owners should understand about the design of the Green Pet Shop Dog Cooling Mat. It is not a bed, a cushion, or a mattress. It's a mat that is about 0.2 inches thick. As such, one can put it over a dog bed to help improve the cooling capabilities of the bed. One can also use the cooling mat in a dog crate, pet carrier, or other pet cages. The 'thin' design of the cooling mat allows for use on almost any other surface.
Given that this cooling mat is not so thick, one should never use it with dogs that have a tendency to chew. The construction of the cooling mat is not for dogs that are moderate to very aggressive chewers. This is despite the fact that Green Pet Shop constructed the cooling mat with double-stitched edging. Regardless, providing a cool spot for your pet is now easy with the Green Pet Shop Dog Cooling Mat.
You may also like our latest review of the Best Dog Cooling Pads.
Pressure-activated pet cooling gel technology
3-hour cooling effect
Automatic recharging system
Multipurpose and versatile design
How Does This Product Work?
The Green Pet Shop Dog Cooling Mat serves to draw heat away from the dog's body. It contains gels that absorb heat to help lower the body temperature of the dog. Every time a dog lies on the cooling mat, its body squishes the gels. This activates their cooling properties, allowing them to draw heat from the body of the dog. The cooling effect lasts for about 3 hours. The cooling mat is versatile enough that one can use it in a dog crate, on furniture, on the floor, or any other surface where pets often stay to relax.