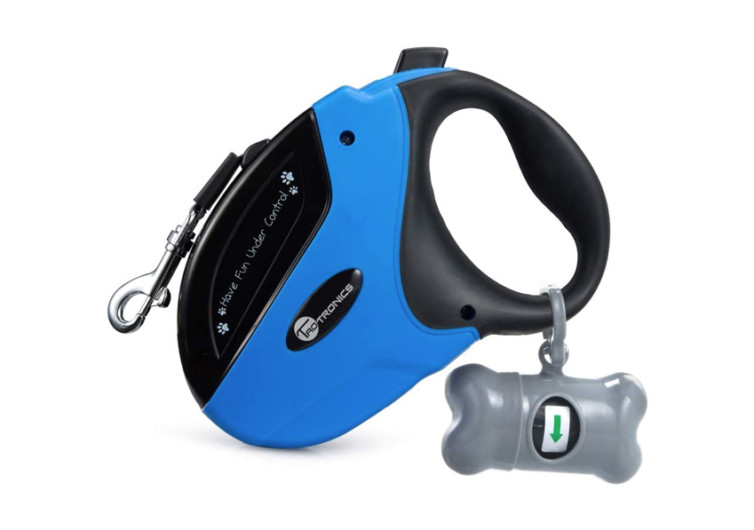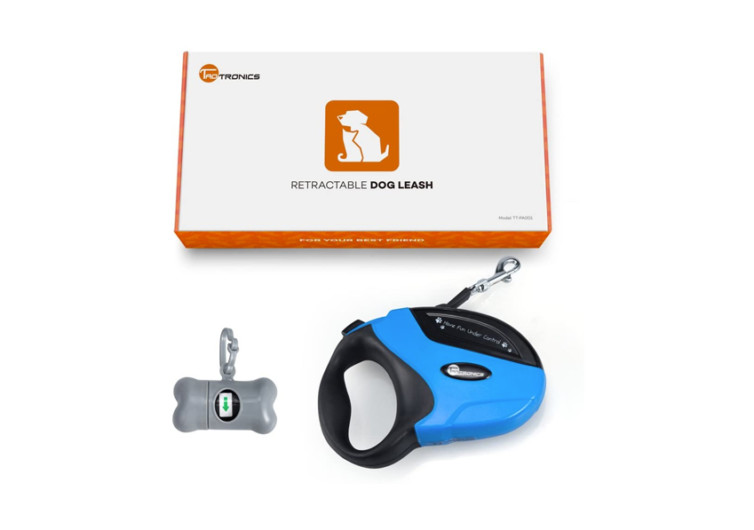 TaoTronics Retractable Dog Leash
All seasoned dog owners are likely to have found themselves in the precarious situation when out exercising their beefy pooch when suddenly, their retractable lead suddenly snaps. The rest of the walk thereafter is spent anxiously darting through overgrown, muddy fields off the beaten track in an attempt to get your dog home safely. The team over at TaoTronics understand how awful this scenario is and created their trustworthy retractable dog leash to stop situations like these from occurring again.
You may also like our ultimate guide on Retractable Dog Leashes.
Sturdily made of fray-proof, nylon ribbon, manufacturers proudly affirm that your dog could weight up to 110lbs and still won't be able to break their chain! Combined with the strength of the chrome plated snap hook and reinforced plastic joint, this leash is an example of premium craftsmanship. Its ergonomic anti-slip handle ensures you're both comfortable and in control, while your dog will also feel relaxed as they become used to the feel of the leash's retraction. Besides, your pooch will be delighted at the extra freedom they've obtained, as this sturdy nylon leash is able to extend up to sixteen feet.
Take a look at our latest review of Dog Leashes.
However, say the unthinkable does occur and your retractable dog leash snaps. In this instance occurs in the first twelve months, all you'll have to do is contact TaoTronics Support team to put forth a warranty claim and they'll send you a new leash – no questions asked.
Like other products, this leash certainly has its negatives – most notably, its ergonomic handle doesn't work for dog owners with larger hands when paired with the doggy bag dispenser. Although we therefore cannot recommend TaeTronics lead for this demographic, it's a certified lifesaver for those with smaller hands – and their dogs, too!
Check out our review of Hands-Free Dog Leashes.
Ergonomic anti-slip handle allows you to retain control of your pet when they pull on the leash
Fray-proof nylon ribbon stops even the beefiest dogs from breaking the lead and running free
Chrome plated snap hook guarantees durability
How Does This Product Work?
It won't take more than a few minutes to get used to TaoTronics' retractable dog leash and its brake, release, and recoiling system.
Release and Break: If you're approaching a dangerous segment of your walk and need your dog to be under control, flick the lever up so the lead starts to return back to you. Your dog will notice the gentle pull of the lead and should return to your side. If they need more persuasion, however, repeatedly press down the brake lever to return them to your side.
Locking the leash: See that large black button built in where your thumb tends to rest while walking? That's the brake button. Pressing it down will ensure the leash stays at the current length it's already at. It's really that simple!