Pico the adorable 9-year-old cat has dazzled the internet with his mesmerizing crystal-orb-like eyes. However, as unique and beautiful as his eyes are Pico is unfortunately blind in both as a result of ocular disease.
Life With Pico
After tragically being struck by a car, Pico was left in a three-day coma before being adopted by compassionate cat-lover Monica. It was at this time that Pico had captivating emerald green eyes like a lot of other felines.
However, five years ago, Pico's eye began showing signs of trouble. This was when he was sadly diagnosed with glaucoma.
Inevitably, the disease blinded Pico and enlarged his eyes, although readers will be please to know that the poor kitty is very well-loved in his home and lives almost like any other cat. To add, despite not being able to see, Pico shows no sign of pain or discomfort and is in good health. He shares his home with no other pets for his own safety and lives on a healthy and nutritious diet.
Living with the disease means that Pico requires daily care involving eye drops and a lot of cuddles. However, this doesn't stop the darling kitty from going about his day-to-day.
Pico is devoted to his family, often following Monica from room to room and making vocal pleas for care and attention. In return, Pico rewards his humans with purrs and affection which only strengthens their love for him (why wouldn't it?!).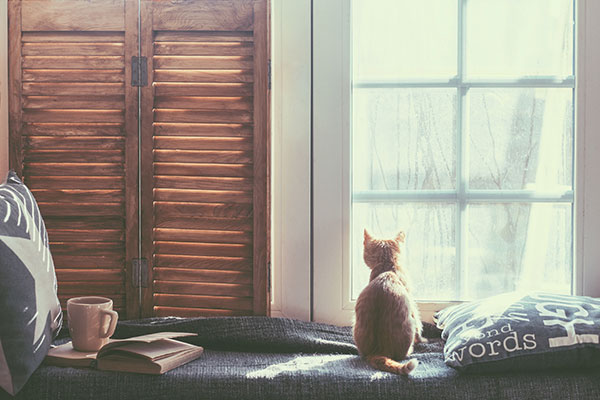 Also, like most cats, Pico can be a fussy eater opting only for fishy flavors and lots of cat treats. And to reassure you further, Pico loves nothing more than to curl up Monica's room for nice, long snoozes.
To this day, Pico is living his best life with cat-mom Monica. The ever-curious and spoiled kitty enjoys his days napping, exploring the outdoors with his human, and being worshipped and pampered by his loving family. With thousands of adoring fans on Tik Tok and Instagram and the care and affection from Monica, this loveable feline will only know warmth, comfort, and the best life possible.
What Causes Pico's Eyes To Look This Way?
Pico has feline glaucoma which, as a result, has left him blind in both eyes.
There are a number of symptoms of glaucoma that cats may experience. These include a watery discharge that leaks from the eyes, physical bulging or swelling of the eyes, dilated pupils, blindness, or the eyes becoming a shade of blue or turning cloudy. Typically, cats that develop glaucoma can experience clear signs of pain however Pico is just as curious and affectionate as other well-loved kitties, showing no physical signs of pain in his day-to-day life.
Primary glaucoma is said to be common in cat breeds such as Persian, Siamese, and Burmese and can either present as unilateral or bilateral. If you notice your feline friend showing any of the signs above, reach out to your vet as soon as possible.
Featured image credits: @pico_blindcat/Newsflash