One of the great joys of being a dog owner is playing with your four-legged friend. All dog breeds are different, and some are inevitably more playful than others. If you are thinking of getting a pooch of your own and playfulness is important to you, we are going to be running through 10 of the most playful dog breeds on this list. Alternatively, you may think that you already have one of the most fun-loving breeds at home and want your suspicions confirmed!
English Springer Spaniel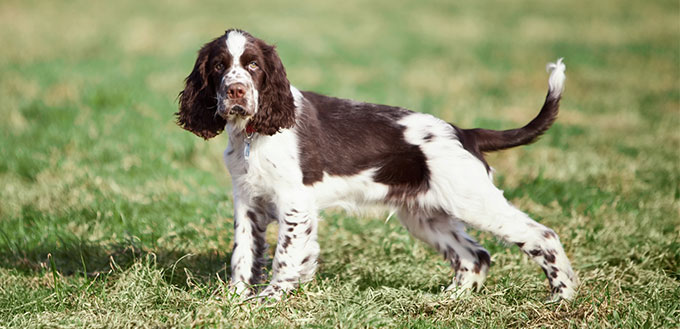 An extremely lively dog, the English Springer Spaniel got its name from the way it sprung after its prey when it was a hunting dog. Now they have become domesticated, they still love bouncing around the house whenever they get half a chance. Well-known for their intelligence, they are also enthusiastic and eager to please, which makes them great for training. Generally, they are affectionate towards family member if they are socialized early during their puppyhood. Often, they will bound around your home, and they are also known for their frequent barking at noises and strangers, though don't be fooled into thinking that they make great guard dogs!
While they can be good with other pets, their hunting instincts may return when they are confronted by birds and small rodents. And this hunting past means that they require plenty of exercise to stay happy and healthy. Be wary about letting them off their leash in open areas as they may try to go out on their own hunting exhibition with the local wildlife. Known for their athleticism, you can play all sorts of games with your pup. Agility courses provide a great challenge, and they help to ensure your pup is exhausted at the end of the day.
Related Post: Dog Agility Tunnel
The Australian Shepherd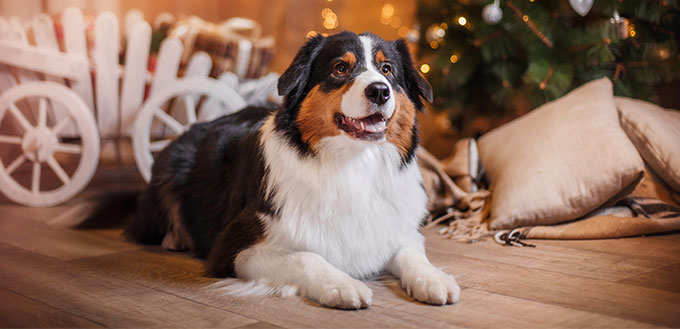 As the name implies, Australian Shepherds are often used as sheepdogs, and they possess many of the qualities that make them perfect for this task including intelligence and a hard-working temperament. If you don't have a flock of sheep to keep your dog busy, you are going to have to direct their attention elsewhere. Exercise requirements are high, and you need to be willing to put in the work to keep your dog in fit shape. Otherwise, they are likely to engage in problematic behavior that could also prove to be destructive.
Related Post: Dog Food for Australian Shepherds
Ideally, you are going to need your own yard at home as this is not the kind of dog who is going to be happy cooped up in an apartment all day long. This is the perfect pooch if you are looking to enroll them in some dog sports. Also, they are great as working dogs in the police, search and rescue, or human aid fields. But if you have an active family, this hound could prove to be the ideal companion.
Corgi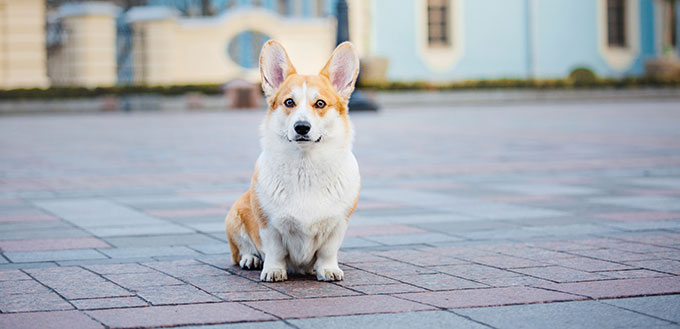 One of the most iconic playful dog breeds, the Corgi is both highly intelligent and highly active. While they are sometimes still used for their hunting abilities, they are more commonly owned as family pets nowadays. Training is important in making sure they behave well in the house. Food is a useful motivator, but you need to make sure that you don't overdo it as Corgis are known for overeating and obesity is a common problem.
Related Post: Dog Food for Corgis
While they have short little legs, you may be surprised by just how fast your pooch can move! Games of fetch are a great way of getting your dog to work off their excess energy. As this is a people-loving dog, they are better off in busy households rather than being left alone for hours on end. But unlike some of the other dogs on the list, they can be kept as city pups too as long as they are given plenty of exercise.
Related Post: Corgi Puppies for Sale
Jack Russell Terrier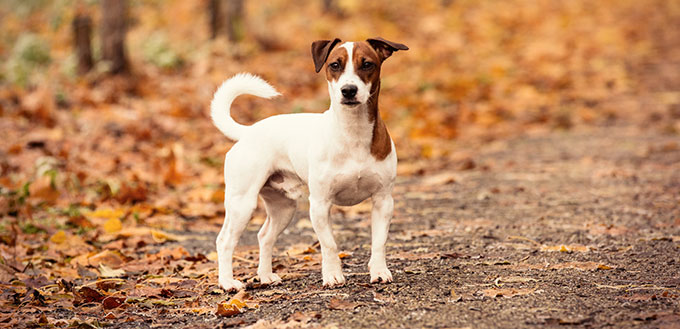 Another beloved playful dog, Jack Russells were first developed 200 years ago and have proven highly popular ever since. Known for their determination and speed, they are ideal hunting dogs. And like the other hunting dogs on the list, energy and playfulness are built into them. Be wary about being seduced into getting a Jack Russell thinking that it is going to be an easy task. You will need to have bags of time and energy to train your dog. Otherwise, they are likely to become bored and engage in problem barking and other nuisance behavior.
If you are into jogging, your Jack Russell will happily come along with you. Or you could simply engage in a few (hundred) games of fetch! As a rule of thumb, your dog needs between 30 and 45 minutes of vigorous exercise every single day. And you will certainly have plenty of laughs along the way.
The Brittany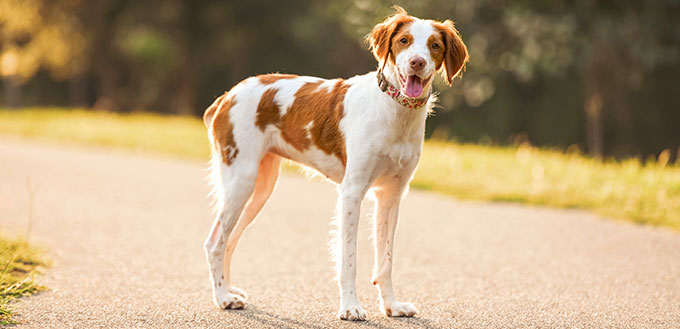 A sporty breed of dog, energy levels are high in this pooch and this means that playfulness levels are high too. While this is a great family dog for those who live an active lifestyle, you need to have the energy and enthusiasm to match theirs. A simple walk in the park is not going to be enough for your Brittany. Otherwise, they are likely to become bored – and boredom so often leads to problem behavior. You should count on giving your dog at least an hour of exercise per day, but if you love playing with your pooch, you will love every minute of it!
The Portuguese Water Dog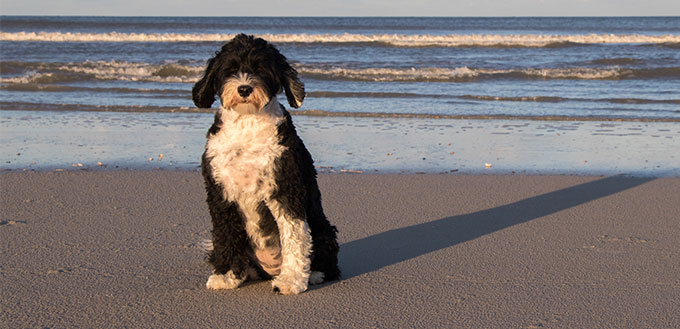 Another dog named after its former job; the Portuguese Water Dog was known for its fishing abilities. Calmer than some of the other dogs on the list that we have discussed, a fun-loving nature is still apparent. And if you are able to take them swimming from time to time, they will certainly thank you for it. Make sure to take your dog in for training, and you can also enroll them in agility, obedience, and anything else that requires discipline. While swimming is the obvious choice, your Portie will still make an excellent running mate if this is the exercise you prefer. As long as they get enough exercise, this is also a suitable dog to keep in an apartment.
Labrador Retriever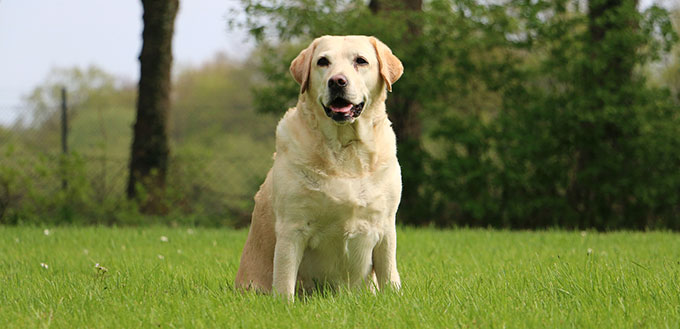 A beloved dog that still ranks very highly on the popularity scale, Labradors are well-known for their muscular physique, high intelligence, and bags of energy. So, they are perfect for classic dog games like tug of war, frisbee or fetch. But they are also happy to play mentally stimulating games with you too. One of the main reasons why Labradors are quite so popular is that they are – first and foremost people – dogs. Get one of these and you will have a companion for life. Known for their sweet nature, they are not the best watch dog in the world, but this isn't the reason that most people decide to get one.
Related Posts: Automatic Fetch Machines and Dog Frisbee
Dalmatian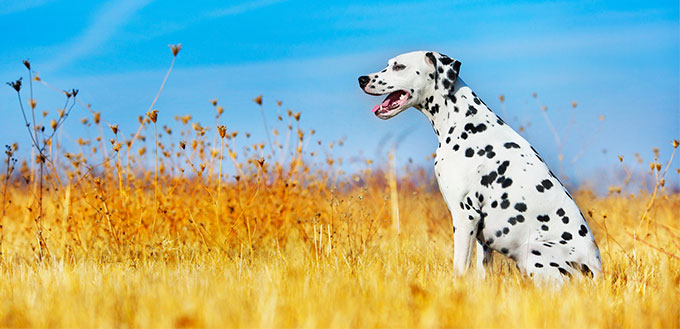 You may not have automatically associated Dalmatians as being high-energy dogs, but you certainly need to put in the hours to ensure that your pooch is properly physically and mentally stimulated. Their energy levels are seemingly inexhaustible, so if you live a busy life too, they could prove to be the ideal companion for it. As well as being very active, they are also very intelligent, so you need to ensure that your pooch is trained from an early age to prevent any problem behavior in the future. Due to their stubborn nature, training methods need to be consistent and reliable to ensure that you achieve the kind of results that you are looking for.
Boxer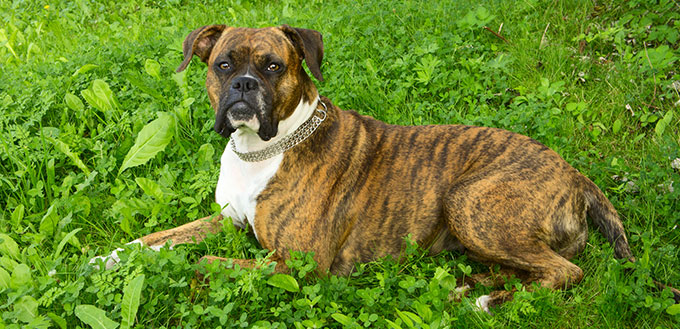 When you decide to get a Boxer, a playful nature and bags of energy are a given. In fact, they have one of the longest puppyhoods of any dog, lasting around three years, which goes some way to explaining why they are so energetic and mischievous! When they settle into your family, they will be a very loyal companion, but you need to keep up with the training. Otherwise, they can become badly behaved. Both physical exercise and mental stimulation are certainly required to keep your pooch happy and healthy.
Related Post: Dog Food for Boxers
Beagle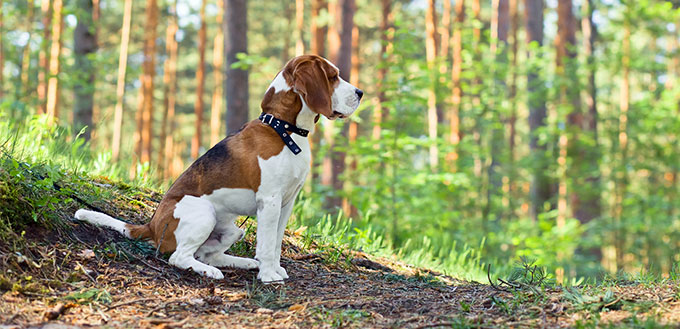 Last but not least; we have the beautiful little Beagle. As a scent hound, they love to chase after prey once they pick it up on the trail. You are going to need to take your little pup out for plenty of exercise – ideally a few times a day. As a rule of thumb, an hour a day is a good amount to go with. If you leave your dog alone without exercise, they are more likely to engage in problematic and destructive behavior.
Related Post: Dog Food for Beagles
Final Thoughts
This list of the most playful dog breeds gives you a good overview of a range of pooches. However, if you are going to get a dog with high energy levels, you need to be ready to give them plenty of exercise, care and attention on a regular basis to keep them in the best condition both physically and mentally.
Source:
Laura Cross, The 15 Most Playful Dog Breeds, VetStreet