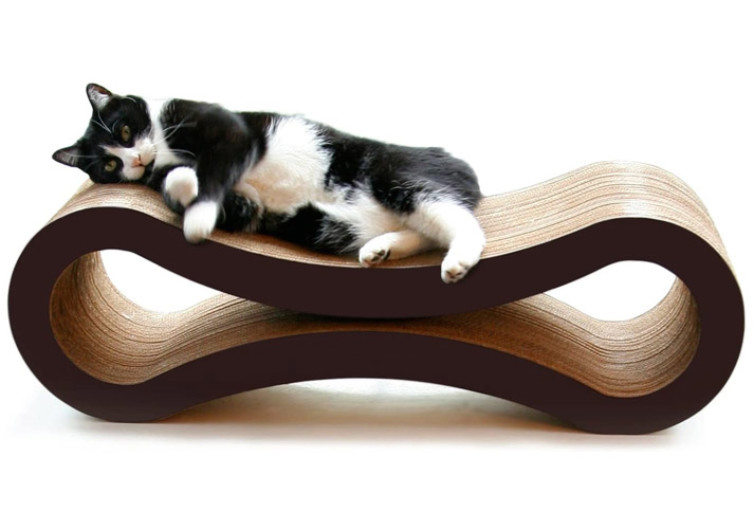 PetFusion Ultimate Cat Scratcher Lounge
Yes, your cat likes to scratch, and a scratching post or tree is a practical way to give him something to focus on, but they are not necessarily the best-looking things, when it comes to your home décor. Which is why this beautifully made lounger could be the perfect compromise for the house-proud cat-parent.
First up, to discuss the design – it is a rather lovely thing, with sweeping curves and a modern, minimalist vibe that would work well with most home styles. And you also have a choice of three colors – cloud white, slate gray or walnut brown. The almost figure of eight shape means your feline can lounge on top or hide inside the curves and the whole lounger can be placed on the floor, windowsill and even fixed to a wall. So, that's a tick in the box for the design. But how well does it actually work as a cat scratcher?
Find out more about Cat Scratching Pad.
Well, the whole lounger is made from recycled cardboard, glued (its non-toxic corn starch glue) layer by layer to create an almost carved wood look, but the surface is attractive as a scratcher for your cat. And, as cats need to scratch, not just out of habit but to keep their claws in good shape and their paws healthy, the surface is durable, safe and pretty long-lasting, and able to take plenty of claw attention. And we think for the price – around $50 at the time of writing – you get decent quality as well as effective functionality for your money.
The main downside is that, for a cat scratcher that is designed as a piece of furniture to have on show, you will not be able to keep it pristine, and it will inevitably become scratched and scuffed over time. And this is where you may question the value, although you can extend its shelf-life by flipping it over to use the opposite side as the new scratching surface. But as a point of interest and a unique design that your cat can also choose to use as a perch, day bed or hiding place, there is still a lot to be impressed by. And it will at least, save your own furniture or drapes falling victim of your kit's urge to scratch.
You may also like our ultimate guide on the best cat scratching towers.
Beautiful curved design
Made from recycled cardboard
Pet-safe and toxin-free
Effective as a claw scratcher
Also works as a perch or hideout