Traveling is so much fun! From road trips to exploring the world, I live for a good vacation. When I go away, my preference is to bring at least some of my animals with me. This can be quite easy in the family car using safely secured dog carriers, water breaks, and preparatory training. Going abroad, however, is a whole other confusing mess. The laws and the regulations can all be very confusing! So we've put together the ultimate guide to help you make sense of it all.
Related Post: Airline Approved Pet Carrier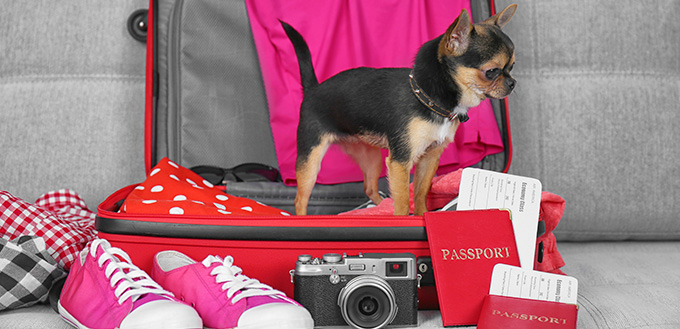 Related Post: Dog Backpack Carriers
What Is A Pet Passport?
There are two very similar understandings of the term 'Pet Passport'. Both are a means of bringing dogs, and other animals, safely and legally into another country.
An official pet passport, also known as the Pet Travel Scheme (PETS), is an initiative in Europe that details your pet's history in one, easy document. Having this document makes it much easier to travel in the region and provide proof that they meet local health requirements. It includes information about their:
Ownership
Description
Rabies vaccination
Rabies blood test
Tapeworm treatment
The term 'pet passport' has also evolved to more broadly describe any collection of documentation that you are required to carry if you want a pet to gain enter into a country. This series of documents can vary significantly from country to country, but the bare minimum usually involves a veterinary certificate issued recently, such as within 10 days of travel.
The History Of The Pet Passport
The PETS scheme began around 2001, when the UK, which has had only one domestic rabies infection since 1902, started it to prevent the spread of the rabies infection from abroad. Many EU countries then took up the scheme, creating an area of relative freedom of movement for pets in Europe. This region shares two key requirements for importing animals, which is represented by the passport, but may also have additional requirements. These are:
A microchip
A certified rabies vaccination
It is worth noting, however, that the scheme has never been internationally standardized beyond this. Only some countries in Europe, listed below, have managed to share regulations. This has not stopped a number of other countries from joining the scheme in part. This includes the United States, as well as Australia and New Zealand.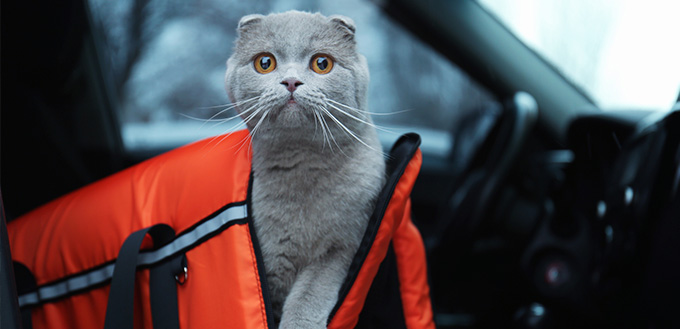 Which Countries Adhere To The PETS Scheme?
These are the countries that most closely share animal import regulations. At the time of writing, you can be fairly certain that if you have met the requirements of a pet passport for one of these countries, you have ticked the boxes for them all. The countries are:
Austria
Belgium
Bulgaria
Croatia
Republic of Cyprus
Czech Republic
Denmark
Estonia
Finland
France
Germany
Greece
Hungary
Ireland
Italy
Latvia
Lithuania
Luxembourg
Malta
Netherlands
Poland
Portugal
Romania
Slovakia
Slovenia
Spain
Sweden
You will also need a pet passport for the United Kingdom. While the UK initiated this scheme, once they have left the European Union their standards may differ from these countries, so double check what you will need before your board a flight with your pet.
Although these countries should have fairly unified regulations, we always recommend you look into each individual country you are traveling to to ensure you can be certain that your pet meets the criteria. Remember, temporary outbreaks and health concerns can create sudden, or unexpected, additional regulations.
How To Get Pet Passport
Getting a pet passport on its own is relatively simple, as long as you plan ahead. There are many websites you can buy them from, but as they are often personalized you need to factor in a lengthy delivery process. To get a PETS scheme passport for your pet, they need to be:
A minimum of three months old
Microchipped – the location is not important as standards can vary from between the shoulder blades to the left side of the neck. Just make sure you know where it is.
Vaccinated for rabies – some countries will require a three-week window between the vaccination and travel before the passport is considered valid.
To be on the safe side, you should look into buying a pet passport a minimum of 5 to 8 weeks before you are due to travel. You can't just assume that a healthy, microchipped dog can just grab a passport and be on their way. Many professionals suggest you should start research six months before you fly! Double check your dog meets the requirements of every country they are going to, and leave plenty of time for mistakes and delays.
The rest of your pet's documentation will depend on the country you are visiting. This might include additional vaccinations, certifications from your vet, and other preparatory treatments. You must also be aware of any airline restrictions and requirements. Airlines vary and may change their policies, so check every time you are going to fly.
Related Post: Dog Crates
The Costs of a Pet Passport
Unfortunately, we can't quote a simple cost for bringing your pet abroad. There are a lot of potential fees to think about. Some of which you may have already paid for, and some of which you probably haven't. If you want to have an estimate so you can budget and prepare, you can add up estimates for:
Veterinarian fees
Microchipping fees
Cost of filling out forms
Parasite test fees
Blood titer test fees
Import permit processing charges for certain countries
The passport itself
It is safe to assume that the total of all these costs could be hundreds of dollars, so if you really want to bring your pet abroad, you might need to budget for it.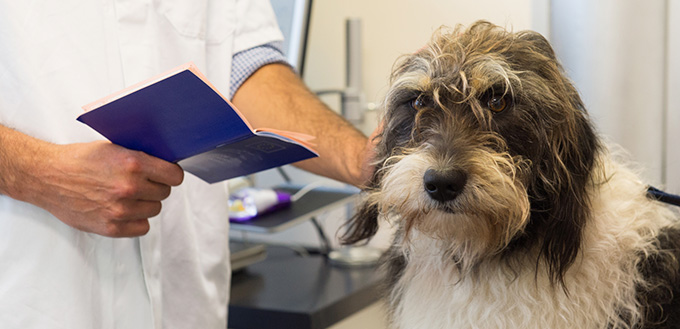 Restrictions For Travelling With Your Dog
Laws can change drastically from country to country, but you can be pretty certain that your dog cannot travel if:
They are younger than four months old
They are not properly vaccinated
They were only vaccinated for rabies recently, which is often stated as within 21 days
There are also many other rules, such as demonstrating that you have treated your dog for tapeworms 24 hours before travel, so check the individual country you are traveling to. It is worth noting that many rules might take months to achieve so plan ahead.
Pet Quarantines
The pet passport, unfortunately, does not automatically stop your pet from needing to go through quarantine. Hopefully, preparation and documentation will speed things up, but many countries have automatic waiting periods of up to 6 months. This might make it impossible to bring them on a simple two-week holiday with you.
While countries reserve the right to use their strictest rules on anyone attempting to import an animal, if you are coming from a rabies-free or rabies-controlled country, you are more likely to have an easier time. The strictest rules are usually reserved for animals coming from high-rabies countries. Rabies-free and rabies-controlled countries include:
American Samoa
Argentina
Australia
Barbados
Bermuda
Canada
Chile
Fiji
France
Germany
Greece
Guadeloupe
Ireland
Italy
Jamaica
Japan
Malta
Mexico
Puerto Rico
Russian Federation
Singapore
Spain
United Arab Emirates
United Kingdom
United States of America
Make sure you know the country's quarantine rules to see if bringing your pet with you is even viable. Some countries permit the submission of a very recent blood titer test as evidence, which can speed up the quarantine process. This test shows the antibodies present in your pet's system, and, therefore, their vaccinations and inoculations.
What Is Needed In A US-Friendly Pet Passport?
It is one thing to understand how you might bring your pet with you when you visit or move abroad, but what if you want to bring a pet home with you? You might have been living abroad for a number of years and have a beloved pet you don't want to leave behind, or you might be a new citizen, seeking a job opportunity and the American dream. Either way, you need to make sure your pets meet the requirements for entry. Luckily, with care, preparation, and a bit of patience, these requirements aren't too difficult to meet.
Bringing Your Dog
Other than generally appearing healthy, dogs must either be traveling from a rabies-free or rabies-controlled country, or they must have a valid rabies vaccination certificate. We suggest that you travel with your dog's rabies certificate regardless, in order to prevent delays. A valid rabies vaccination certificate shows:
Your name and address
Their breed, sex, date of birth, and description
Details and date of vaccination
Date of expiration
Details of the veterinarian who administered the vaccination
As puppies cannot be vaccinated for rabies before the age of three months, you cannot travel with them. You also cannot travel with a dog who has been vaccinated less than 28 days ago, as it takes this long for the vaccination to work. Similarly, the certificate must not be expected to expire while you are away from home.
There are also rules and restrictions if you are coming from a country where screwworm or foot and mouth disease is known to exist. In the case of screwworm, you must have a certificate less than five days old that confirms that your dog is free from screwworm. In the case of foot and mouth disease, you must:
Keep their feet, fur and bedding free from dirt, mud, straw, hay or other natural fibers
Bath them as soon as they reach their destination
Keep them separate from other livestock for a minimum of five days at their destination.
There may also be local and state requirements for your dog. For example, some cities have bans on specific breeds.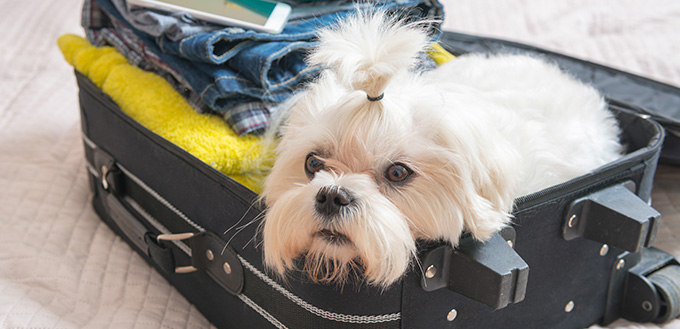 What About Unusual Animals?
Don't assume you can't bring your turtle, snake or even horse with you, but you must conform to the standards and requirements of any government departments with an interest. This can be anything from medical records to permits, and may require months of paperwork and quarantines. To help you begin your research, it is useful to know that the Centers for Disease Control and Prevention (CDC) regulates:
Dogs
Cats
Turtles
Snakes
Lizards
Monkeys
Civets
African Rodents
Bats
Information for Zoos
Other animals might be regulated by the United States Department of Agriculture (USDA), the United States Fish and Wildlife Service, or any other government department. It is always worth checking with multiple government departments and a vet as some animals come under a number of different federal departments. You want to be sure you aren't missing anything.
As always, these rules can be complicated and there are a number of animals that cannot be imported as pets, such as bats. There are also some animals that cannot come back into the country once they have left, even if they were born in the United States. In the unlikely circumstance you have an African rodent or primate as a pet, don't travel with them internationally. They won't be allowed to come home. Always do meticulous research before you start any journey.
Remember that the United States does not just have federal laws, but state laws as well. Once your animal has cleared international customs, there may be additional vaccinations and paperwork that your animal must go through before they are completely legal. You must be aware of every legal requirement of your animal before you start the process, you don't want them to be taken away after all the effort you put into getting them here.
The Bottom Line
The key to successfully flying with your pet is preparation and research. If you remember nothing else from this article then remember the three steps of research you need to do for every journey you might make with an animal, even if you have done the same journey in the past.
Airline regulations
National or Federal regulations
Local or State regulations
Start by visiting your vet, as they should be able to point you in the right direction. If you can confidently say you have the correct procedures and paper work for all three of these stages for both your outward and return trips, you have your 'pet passport'.
Sources:
Paul Burr, Pet Passports, Taylor & Francis
Traveling with your pet FAQ, American Veterinary Medical Association