On Sunday 15th August, over 80 stray dogs made the journey from Texas to Windsor, Ontario, in the largest rescue dog transfer Windsor has received to date. Melanie Coulter, the Windsor Essex County Humane Society (WECHS) Executive Director, has expressed the excitement felt by all involved to be giving these dogs a second chance at a happy life.
El Paso Animal Services' (EPAS) Michelle Anderson has spoken regarding the transfer stating that they have no doubt all of the dogs arriving in Windsor will receive a second chance in Canada and should be quickly adopted on arrival.
Coulter has explained that in Windsor there is the capacity of dog adopters available to make the long journey worthwhile for these lost pups. With new homes waiting for them at the other end. A full team consisting of both trained volunteers and staff ready were eagerly waiting to receive the transfer on the ground.
EPAS' Anderson has expressed strong gratitude towards the Windsor Humane Society and Bissel Pet Foundation for sponsoring and offering to receive the large rescue pup transfer. All of whom will now be happy pets within the year thanks to the efforts of these two companies.
According to Anderson, shelters throughout the United States are becoming overrun with stray dogs that are in desperate need of a new home and a chance of a happy life. Apparently, the EPAS team has been working tirelessly to get these dogs out of their shelters and prepare them for the journey ahead to a new life. It is an absolute must that they ensure all the necessary medical preparations have been made, as Anderson explains, "making sure these dogs are getting heartworm tested, PCR tested, have all their vaccines on board."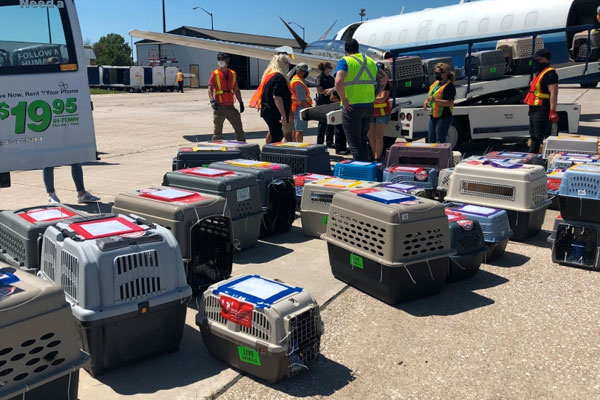 "It's a little bit of a long flight, but they are going to much better opportunities for life-saving," Anderson explained to CTV News. Many of the dogs being transferred to Windsor have been stuck in shelters for months, or in some cases, over a year.
According to WECHS' Coulter, there is actually a frequent lack of dogs available for the number of people wishing to adopt them in Canada. And so they are glad to accept this new transfer, as they know will certainty that Windsor will be able to provide homes for them where the United States cannot.
Coulter has also spoken on the incredible efforts made by EPAS to ensure these dogs have every chance of strong and full life. Stating they are "really proud to work with them." She goes on to explain that the EPAS has been great at providing the appropriate medical information for each dog, and ensuring a new home is found swiftly for them once they arrive in Windsor.
"Some of them of course need to be spayed or neutered when they arrive," Coulter explained. Furthermore, they will be sent to a foster home upon arrival to have limited contact with other dogs before being fully cleared for adoption.
Happily, the dogs arrived in Windsor safely, and with their paperwork securely fastened to their kennels. Now it's just a short wait before they can go to their forever homes.