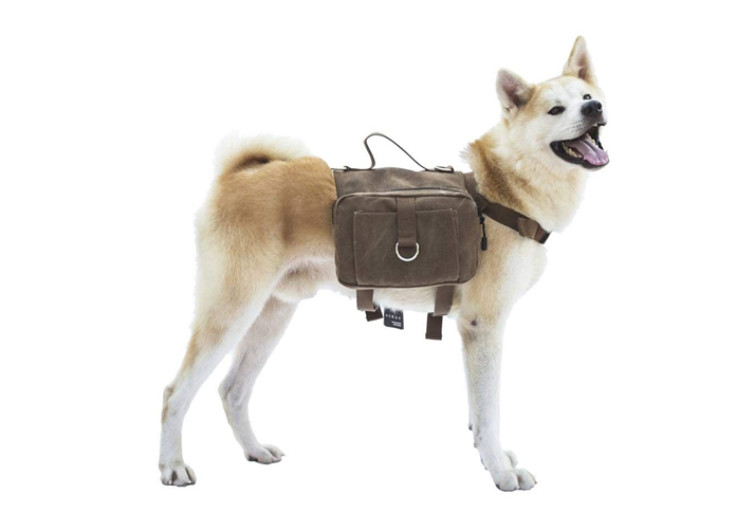 OneTigris Dog Backpack
Going on a hiking trip with your dog can be one of the most fascinating experiences you can ever have. You get to enjoy nature together with your trusted four-legged friend. However, you have to make sure that your pet also comes prepared with all of its hiking essentials. You can place these items in the OneTigris Dog Backpack so you don't have to carry your pet's stuff.
The OneTigris Hoppy Camper is a vintage-looking backpack for dogs. It comes with two spacious main compartments for your pet's hiking essentials. You can place your dog's food, snacks, bowls, water, and toys in both compartments. You can also stash the first aid kit as well as other medications that your pet might need on the trail.
Inside each of the spacious main compartments is a zippered sleeve. This is perfect for organizing your dog's stuff. The exterior of the compartment also comes with a semi-open pocket. This is great for storing some of the things that your dog often use. You can place its leash or a paw balm in this pocket.
The dog backpack comes with a cotton canvas construction. It affords your dog a more comfortable fit during the hike. The main issue, of course, is that it is not as tough as the tactical version of the OneTigris dog backpack. That particular model features 1000-denier nylon for maximum durability. Regardless, the Hoppy Camper should still be a worthy backpack for your dog.
There are three sets of straps on the OneTigris. There is one around the neck and a pair on the belly. This helps secure the bag on the dog's back. The Top panel of the canvas features a grab handle. Unfortunately, this is not designed for lifting the dog. Its construction limits it as an additional control to the leash.
Speaking of leash, there are two attachment points on the backpack. Both of these are found on the top panel. The positioning of the attachment points suggests that this is a system that works best for dogs that do not pull on their lead.
You may also like our guide on Dog Backpacks.
Made of cotton canvas fabric
2-position D-ring leash attachment
2 zippered main compartments with built-in sleeves
2 semi-open pockets
Neck and belly straps
How Does This Product Work?
The OneTigris Dog Backpack provides your hiking dog a system for carrying its own things. It comes with two large compartments for storing many of your pet's essentials. These can include dog food, medicines, pet poop bags, snacks, toys, and others. However, it is critical to be mindful of the maximum weight that your pet should carry. A good rule to follow is to never give your dog more than 10 percent of its body weight to carry. As such, if you have a 40-lb dog, then its backpack should not weigh more than 4 lbs.