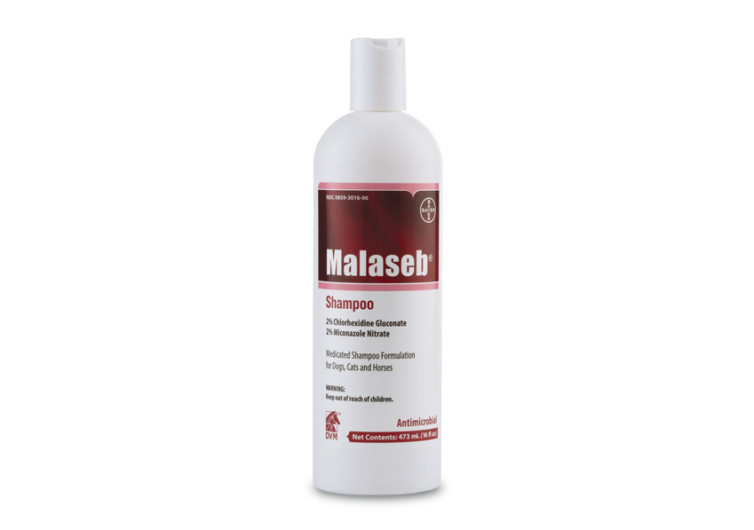 Malaseb Shampoo Review
Dogs that have skin allergies are usually given antihistamines to 
help relieve the itching
 while others will be given more powerful steroids to help tame the immunologic response. No matter how effective these treatments are, they often produce nasty side effects. Since skin allergies occur superficially, one of the best and safest ways to address such issues is the use of an antifungal shampoo that has antibacterial properties. One such product is
Malaseb Shampoo
.
You may also like our ultimate guide on Medicated Dog Shampoos.
Description
Malaseb Shampoo is a veterinary formulation of miconazole and chlorhexidine that is indicated in the management of both dermatophytosis and seborrheic dermatitis in dogs. Dermatophytosis is a skin condition that is caused by one of 40 species of fungi that produce red, itchy, and scaly patches on the skin of the dog. It is commonly called ringworm. And while ringworms are common in humans, these can be transmitted between species, too. On the other hand, seborrheic dermatitis typically presents with almost the same manifestation as dermatophytosis. However, the main difference is that the causative organism is that of the yeast species Malassezia and the bacteria Staphylococcus.
Malaseb Shampoo
is specially formulated to kill these microorganisms and help relieve the different manifestations that are characteristic of such conditions. More specifically, Malaseb removes the oily, patchy, and itchy scales to bring immediate relief to the dog. Additionally, it also works to remove potential allergens on the dog's coat and skin which can further aggravate
canine dermatitis
.
Check out our guide on the best dog shampoo for puppies.
Key Benefits
Malaseb Shampoo provides the following benefits for your dog.
Kills the various microorganisms on your dog's skin and coat because of its broad spectrum of activity that includes both fungal and yeast species as well as susceptible bacterial species.
Provides soothing relief for your dog's itching
Helps prevent the development of secondary infections as a result of incessant scratching by your dog.
Facilitates the faster healing of skin inflammations
Promotes healthier skin regeneration
Washes away allergens, dirt, dust, and other harmful substances that may be present on your dog's coat and skin.
Take a look at our review of Dog Shampoo for Dandruff.
Ingredients
Malaseb Shampoo contains two active ingredients. They are as follows:
Miconazole Nitrate
Miconazole is a substance that is used in the management of fungal infections. Its principal mechanism of action is related to its ability to reduce fungal capacity to produce a very important component of the cell membrane. Since the fungus is deprived of the ability to produce ergosterol it is unable to fully protect its internal organelles.
Chlorhexidine Gluconate
Chlorhexidine is a compound that is primarily used as an antiseptic and disinfectant. Its bactericidal effects are the direct result of the binding of the positive ions released by chlorhexidine with the negative ions present in the cell walls of many microorganisms. This leads to cell death secondary to cell membrane disruptions.
Find out more about Dog Shampoos.
How Does Malaseb Shampoo Work?
The mechanism of action of
Malaseb Shampoo
is inherent in the combined antifungal and antibacterial properties of its two active ingredients, miconazole, and chlorhexidine, respectively. These two ingredients are what provide Malaseb its ability to decrease the skin, remove itchy plaques and scales, and kill a wide range of microorganisms that produce dermatitis. Malaseb Shampoo is a safe and proven topical solution for dogs that are constantly plagued with allergic dermatitis, seborrheic dermatitis, and even dermatophytosis. It is very easy to use and comes with no artificial dyes and fragrances. While it is more expensive than others, one can always rely on its effectiveness.
Pros
Proven effective against ringworm, yeast, fungal, and bacterial infections of the dog's skin

Improves the appearance and texture of dog's coat

Less frequent itching

Does not contain any artificial dyes and fragrances
Cons
May require repeated use to obtain optimum results

Can be a bit expensive compared to other brands with the same formulation