On October 15th, Onesimus, an 11-year-old service dog was taken from Ale Emporium on Alisonville Road whilst her owner was power washing the outside of the emporium building.
Chris Hise is well known at the Emporium and is also known to bring his service dog, Onesimus, along with him for regular visits. Onesimus would frequently wander the area to visit the staff on site – who all know her very well and love to see her whilst Hise is working.
On October 15th whilst Hise was undertaking the task of power washing the outside of the restaurant building, Onesimus, also affectionately known as "O", decided now would be a good time to go for a stroll and see who was available to say hello to. This is not unusual behavior for "O" and so Hise was not concerned when the dog was walking away.
However, whilst the loveable service dog was out on her travels, a concerned citizen happened across her and thought that she may have been lost and looking for her owner. As a result, they had decided the best thing to do would be to take Onesimus home and advertise her whereabouts in the hopes of finding her owner.
Upon realizing "O" had gone missing Hise said he was absolutely devastated. "She looks after me more than I look after her," he had said when explaining the close-knit relationship he has with his service dog.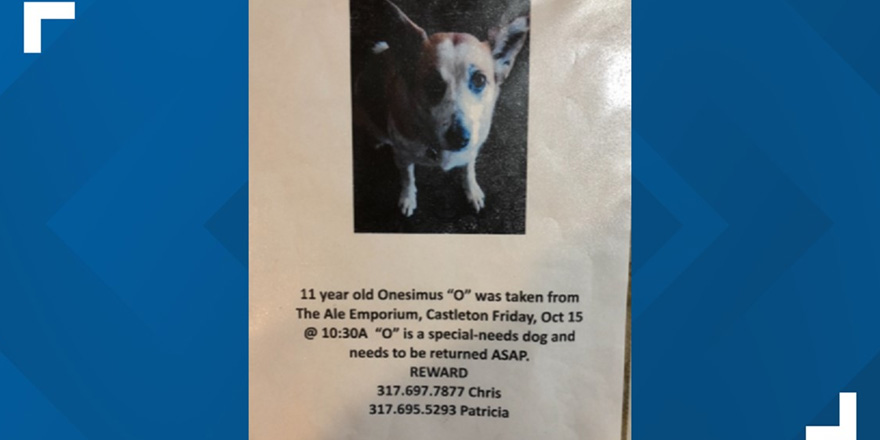 Completely taken aback and riddled with dread, Hise had become fearful of finding out what had happened to his previous pup. "I was getting my heart prepared. You don't know what God's going to do, or what people are going to do with an animal in their hands," Hise had explained.
Having witnessed the distress that Onesimus' disappearance had caused Hise, his sister, Patricia Molden sprung into action in the hopes of locating "O" quickly and saving her brother any further heartache. Molden had decided that the best approach would be to try and utilize the power of the internet and social media to find Onesimus as soon as possible.
Molden quickly put together flyers that were posted around the local community. She then photographed one of these flyers and posted the image to her social media account with a plea for the social media community to help them find "O".
"That was really hard because I was afraid we weren't going to get her back," Molden said in an interview. "I didn't know how he was going to handle losing her because that's his world."
Ale emporium employees assisted in making the post go viral by sharing the flyer with their own pleas for help. Fortunately, the popularity of the post meant it make its way to the right people. Once the post had been shared enough times the citizen that had taken Onesimus returned the pup just a day and a half later.
Hise was left completely speechless in the wake of such kindness and generosity from the community, as well as the level of empathy they had felt for his situation. "The servers here, their prayers, they got together on social media– so many of them." Hise had said in an interview with WTHR.
Hise even spoke of the people that had taken "O" in the first place, saying that he hopes they had seen Onesium as much a blessing to them, in the short time that they had her, as she is to him.
"That's God's dog. If these people got some joy and love out of this animal I've had for years, I'll give it," Hise said.