Sometimes issues arise in our lives which mean we can no longer look after our beloved dogs. Maybe we are moving somewhere that doesn't allow pets, or perhaps we are adding someone with allergies to our family. There are many genuine reasons that people have to give up their best friend, and it can be a difficult and sad time for any family. Here is a quick guide to help you through this difficult time, and show what you can do to help dogs in this position.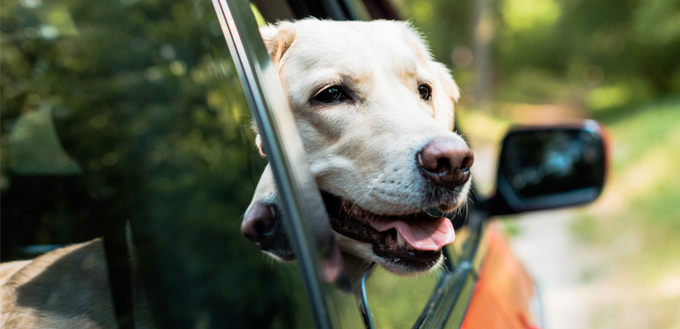 Giving Up Your Dog
Making the decision to give up your dog is incredibly difficult. Many families spend weeks desperately trying to think of alternatives. But, often, they are trying in vein. Eventually, they have to admit to themselves 'I am going to have to rehome my dog'.
The thing is, the process of giving up your dog is not necessarily quick. While it is very tempting to put off such a horrible thought, you aren't helping your dog. You should consider starting the process at least a month before your circumstances change. This might be too soon for some rehoming methods, such as using a shelter without a waiting list, but the longer you allow for your dog to get used to their new environments, the better. Regular visits and play dates will make everything easier for your dog.
No Judgement
No matter who you go to to help you rehome your dog, you can rest assured that you won't be judged. This is a common reason why families don't seek help when rehoming their dog, and might partly explain the number of dogs every year who are abandoned. There are plenty of reasonable explanations to give up your dog, and you won't be asked to justify yourself.
For example, a common reason that dogs are given to shelters is that the dog was originally a surprise for someone's birthday that the person either didn't actually want or couldn't care for. While shelters frequently campaign against this behavior, they won't judge you if this has happened to you. Dog shelters and dog lovers just want to make sure that the dog is well cared for.
Doing the Best By Your Dog
There is good news in all of this. By making this difficult but responsible choice to rehome your dog, you are doing the right thing. Abandoning a dog is a horrible, cruel act. You aren't just putting their life and health at risk, but also losing their medical history, trust and happiness. Here are some great tips to make your dog as happy as they can be throughout the process:
Start Early. As mentioned above, this can make all the difference for your dog's ability to adjust.
Include their bedding and dog toys. Their comforts from home will make the adjustment as easy as possible.
Provide as much information as possible. Medical history is obviously going to be useful for their new family, but you should also offer other information, such as their likes, dislikes and personality traits and quirks. This will help ensure they get the high quality care that they deserve.
Let your dog adjust. You can call for updates while they are in the shelter, but, legally, the shelter cannot provide you with information about who rehomes your dog. This is a blessing in disguise as the best thing for your dog now is for them to adjust to their new home without you.
Check out our guide on the Best Dog Beds.
How Do I Find A Good Home For My Dog?
Now that you have an idea of what rehoming your dog is like, and how to do it well, what are your options for rehoming your dog? You can choose between using a dog rehoming service, such as a shelter, finding your own new home for your dog, and, occasionally, temporary rehoming may also be possible. There are advantages and disadvantages to each, but the most important thing to keep in mind is what is best for your dog.
Rehoming Shelters
A pet rehoming service is a great way to rehome your pet. Arguably, it is the best option in most normal circumstances. This is because you are giving your best friend to experts and dog lovers who will care for your dog until they are paired with a loving home. It is rare that a shelter will charge you, although donations are extremely welcome and will go towards your dogs care while they go through the process of being rehomed.
There are, however, some issues that you should be aware of. Many shelters will have euthanasia policies which you are agreeing to when you hand over your pet. Often these policies simply address seriously ill dogs who are in a lot of pain, but you should always ask to see their euthanasia policy so that you know exactly what could happen to your best friend.
The best advice I can give is to do your research and be prepared to be put on a wait list. This is why it is essential to start the process with plenty of time to spare. Make sure you fully understand what you are agreeing to as, once your dog has been given to a new family, it will be impossible to get your dog back due to privacy laws.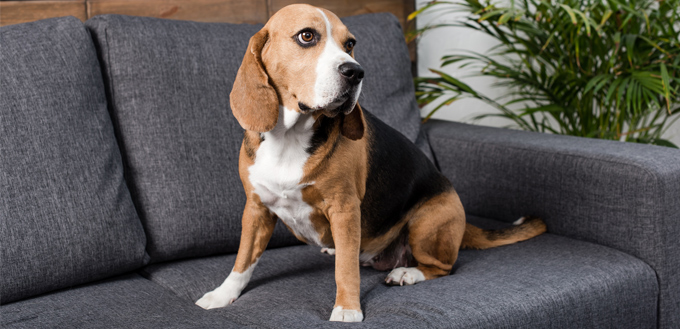 Private Rehoming
You can choose to find a new home for your dog yourself. Private rehoming might appear to be the best solution, but there are a lot of dangers that can come with handing your dog over to strangers. However,  if you are concerned about the long waits that can be associated with shelters or want more control over who takes your dog in, private rehoming can be a great alternative.
If you are considering private rehoming, here are the steps you should take:
Get Your Dog Ready. If your dog is not going to a shelter, where they are automatically taken to a vet as part of the adoption procedure, you will need to ensure your dog is spayed or neutered, fully vaccinated, groomed and house trained. All well-meaning potential new families for your dog will want to know this has been taken care of.
Try Family and Friends. The great benefit of private rehoming is that you can have more peace of mind by giving your dog to people that you trust. Even if your own family and friends are busy, ask them to ask their friends and family on your behalf.
If you cannot find someone you know personally, then you can search elsewhere. Keep it local so that your dog's environment doesn't change too much and you are able to make multiple preparatory visits before the big move. A good tip when advertising your dog is to NOT offer your pet as 'free' as this can entice negligent owners. The existence of a fee can make sure you only attract genuine animal lovers, and you can always waive the fee once you are happy that you have found the right family.
Talk To Your Dog. Talking to your dog about what is going on can help with the transition. It is often thought that dogs understand more than you think. At the very least, positive-sounding chatter can keep them calm.
Find the Best Place. You know your dog the best, so often owners are great at finding ideal new homes for their dogs. Does your dog love children? Are they particularly frightened of men? You know best. But, make sure you are cautious. Don't offer your dog to anyone who you don't 100% support and trust, it can be legally difficult for you if you change your mind.
Private rehoming can work well if you are rehoming your dog to a family member or trusted friend. This often happens when a elderly family member requires full-time care, so their children take in their dog. Remember, this process can still be difficult for a dog, even if they are familiar with the family and the environment. They might get confused and anxious if they don't have their normal, daily companion by their side any more. It is still a good idea to make any change as gradual as possible, and to pay extra attention for any signs of anxiety or depression.
Temporary Rehoming
There are some disruptions that are temporary, such as short-term work placements abroad, long visits to the hospital, or escaping a difficult home situation. If you don't have a loved-one willing to take in your dog, you can turn to fostering programmes and shelters.
Love can often mean making sacrifices and doing what is best for your dog, even if it goes against what you want. Try to be honest with yourself. Is there a chance you might later have to permanently rehome your dog? Could this job abroad turn into a permanent position? Is the upheaval of moving your dog, not once, but twice, worth it?
Sometimes the answer is 'yes, it is worth it', because you are certain that they are going to an environment that they like, and you know you will return as soon as possible. But, occasionally, people are just trying to hold on to their dog a little longer, while, unknowingly, putting them through more upheaval in the process.
The Effect on You
Don't underestimate the negative effect rehoming can have on you. This doesn't mean that you shouldn't do it if it is best for you and your dog, but you should be prepared to miss them, and to feel guilt for leaving them.
Missing them is unavoidable. After all, they were an integral part of your family and you probably loved them dearly. However, you should know that there is absolutely no reason to feel guilty if you have followed our advice and done the best that you could do for your dog. Keeping them under difficult circumstances, such as in a very small flat where they would be alone for the vast majority of the day, is not kind to your dog when they could be living with a large garden and a young family who dote on them.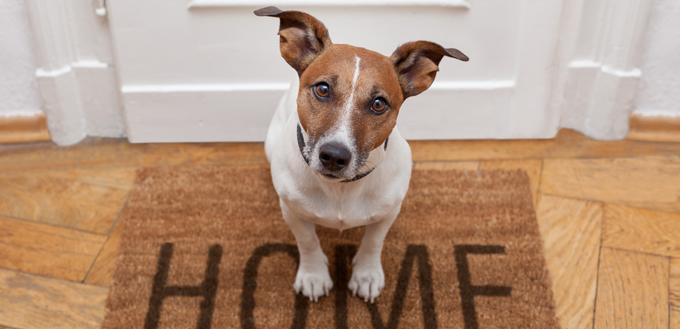 Taking in A Rehomed Dog
Adopting a rehomed dog, rather than buying a puppy from a store, can be a great way to give them a loving, second chance at life. If you are considering getting a dog in this manner, here are some important details that you should know:
Most shelters charge fees. These are usually between £100-165 and cover your dog being neutered, if old enough, microchipped, vaccinated and checked by a vet. Different shelters might also offer collars, 4-weeks of insurance, and other services.
Taking care of a dog will also continue to cost money. Their food, their vets fees, holiday care, medicine, and many other costs can add up, so make sure you know what you are doing.
The process of adoption can be lengthy, so be prepared. This is because all shelters want to match their dogs to the best possible environments for them. On average, it can take a week, but could take longer. You might need to visit the shelter a number of times to ensure an anxious dog is accustomed to you before you can take them home.
The adoption process could involve a home visit. If it doesn't, you will be expected to provide photographic evidence of the environment you are bringing the dog into.
Don't try and find a dog during a time of change. This could be a time when you are moving home, expecting a child, or going on holiday. Wait until after these events have happened. Being adopted is a very difficult time for dogs, and they will require as much stability as possible.
You need to be open minded. You aren't likely to find a puppy, although sometimes you do. While you are welcome to search for specific breeds, remember the most important thing is that they fit into your life and lifestyle. If you are a mountain biker with children, wouldn't you prefer to have a dog that is used to children and has a lot of energy and stamina, regardless of their age and breed?
You should prepare your home environment for your dog by working to make sure your home and garden are safe and welcoming for them before they arrive. You could try walking around your home on all-fours to see the world from their point of view. Are there hazards at that eye-line? Is their enough space for playing?
More Pet Product Reviews
Flea Killer For Your Yard
Raised Dog Beds
Automatic Dog Feeders
Dog Baskets For Bikes
Kayaks for Dogs
Dog Strollers
Dog Backpack Carriers
Dog Water Bottles
Dog Crate Covers