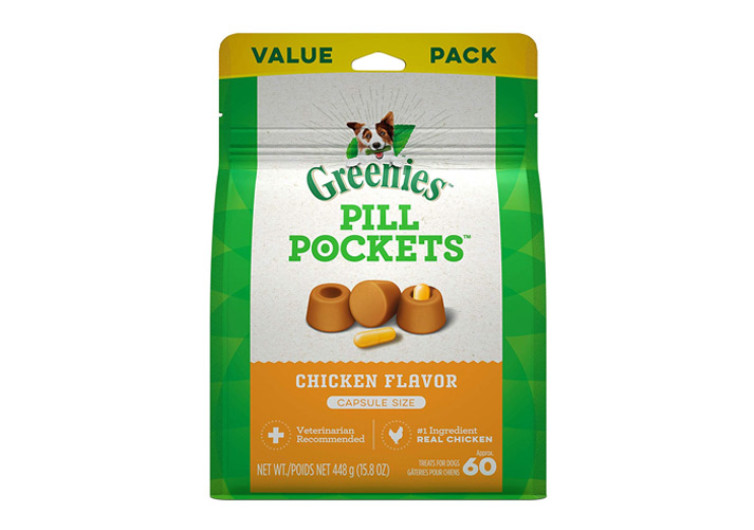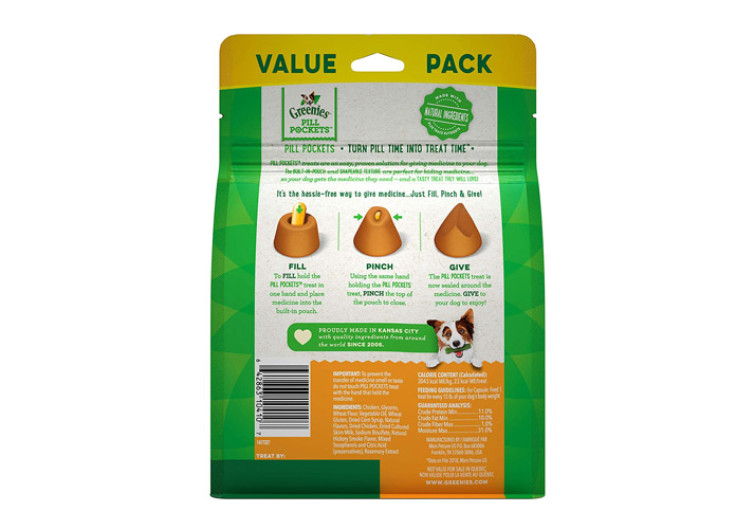 Greenies Pill Pockets For Dogs
Dogs are not immune to diseases. And while there are treatments for just about any other health condition that our beloved pets have, administering these treatments can be especially challenging. This is especially true for oral medications that may leave a really unpleasant taste on the mouth. This can undermine the overall effectiveness of canine treatments. The good news is that there are now a variety of useful tools that can help you administer any pill to your dog safely and effectively. One of these tools is the Greenies Pill Pockets.
The Greenies Pill Pockets is, first of all, a yummy and nutritious doggie treats that are made of all-natural ingredients. It is available in three different flavors that have been proven to be very palatable to dogs. Its best-selling flavor is Chicken, providing exceptional amounts of both protein and fats. If you need lower fat, then you may want the Hickory Smoke flavor. Either way, you will still be giving chicken to your dog as the primary ingredient of the treat. There is Peanut Butter flavor, too. However, you can expect the fat content to be a bit greater than the two other flavor variants.
Take a look at our latest review of Dog Safe Peanut Butter Treats.
Nevertheless, unlike other doggie treats that use artificial preservatives, Greenies Pill Pockets use natural preservatives like potassium sorbate and mixed tocopherols. These substances are considered safe and will not endanger your pet as you give them their treat. This helps guarantee that you are not introducing anything that is harmful to your pet. All you're giving is plain nutritious treat. To see how it stacks up to the competition, see our article on the best dog treats.
In addition to the macronutrients found in each Greenies Pill, lecithin and vitamins E and C are also included. Lecithin is typically used in promoting optimum cognitive functioning. It is a kind of fat that helps in the maintenance of the integrity of the cell wall. Without it, cells become more vulnerable to a variety of chemical, pH, and thermal factors.
On the other hand, vitamins C and E are very potent antioxidants which can help promote a more responsive immune system for your dog. These are also instrumental in helping your pet achieve healthier skin and coat. Vitamin C plays a major role in the synthesis of collagen, a major structural protein in your dog's body. This vitamin helps in the more efficient production of collagen which can lead to stronger joints, hair follicles, and skin tissues.
Check out our review of the Best Dog Joint Supplements.
But what really excites pet parents about the Greenies Pill Pockets is that it comes with a pouch or pocket right in the center. It's like one of those chocolate-filled treats that kids love to eat. The only difference is that the Greenies come with one end of the treat open. This is where you can insert the medication or pill for your pet. Once you have filled the pocket or pouch with your pet's medicine, you can easily pinch the opened flaps or fold them inwards to seal in the pill. Now you can give the Greenies Pill Pockets as a treat to your pet.
Many pet parents agree that this method of pill administration is a lot better than having to shove your fingers down your pet's throat. In many cases, the dog may gag and push the pill outwards. Its saliva will already have moistened the pill by this time. This can already have an impact on the amount of active ingredient still present in the pill.
By concealing the pill inside the Greenies Pill Pockets, your dog will never refuse its medication again. The delicious flavors of the Greenies also masks whatever unpleasant taste that the pill may have. This can greatly improve compliance and ensure that your dog gets its full treatment.
The Greenies Pill Pockets is indeed a lifesaver for many pet parents, especially those who are not really well-versed about the correct method of administering pills. Its unique formulation makes the Greenies more than just a pill pocket, however; it also provides proteins and fats for your pet. It is also enriched with vitamins to further improve the health of your pet.
Contains 23 calories per treat
Contains a minimum of 11% protein and 13% fat
Contains a maximum of 2% fiber and 26% moisture
Easy-to-use pill administration system in a yummy treat form
Built-in pouch for doggie medications and supplements
Fully-moldable textured formulation
All-natural ingredients, including natural preservatives
Enriched with vitamin C, vitamin E, and lecithin
Available in chicken, hickory smoke, and peanut butter
Ingredients
Chicken
Wheat flour
Vegetable oil
Dried corn syrup
Wheat gluten
Corn flour