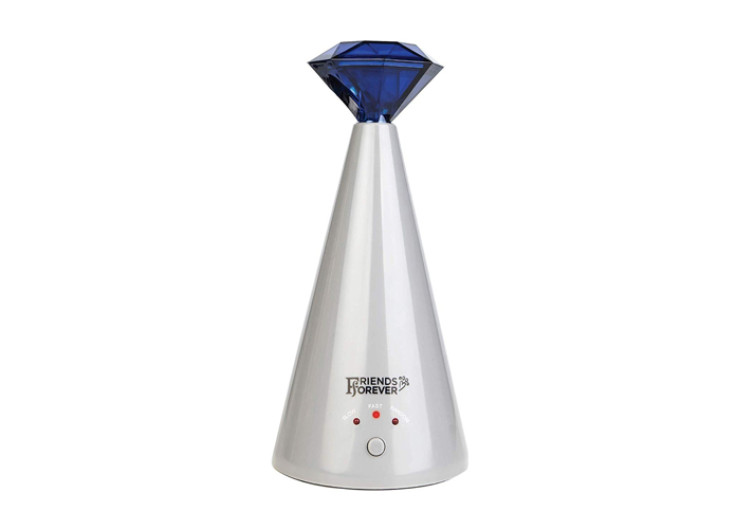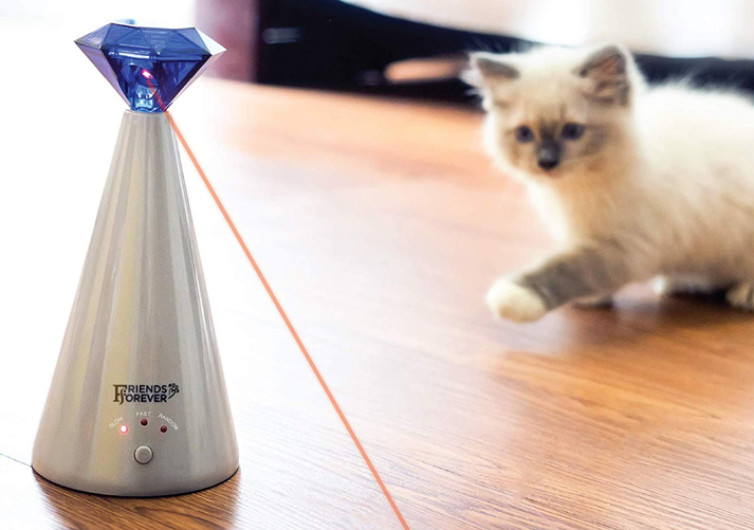 Friends Forever Laser Cat Toy
Many cats love playing with laser toys. It allows them to act out their hunting instincts. One of the best laser toys that can provide your cat the exercise and mental stimulation it needs is the Friends Forever Laser Cat Toy.
The Laser Cat Toy from Friends Forever is an elegant-looking feline plaything. It looks stylish enough to complement the décor in your home. It is battery-operated, allowing you to take it anywhere.
The laser toy comes in three different speed settings. It can go slow or fast or make random speeds. The only issue is that it only moves in a circle, unlike other laser toys that will project a laser beam in random directions. Nevertheless, the random speed that the Friends Forever provides can provide mental stimulation for any cat.
The laser-emitting mechanism turns a full 360 degrees. It also has a much larger play area than other laser cat toys. When combined with its variable speed setting, this can translate to more a fun and more engaging activity for your kitty.
The device also comes with a built-in timer. After 15 minutes of play time, it automatically turns off the laser light. This helps extend the battery life of the device. It requires three AA batteries to operate. Its auto shutoff feature also helps prevent tiring your kitty. Fifteen minutes of play time should be enough to give it the exercise it needs.
The tower of the laser toy has a 4-inch base. At 8.5 inches tall, there is a possibility of the gadget tipping over. One suggestion is to create a makeshift base to stabilize the laser toy. Friends Forever stands by the quality of its laser cat toy. It offers a 100% money-back guarantee.
You may also like our ultimate guide on Laser Pointers for Cats.
3 speed settings: fast, slow, random
360-degree rotating laser beam
Runs on three pieces of AA batteries
4-inch wide and 8.5-inch tall device
How Does This Product Work?
Many cats love to play with laser light. They love the idea of trying to pounce on the little red dot. It stimulates their innate hunter's instincts, allowing them to play. The laser toy also helps stimulate the cat's problem-solving skills. The cat will try to solve in which area of the floor it needs to pounce next. This is how the Friends Forever Laser Cat Toy works.
The toy not only works to provide playtime for cats. It also works to improve their mental health. The laser toy can also be a great way for the cat to exercise. As it races to pounce on the red dot, it will be using its muscles and reflexes. This can help prevent obesity in cats and promote their general wellness.