Time spent with your dog is time well-spent. Spending time outside of the home is even better. Whenever you spend time with your pooch, you both strengthen your bonds while assessing how far his training and social graces have come along. One such way this can be done is by taking your dog out to a restaurant and eating out together. If you want to spend a few warm summer days eating out with your pup, while enjoying the ambiance, then dog friendly restaurants are the way to go. These chains will allow your dogs to meet other dogs and have some fun and build new relationships. They also give friends and families a chance to get out and meet other doggie lovers. This article will review 10 dog friendly restaurant chains that will happily accommodate you and your canine as you wine and dine. Bone Appetit!
Applebee's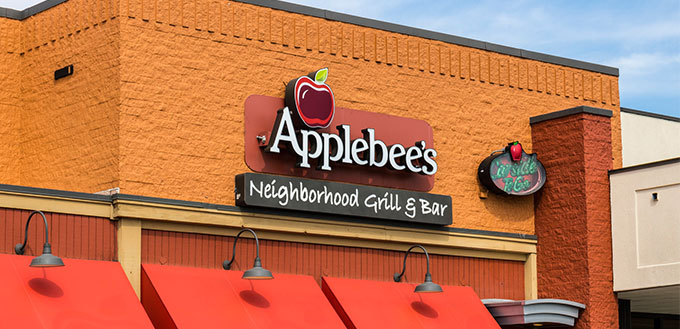 If the question is, where is the dog friendly restaurants near me? Then the answer is Applebee's. Applebee's is a restaurant chain that provides you and your pooch with great menu choices. Whenever you both want a cold drink, some grub, scenery, and the best service, Applebee's is your go-to option. While not all branches are pet-friendly restaurants, some care for pet parents by giving you a safe place to eat with dogs. They provide you with a well-gated patio to keep your pets secure. Waiters not only offer you excellent service but also, give your dog the five-star treatment by offering them some water and treats if ordered. Doggie owners who dine there attest to the fact that the waiters there are very accommodating to both man and dog. If you're in Richmond, Virginia, then make it a point not to miss the dog-centric Yappy-Hour. It is, however, recommended to call ahead to make sure your local Applebee's serves your furry patrons too.
Johnny Rockets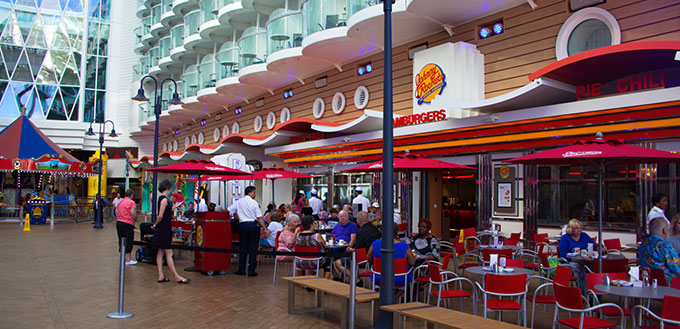 If you are down on the south coast and you're looking for a restaurant that serves man and dog, then Johnny Rockets is the place for you. Tagged, as one of the best restaurants that allow dogs, you and your canine buddy are assured of a good time. In addition, some locations have outdoor patios that allow pets and owners to have a great meal while soaking in some great weather. Their dog-based menu which includes doggy hamburger, carob "ruffles," and ice cream treats and the franchise famous Pupcakes that dogs love. As a result of its franchised nature, not all locations are pet-friendly. If you are in Southern California, Johnny Rockets offers your dog as many as 20 items to choose from as they team up with Victoria Gardens with a local dog bakery. Therefore, it will be worthwhile if you call ahead to make sure you and your canine buddy are welcome to avoid any awkward situations. At Johnny Rockets, your four-legged friend is the only excited one; the entire staff is eager to welcome you both.
Shake Shack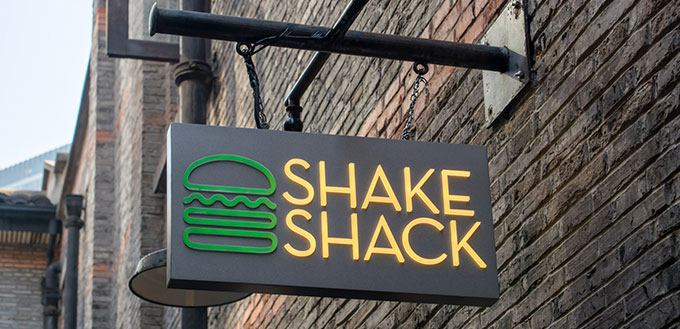 Born in New York City but found all over the US from Alabama to Wisconsin, Shake Shack is one of the best restaurants to eat with your dog and family. All Shake Shack locations are fitted with outdoor dining areas to allow the family to eat and get some fresh air. They also come with a dog menu that features treats like the Pooch-ini®, ShackBurger® dog biscuits, and Bag O' Bones that your dogs can feast on. The treats are usually large enough, so those with multiple dogs need not worry. There will be enough for everyone. Some patrons describe it as the perfect spot to bring your dog. The owners are not left out of the fun as Shake Shack serves some of the best food around, making it a popular choice for the family too. Shake Shack is also known for its social responsibility. As a restaurant that gives back. They are known to champion local causes. Profits gained from their bottled water is dedicated to preserving waterways.
Joe's Crab Shack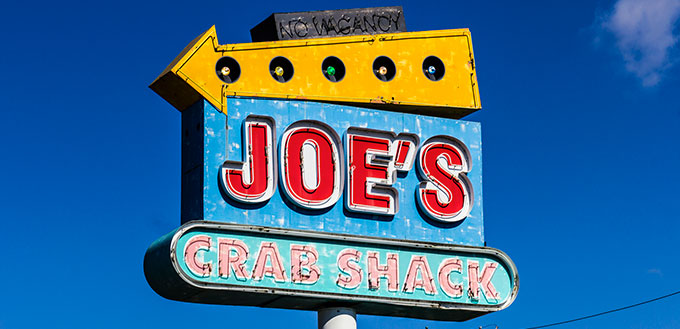 Joe's Crab Shack is a national restaurant chain with fantastic food and a casual, relaxed setting on the beach. All Joe's Crab Shack locations are dog-friendly. They boast fifteen pet-friendly outdoor arrangements to suit your dog. This makes them one of the places to eat with dogs. Their kitchen gives some of the best seafood treats. Some of the treats on the menu include scratch-made jumbo lump meat crab cake with hushpuppies, fries, coleslaw, and remoulade for you and your pup to enjoy. The servers are also dog-friendly as they offer your dog a bowl of water to make him feel welcome. Joe's also cares about their two-legged customers. In the evenings, when mosquitoes come out, one customer reveals they offer bug spray to help deal with the flying terrors. Another customer emphasizes the value of the view while feasting with your furry friend. Joe's Crab Shack is definitely the place for the whole family to eat, relax, and have fun.
Lazy Dog Bar And Restaurant
The cleverly named Lazy Dog franchise stands out in so many ways than just the name. The franchise boasts of 19 locations on the west coast with plans to expand all over the country. Each location comes with a spacious open-air patio that gives you canine buddy enough space to relax. All locations offer your pooch a bowl of water upon noticing them. Some Lazy Dog branches provide heaters for dogs when the nights get cold. Their menu includes options of a plain brown rice bowl, grilled hamburger patty, veggies and grilled chicken breast. A healthy meal for a healthy dog. Word on the street is pooches love the cut-up piece of beef and a generous serving of rice. For everybody's enjoyment, Lazy Dog has a few dos and do not's. They include; every dog must be on a secure leash, dogs are not allowed on tables, and make sure your pup is polite.
Starbucks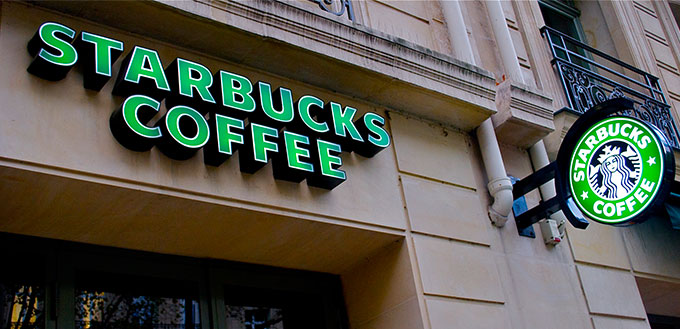 America's favorite coffee house has found a way to warm your hearts even more. Most Starbucks have open-air seating areas that will accommodate you both. Your pup is not left out of the coffee-based fun as they offer the "Puppuccino" – a small cup of whipped cream – a tasty off-menu item for your dog to enjoy while you sip your favorite drink. Now with Starbucks, you can sit back, enjoy your cup of Joe, and snack on your pastry while your furry buddy treats himself with your crumbs. Nevertheless, it could pose as a challenge to make this a regular for your dog as Starbucks' whipped cream contains high levels of sugar and fat. Nonetheless, this is a creamy treat for them at any time.
Bruster's Real Ice Cream
Bruster's Real Ice Cream is a restaurant that allows dogs inside, although they are outside. They are of the walk-in variety; hence customers can walk in, order, take the order, and head on out to the outdoor sitting area. Your four-legged friends are not left out. Bruster's offer a complimentary "doggy sundae," with a scoop of ice cream topped with a small bone-shaped biscuit available for our furry loves. If your dog has a sensitive tummy, then it might be best to avoid this treat. They can enjoy the scenery and interact with other dogs. According to some frequent diners, the service is excellent as you and your fur pal are valued. If you are on Myrtle Beach, South California, then Bruster's is the ideal place for after that beach nap. If your dog could talk, he would probably say, "Let's go to Bruster's."
Dairy Queen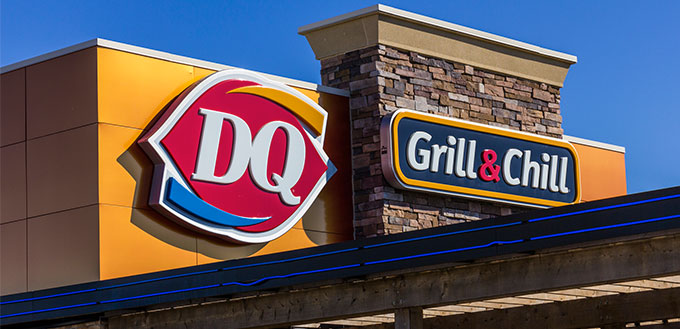 This popular ice cream restaurant chain makes some of the best ice-cream in the US. Since you and your dog may not be allowed inside the restaurant, they have provided outside seating areas for the two of you. Some of the franchise's locations offer free Pup Cups. Pup Cups are soft vanilla-based ice-cream with a dog biscuit to crown it! Another tasty delectation your dog can delight in on a hot day is the DQ Blizzard. You would be doing yourselves a favor if you checked if the patio is pet-friendly at your local branch before you and your pup head out to enjoy.
In-N-Out-Burger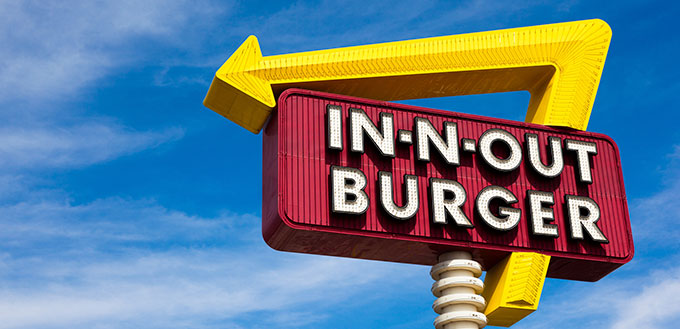 This franchise is one of the most loved along the West Coast. In-N-Out-Burger serves some of the best burgers man and pooch can ever find down there. Despite being a drive-through, pet-friendly patios are available for your dining pleasure. The patios come with umbrellas that help keep the sun out.
What's more? They have two items hidden on the menu purposefully for their furry customers. Most doggie burgers come in under a dollar; hence you get to save while you feast. Given these, you can be enjoying a Double-Double in your car while your dog enjoys a Flying Dutchman. The Flying Dutchman is made up of two slices of cheese sandwiched by plain dual hamburger patties. In the event your dog cannot take in milk-based products,  The Pup Patty is a great option for your dog. This patty is cooked with no added spices, salt or any other seasoning. These come in for the big boys and small yet cute pups. They also offer meals in to-go bags if you have to go immediately.
Sonic Drive-In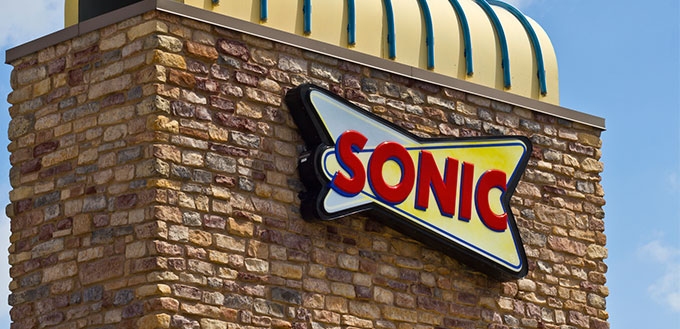 Last but surely not least, Sonic Drive-In is one of the best pet-friendly restaurants. Not all branches allow dogs on the patio, but a number of them do. Sonic Drive-In would become one of your preferred places to eat with your dogs on your first visit. One patron says the servers upon seeing your pooch will offer him a free sundae (small scoop) topped with a dog bone! They also offer dog treats upon request.
Before You Go – Essential Preparations!
It is good to know the best watering holes and eateries to visit with your dog. It is even better if you know and understand what is expected from you both. These places are usually pet friendly restaurants and expect a certain standard of behaviors and preparations from you and your canine companion. Here are a few suggestions to consider before stepping out.
Phone ahead: While the franchise may be pet-friendly, not all locations may be dog-friendly. It is therefore advisable to call to make inquiries about the suitability for you and your dog. In doing so, you should also ask if there are special rules that need to be adhered to.
Make sure your pet is obedient: Restaurants can be a busy humdrum of sounds, smells, and tastes. You should make sure your pet does not run around trying to sample other people's meals. If your dog cannot stay down and remain obedient, then maybe you should have your meals delivered at home.
Know what your dog can eat: Your pup might be enticed by all the smells that surround him and try all the meals. You, on the other hand, should know what he can and cannot ingest and stick to it. This is to minimize the risk of getting your dog sick and other embarrassing accidents that may occur.
Keep your dog on a leash attached to you: If you happen to frequent restaurants that allow dogs inside, then as an owner, you must have hands-free harnesses. These will prevent their dogs from dragging a table or chair away in excitement. Should they feel the sudden need to chase something, they would have something that stops them. It also comes in handy when you have fellow diners who are scared of dogs. It also prevents your dog from tripping up busy servers.
Allow your dog to relieve himself first: It is always safe to clean your dog before you go out. It is also advisable to let him do his business before you get in. This is to avoid repelling other customers with his smells while he embarrasses you both.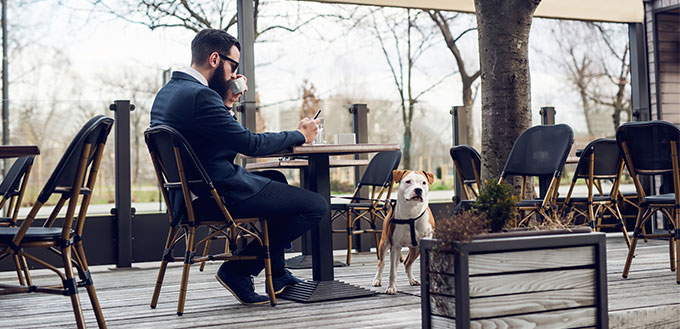 To Summarize
While it was previously very hard to find pet friendly restaurants, now you have them all around. Man, and canine can dine and enjoy themselves like anybody else. They either give you great treats, amazing ambiances, and sometimes both. You have to call ahead and then make sure your dog puts up its best behavior. It should be kept in mind that each location may have local ownership, management, or regulations that don't allow dogs in their place of business.