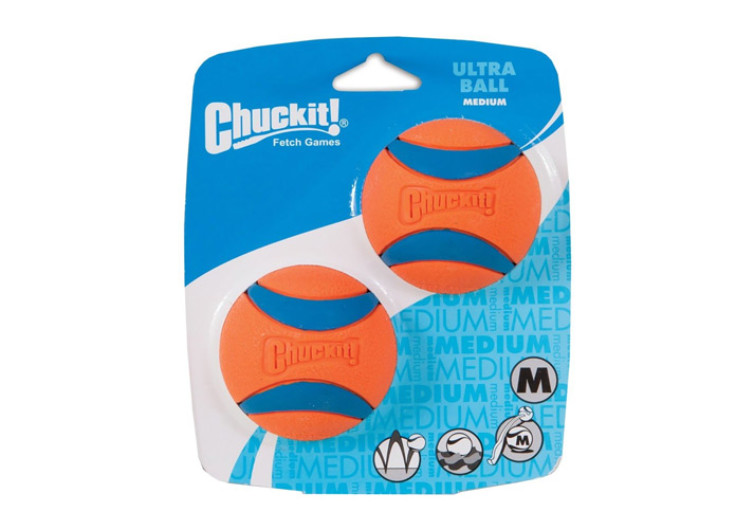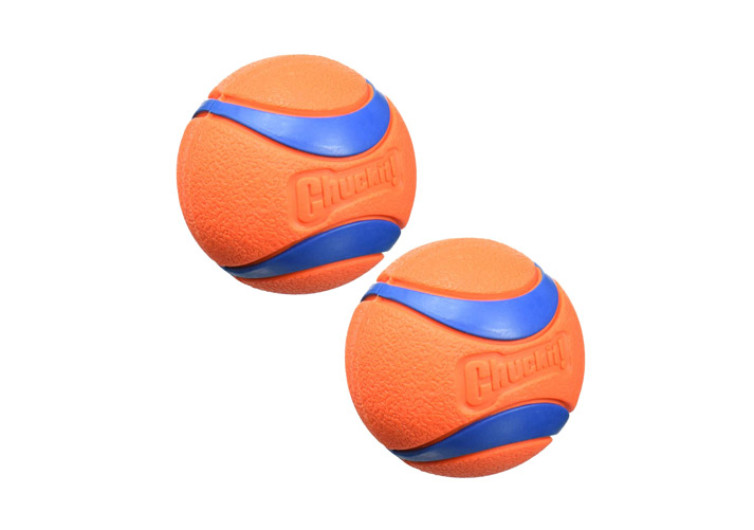 Chuckit Ultra Ball
Dogs love playing a game of fetch whether it is your ordinary tennis ball or some other bouncy toy. The problem with conventional balls is that they are not really durable. One strong bite from your pet and the ball loses some of its bounce. Others don't float well on water, too so you'd really have to steer clear of bodies of water. Some don't even bounce that high, making for a very dull play time with your pet. There are also balls that come in various colors meant to be visible to the human eye. Unfortunately, the color spectrum of our dogs' vision is different from ours. Good thing there are companies that understand the unique requirements of playing ball fetch with our dogs. And one of the most trusted products in the market when it comes to dog ball toys is the Chuckit! Ultra Ball.
The Chuckit! Ultra Ball may look like your ordinary tennis ball designed with blue curved lines amidst a sea of orange. It is quite a peculiar color combination, but studies have proven that dogs can only see blue, yellow, and gray as well as the different hues that come with these colors. As such, the orange color can be interpreted by your dog as a combination of gray and yellow. But it clearly is the blue color that your dog will see. This makes the Chuckit! Ultra Ball highly visible for your dog. This is also what makes it easier for your pet to track the movement of the ball and pinpoint its exact location from a sea of green grass or an ocean of dark green water on the lake.
One of the most interesting features of the Chuckit! is that it is made up of all-natural rubber, giving it a bounce that you don't normally see in other types of bouncy materials. Since it's natural, you can bet that it is a lot safer for your canine friend, too. At the very least, there's no point worrying that the ball it puts in its mouth is leaching harmful chemicals. The high-bounce capabilities of the Chuckit! also helps guarantee that your dog will have more fun with this kind of ball being thrown or launched for it to fetch.
The Chuckit! is also highly buoyant. Pet parents who have already used it to play with their dogs absolute love its buoyancy. This makes it perfect for some really fun water-related activities, whether it is on a swimming pool or on a lake. Combined with its high visibility, zeroing on it on the water should be relatively easy for your 4-legged swimmer.
Built to last, the Chuckit! is guaranteed to be extremely durable. It could very well be the last set of balls that you'll ever get for your pet. You only have to choose the correct size of ball, though since this can play a role in ensuring optimum safety for your pet hound.
At any rate, the Chuckit! Ultra Ball works exceptionally well with the company's range of launchers. So if you're already tired of throwing these balls, you can simply use an automated launcher to have your dog fully engaged.
You may also like our ultimate guide on Automatic Fetch Machines.
The Chuckit! Ultra Ball is a high bouncing, highly buoyant, very durable, and highly visible toy ball that is engineered specifically for the four-legged master of ball fetch. It's the last set of balls you'll ever play with your dog.
Made with pet-safe, extra-durable, non-toxic, natural rubber
Designed with superior bounce and buoyancy
Vibrant, high-visibility colors
Full compatibility with Chuckit! launchers
Available in 5 sizes: small, medium, large, extra-large, and double extra-large