[vc_row][/vc_row]
Taking your dog camping is one of the best ways to spend quality time with your pooch. Many campsites actively market themselves to dog owners and provide facilities tailored for guests who are accompanied by a four-legged friend. There are, however, some safety issues that you need to bear in mind to ensure that you and your dog have a great time and no-one gets injured or ill.
If you have never been camping with your dog before, it is important that you research how to prepare correctly and that you take the right equipment with you. To get you started, we've compiled the most useful dog camping tips right here.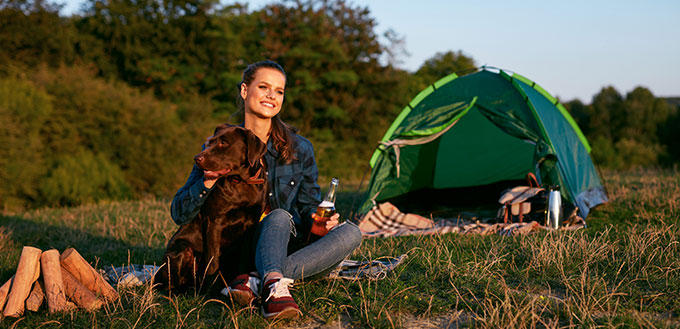 Make Sure That Your Dog Will Actually Like Camping!
Whilst most pooches absolutely adore spending a few nights under canvas with their human family, there are some that will not take well to life on a campsite. If your pooch is nervous and does not cope well with new situations away from home, they may struggle with the novelty of sleeping in a tent. You could always have a practice camping trip in your own garden to see if they like it.
Obedience is crucial when you are camping with your canine companion. At the very least, your pooch must respond to the recall command so that they do not annoy other campers. They should also know the 'leave it' command.
Their physical health and fitness are also important. Many camping trips are combined with vigorous exercise such as hiking and not all dogs are physically able to do this. Some senior dogs would simply rather stay at home but most pups will be very enthusiastic!
Safe Transport to the Camp Site
Consider the logistics of getting your family, your dog, and all of the camping gear to the campsite. A tent, cooking equipment, and bedding can take up a lot of room in a family car. Even if you are just planning on taking a backpack, it leaves less room in your vehicle for a dog. You should not compromise on safety in order to fit everything in your car.  Don't forget that you will also have to pack some extra supplies for your dog which can take up even more room.
Related Post: Camping Gear for Dogs
If you usually transport your dog in a crate in the trunk, you may find that this is not possible for a camping trip. You should still use a suitable dog harness and dog seat belt to keep your dog and yourselves safe. An unrestrained dog is a danger to themselves and everyone else in the car.
Pick a Dog-Friendly Camp Site
Check out websites and call ahead to make sure that you have chosen a dog campsite. This is a site that actively encourages owners to bring their dogs and has facilities to make them feel welcome. Also, check out the rules for camping with dogs. You may have to keep your pooch on a leash or there may be only certain areas of the campsite where dogs can go. All will expect you to pick up dog poop and dispose of it responsibly.
Related Post: Dog Leashes
Camping can be hazardous for dogs so you need a campsite where the risks are reduced. In particular, think about insects that can cause health issues for dogs. If you head off to explore trails in long grass, they could get a tick on their skin. Fleas are another problem that can be picked up in rural areas. Make sure that you protect your pooch with a parasite-prevention strategy before you leave. Your vet can advise you about this. Also, make sure that your pooch is up to date with their vaccinations as these will prevent the most common canine diseases.
Related Post: Tick Repellent for Dogs
Other wildlife can also be attracted to a camp park and can pose a threat to pets. You can minimize this by storing your food carefully and disposing of refuse responsibly so that wild animals are not attracted to the area where you are camping. Nevertheless, in some parts of the country, it is reported that hawks, coyotes, and even bears can snatch dogs. Raccoons have been known to pick fights with domestic dogs and inflict nasty bites which can spread disease. Keeping your pup close to you at all times and on a short leash when hiking or at the campsite is a good tip.
Think About Shelter and Temperature
Heatstroke is an important health risk when you are camping with dogs because it is hard to find somewhere cool for them to rest. It can get very hot inside a tent for the human campers, so imagine how a dog will feel. Brachycephalic (short-faced) breeds are especially vulnerable because they find it hard to cool themselves down. Try to pick a spot to pitch your tent near some shade. You could take a cooling pad or vest with you. Don't let your dog run around during the hottest part of the day and always make sure that they have plenty of water.
Don't forget that your dog can also get too cold! One option is to let them share your sleeping bag. That's okay if your pooch is a Yorkshire Terrier but not so great if they are a Great Dane! It may be a better idea to get them their own sleeping bag. These come in a range of sizes and designs and often have an inflatable pad inside to lift your dog off the ground. Senior dogs who suffer from arthritis must have protection from the cold and damp ground but all dogs will appreciate it!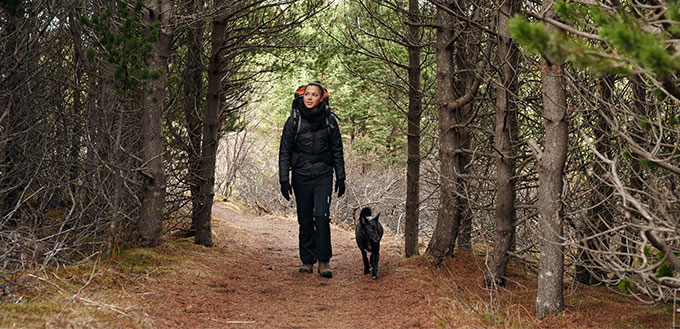 Take Everything That You Will Need
Camping with a dog requires some extra kit to keep them safe and happy. Here are some ideas on what you may need to meet your dog's basic needs and to keep them safe.
Camp Bed
Are you intending sharing a bed with your pooch? If not, you will need to bring a bed for them. It must protect them from the damp ground and keep them warm. Extra portable shelter from the blazing sun is also a good idea. These can often be taken with you when you are out exploring or on the beach.
Harness And/Or Vest
A lightweight harness will suit your dog better than a collar when camping and hiking. It is safer and allows you to keep them under control. You can even lift them up to give them a helping hand over obstacles. For cold conditions, they may also need an insulated vest. If you are camping near water, you may need a dog life jacket.
Dog Food and Bowl
Obviously your dog will have to eat and you may want to designate one area of the tent for this. A travel bowl that folds up when not in use is handy as it takes up little room in a bag. Don't forget an adequate supply of their normal food and some dog treats. You will also need a water bowl and a supply of fresh water for your dog. If you go hiking for the day, don't forget to take food and water with you.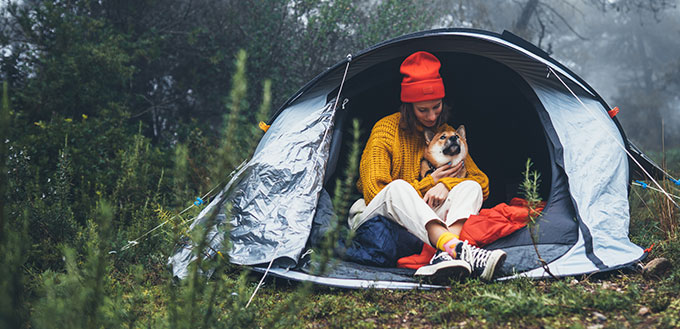 First Aid Kit
As well as a first aid kit for humans, you also need a pet first aid kit. Obviously you need to include any medication that your pet takes regularly. However, when you are camping with dogs, injuries are more likely than when you are at home. You can buy a ready-assembled pet first aid kit or put one together yourself from items that you probably already have at home. These are some of the items that you may need for your pet:
A cloth bandana – you can use this as a makeshift muzzle if your pooch needs veterinary attention.
Liquid bandage – this is essential for keeping minor cuts and scrapes protected.
Antiseptic wipes – to clean up wounds when you are out and about.
Tweezers or tick removal tool – so that you can quickly remove ticks before they have a chance to pass on an infection. Tweezers are also useful for removing splinters.
Emergency blanket – a space blanket for pets is essential for treating shock and cold.
Bandages and safety pins – for more serious wounds.
Contact details for local vets – having this essential information to hand will save you from needing to search for it in an emergency.
Cotton wool – for cleaning out wounds. You should always have a supply of fresh water with you.
Related Post: Dog First Aid Kit
Back Packs, Lights, and Leashes
As well as a leash and dog harness, you may want to invest in a small backpack for your pooch. This allows them to carry some of their own gear around with them when you head out on a hike. Most dogs enjoy this and are very proud of their backpack! It makes sense to get one that has a fluorescent trim so that it will show up in low light conditions.
Another camping essential for dogs is a collar light. Campsites are often on land that is poorly lit and if your pooch does slip the leash on your way back to your tent, it could be impossible to find them.
A leash is essential when camping with your pooch. If they are not used to being on a leash, this is something that you should start a few months before your camping trip so that they can get used to it.
Booties
Camping often involves traveling over rough terrain and it is easy for your pooch to get cuts and grazes or even splinters. These are very painful and can ruin your day out. Invest in a pair of dog boots to provide protection for your dog's paws. They also look super cute!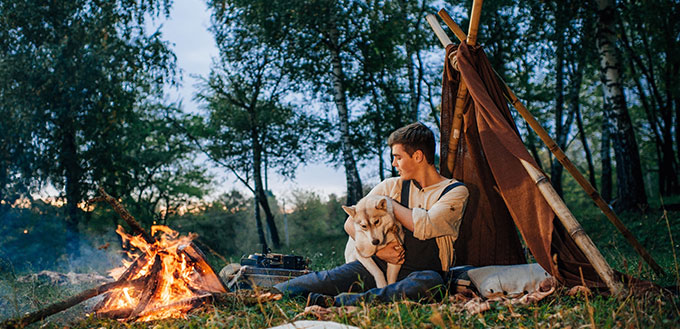 Check out our ultimate guide on: How To Go Kayaking With Your Dog
The Last Word
Now that you know how to camp with a dog there is nothing stopping you from having great fun together! With just a few simple precautions, you can keep your dog safe and well and before you know it, you will be planning another camping trip.
You may also like our complete guide to RVing with dogs.
Sources:
Patrick Mahaney, VMD, Camping with Your Dog? Read These Vet-Approved Tips, PetMD