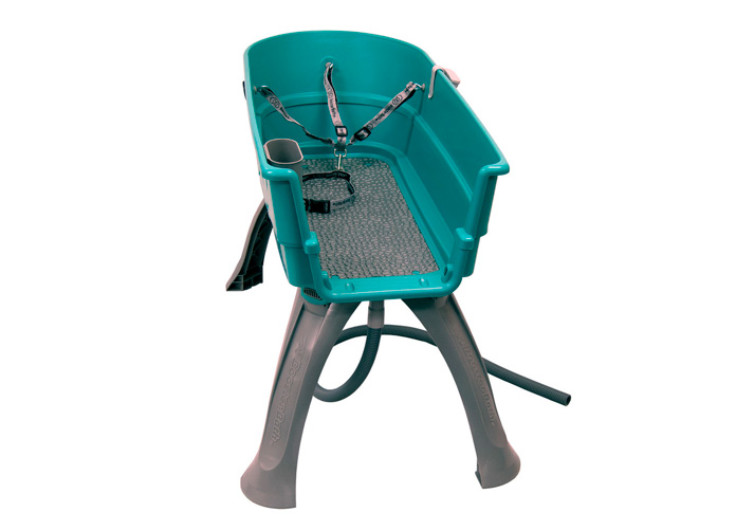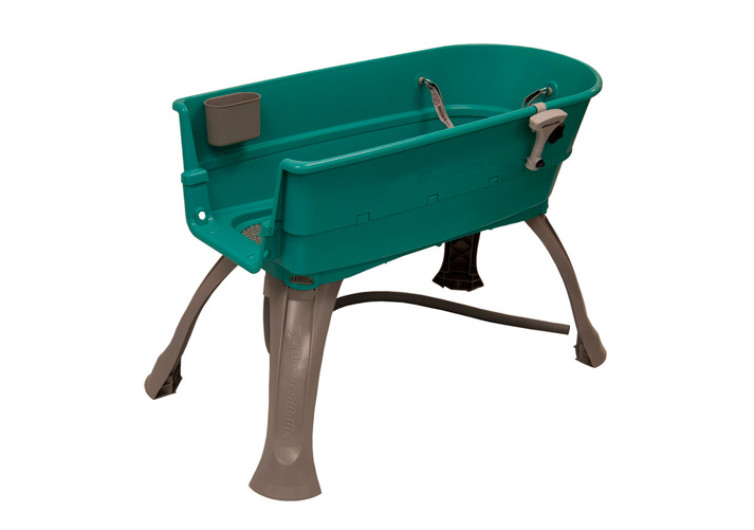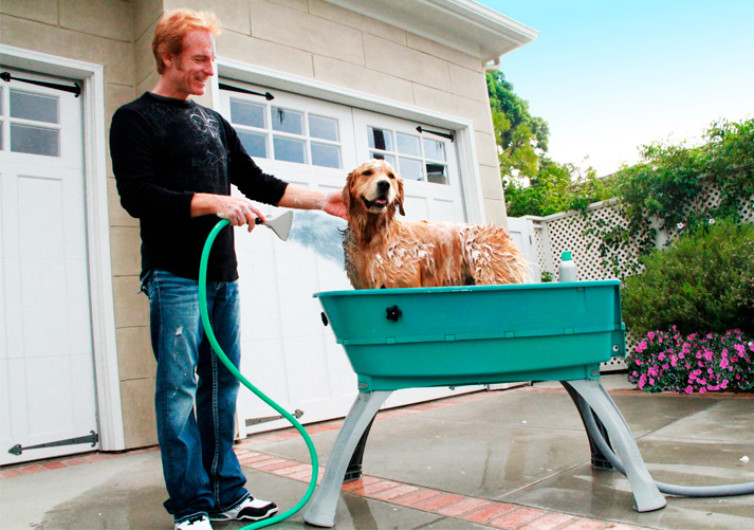 Booster Bath Elevated Pet Bathing Tub
Bathing pets is an important aspect of their grooming. It keeps them clean and smelling fresh. Unfortunately, bathing a dog in the bathtub can be very painful on the back. Bending has the expected consequence of straining the muscles and other tissues of the lower back. One way to address this issue is by using an elevated bathing station for pets. Booster Bath happens to have one such product.
The Booster Bath Elevated Pet Bathing Tub is a bathtub with four legs. The legs elevate the bathtub by up to 19 inches off the ground. The legs of the Booster Bath spread outwards instead of the usual vertical orientation of furniture legs. This helps stabilize the bathtub, especially when you have a pet already inside. Helping stabilize the tub are rubberized pads on the feet.
The bathtub's surface also comes with a nonslip rubber material. This works in tandem with the three-point harness that's built into the forward section of the tub. This helps provide a more secure footing for the pet as its owner bathes it.
The tub has a forward sloping design. This drains the water in the tub in the front section of the Booster Bath. A drain hose connects at the bottom, which pet parents can direct to a drain or on one section of the backyard.
There is only one thing about the Booster Bath that bothers some pet parents. Its quick-snap design does not give the stability and security of a single-piece bathtub. While the Booster Bath has a 125-lb weight capacity, there are cases when the legs gave in to the weight of a dog that weighs less than 125 pounds.
Regardless, the elevated design of the Booster Bath Pet Bathing Tub should help reduce the need for bending when bathing pets.
You may also like our latest review of the Best Bath Tubs for Dogs.
Two-piece pet bathtub with quick-snap technology
Bathtub dimensions: 45 inches long, 21.25 inches wide, and 15 inches deep
Leg height: 19 inches
Minimum bathtub footprint: 48 inches long and 27 inches wide
Integrated 3-point dog harness system
125-pound maximum weight capacity
Built-in drain hose
How Does This Product Work?
The Booster Bath Elevated Pet Bathing Tub works like an ordinary bathtub. The only difference is that it comes with legs to help elevate the bathtub some 19 inches off the ground. It comes with a U-shaped entry for easy pet access. One secures the dog using the built-in 3-point harness to help stabilize the dog in the bathtub. The bathing surface has a gentle forward slope, allowing water to collect in the front. Water drains via a hose at the bottom of the bath tub. The elevated pet bathing tub helps prevent back aches or strains by minimizing the need to bend.