With their curious nature, fascinating features and playful personality, birds can make for some of the best pets you could possibly own. This fact can easily be compounded when you consider talking birds. Speaking birds are an incredible opportunity to enjoy the social side of your new friend, given that they can better communicate their feelings and wants with you.
However, if you aren't sure which talking bird you should opt for when choosing your new pet, then check out our list of the best talking birds available. Of course, if you're more interested in the overall intelligence of birds overall, you might want to check out our Honorable Mentions – where we talk about non-domesticated birds whose skills will blow your mind.
Yellow-Naped Amazon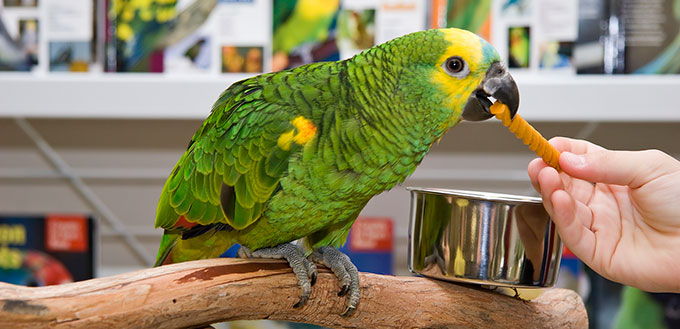 Parrots are well-known for the speaking ability, given that they are some of the smartest talking birds in the world, so you can expect to find a few of them on our list. One of the most popular speaking birds that you can find in the home is the Yellow-Naped Amazon.
Like most domesticated birds, you'll find that this Amazon will copy what their owner says – so be aware that any cuss words may end up in their vocabulary. They're able to learn from a very young age and can even repeated songs that they hear often. They will usually only bond with one human over others, after which your pet bird will likely pick up mannerisms and idioms specific to that person.
Budgerigar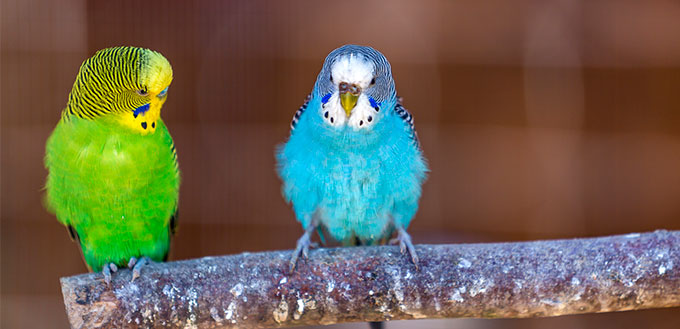 Hailing from Australia, budgies are one of the most popular options in pet birds. This fact isn't surprising when you consider that they are also one of smartest pet birds, which is why nearly 45% of birds owned in the US are parakeets. They naturally come with bright green coloring and their gender can be determined by the blue or brown cree, located above their beak.
They're incredibly social birds and require daily socialization, which means they are more likely to pick up words as you speak to them, at a much faster rate than others. Most of this species can learn between 300 and 500 words and phrases – with the record being held by a budgie in 1995, who could speak over 1728 words.
Cockatoo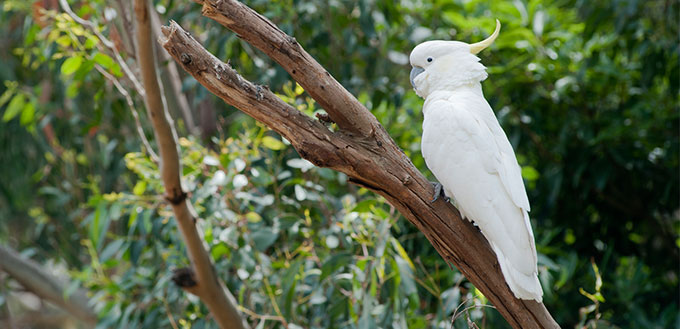 While a cockatoo may only be able to speak around 30 to 50 words, it's their ability to work with their surroundings and routine that makes them so impressive. It's not uncommon to hear a polite "good morning" when you come downstairs, for example, as your cockatoo will work with the habits that you help them to create. Thus, if you're after a bird that will speak autonomously, a cockatoo is a good bet.
They're also fantastic at copying intonations and inflections in your patterns of speech, over the actual use of words. They're known to "babble" a lot and their cheeky nature will definitely keep you laughing as you bond with your new pet.
Monk Parakeet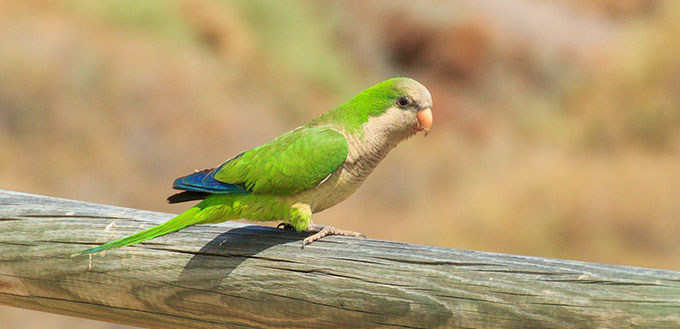 Also referred to as a Quaker Parrot, Monk Parakeets come from across the pond in Europe. In the wild, they naturally use at least 11 different sound types to communicate with each other, so their ability to cross the language barrier is inherently easier for them than many other birds. They will often mimic sounds they hear around the house, as well as words, and they're very good at associating actions with sounds, too.
They're very intelligent little creatures, often being able to learn between 50 and 60 words before they hit 6 months old. They are very sensitive to sounds and actions, and therefore require lots of love and mental stimulation, resulting in a happy, healthy and chatty bird.
Eclectus Parrot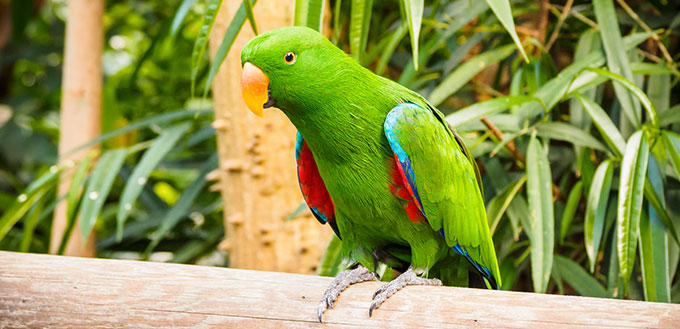 These parrots require training from a very early age in order to better acclimate themselves to the social pre-requisites of becoming a talking bird. They are, however, known for their clarity of sound – oftentimes even being able to fool their owners into thinking they are being called or similar.
This impressive feat is down to plenty of training and love, so be sure to give your Eclectus both. If they are feeling happy and well-cared for, they have even been known to repeat entire songs. Their natural voice is very melodious, and you can often find them perfecting their speech, which matches your own intonation perfectly.
Yellow-Crowned Amazon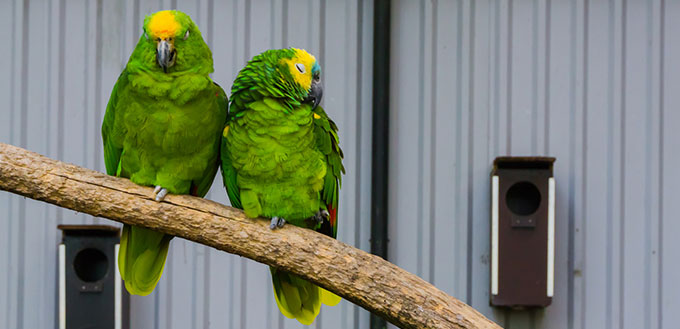 Similar to the Yellow-Crested Amazon, these birds are very talkative but require a lot of interaction. Some breeds may choose to never speak at all, while others can be very loud and chatty – all of which comes down to how often they are spoken to and how they are cared for.
They can live for up to 60 years so, as with all animals, a Yellow-Crowned Amazon purchase should never be taken lightly. They are also known for having a very loud voice which can easily carry – so you may wish to ensure the neighbors are suitably distanced before bringing one of these highly intelligent birds home.
Indian Ringneck Parakeet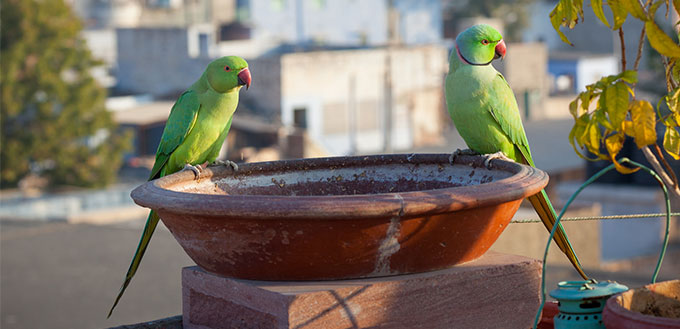 Loud and boisterous, the Indian Ringneck is known to never shy away from socialization and will require a lot of attention to keep them at their happiest. Thus, they will appreciate a happy-go-lucky companion who will spend a lot of time with them.
They are known to learn between 250 and 350 words on average, which gives them plenty of scope for picking up new sounds. They have even been known to sing along to music regularly. You'll find that these talking birds are most likely to pick up words and sounds from the background and imitate them, which can sometimes give their owners quite a shock.
Blue-Fronted Amazon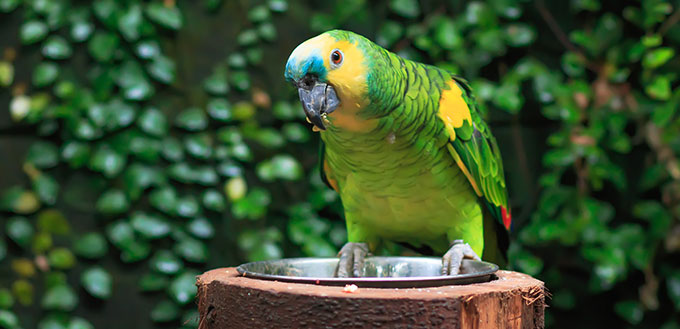 Another speaking birds from the Amazon family, these common household pets can live for up to 100 years and therefore become a lifelong companion. If you're willing to spend your life with a flying entertainer, then this is definitely the best speaking birds you could choose.
They require a lot of room, as they are larger than many of the other options on our list of best talking birds, and enjoy spending time with their family. Thus, they are not the right choice for those who spend a lot of time out at work or similar.
African Grey Parrot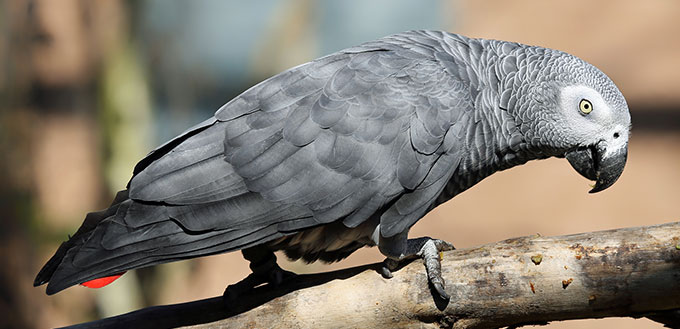 Able to live for up to 60 years, this is another lifelong companion that you'll need to take serious considerations of, before buying. The African Grey Parrot is one of the most popular birds in the world, especially because they are so social and can be extremely loving. They are known to only ever have one love in their life and will often groom their loved ones.
They are exceptionally intelligent, being able to recognise up to 80 different objects and being said to hold the same intelligence level as toddlers. They can hold conversations, as well as mimic sounds, and can even answer basic questions, such as the color of an item and different shapes.
Hill Myna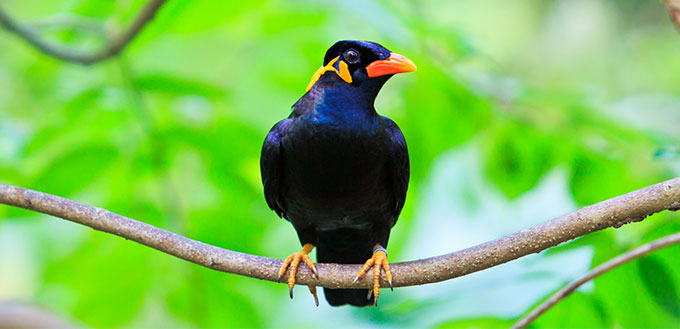 The Hill Myna is one of the least common options, perhaps because they look more similar to a blackbird than our other options, which are more commonly shown as domesticated birds. These birds are at their most vocal at dusk and dawn – so be prepared for some early mornings if you decide on this breed.
Their voice is known for a surprising range (though some breeds may be a little shrill)– although they will often be able to repeat what you say and learn new phrases, quickly. They are known as a "champion of mimics" as their clarity and tone is so greatly varied.
Honorable Mentions
We wouldn't be able to talk about birds talking to each other without mentioning some of the non-domesticated breeds. While you may never see any of these birds in a household cage, or even be able to see them out and about, they are still incredibly intelligent and are well worth the mention in a list hosting some of the smartest bird breeds in the world.
For starters, the Lyrebird easily comes as one of the least well-known but incredibly intelligent talking bird breeds. Being able to mimic everything from a car alarm to a chainsaw, this bird is known for mimicking other birds, too. Unfortunately, they were at risk due to deforestation, although the good news is that they are now cared for and no longer at risk of becoming extinct.
However, as we all know, intelligence doesn't just come down to speaking. Jays, for example, can plan ahead and make preparations based on how they may feel in the future – one of the very few animals to do this outside of humans. Then there's the Ravens, who can be both playful and cunning. They are known to play with their food, which can seem cruel at times, but they're also cooperative hunters, often acting in packs.
Source:
Top 10 'Talking' Birds, PetMD