When designing and renovating a new home, the floor is obviously a very important part of your considerations in every single room. This isn't quite as straight forward for cat owners however as cats, their paws, claws and needs have to be taken into account so that the floor that you do install is up to the challenge of keeping your cat calm as well as the ability to stay looking good for years and years to come.
Here is a guide to the best flooring for cats so that those that are renovating their homes can choose the best floor possible with the most informed decision bearing in mind the pros and cons of all the different types available. There are also some top tips on how to keep your final choice looking great so that you reap the best rewards from your investment. Some of these tips can obviously also be used on floors that are already down and perhaps need some help going back to looking their best again.
We investigate the benefits of hard flooring vs carpet vs vinyl options amongst many more. However, before any research and decisions can be made as to what floor to lay down throughout your home, you should think about four things first if you are a cat owner. They're good to keep in mind throughout all your floor shopping so that you don't end up getting lured by the look of a type of flooring that is sadly not suitable for homes with cats.
They are:
Being totally resistant to scratches. Cats may be light but they have long claws that are capable of leaving scratches on a variety of popular floor finishes, especially if the floor is slippery.
Being as resistant to damage as possible in terms of toilet accidents and if your cat is sick. Cats are not as prone to these types of tummy upsets like other pets like dogs may be, but it is still a big consideration for owners. Urine can stain a floor permanently if the wrong sort is picked.
Your cat's ability to walk across the floor itself in terms of traction
The comfort of the floor for your cat
In the main, these considerations need to culminate in a floor finish that is durable and long lasting.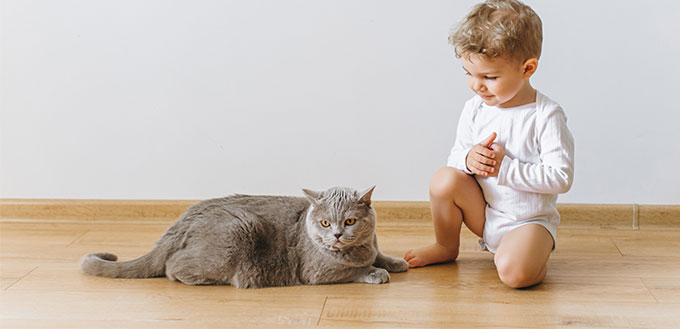 Cat Friendly Floor Options
There is no denying that hardwood flooring is one of the best looking floors available, however cat owners should perhaps consider the pros and cons of it before installing it in their homes. This is because it can be stained easily with both accidents but also with water which are difficult stains to eradicate and reverse.
However, if the hardwood look is the only floor finish that you will consider, there are a number of different variants that will be more cat friendly than others. They are oak, cherry, maple, hickory, walnut, mahogany, sycamore, and bamboo. The softer hardwoods are best to steer clear of given how easily they can be dented and scratched. As a good rule of thumb, the harder the wood that you choose, the more resistant it will be to scratches (and the less you therefore have to polish it).
If you are unsure as to how to ascertain how hard the wood is, there is a scale as to measure this hardness with. The higher the number, the harder the wood and therefore the better placed it is for cats and other pets. Cat owners should look for a number higher than 1250 to ensure that their floor finish is resistant to scratches.
Finally, cat owners should take into account what any hardwood they lay down is covered in for the final finish. It is best to try to have it coated in a product containing urethane as this will help your hardwood floor be far more scratch and stain resistant than otherwise.
Pros of Hardwood Flooring
Wide variety of colors available to suit all homes
Incredibly easy to clean as it is possible to both vacuum or sweep.
Cons of Hardwood Flooring
Hardwood floor is some of the most expensive flooring available
It is incredibly susceptible to water stains and scratches
Regular cleaning is needed to ensure no stains. It is the salt crystals that gather in cat urine that cause stains if your cat has an accident on the floor.
Carpet or Carpet Tiles
One of the best things about carpet is that the feel of it is incredibly comforting to our cats. For rooms that don't see a lot of foot fall, they can be a great option for homes with cats that are allowed in places like bedrooms as they can curl up and enjoy the overall warmth that carpets have. That being said, try to stay clear of varieties of carpets that have loops as they can cause your cat's nails to get caught which will not only damage your carpet, your cat could have their claws damaged too.
The main problem with carpet is obvious however. It not only soaks up liquid like urine, it also holds on to smells and odors. However, modern day carpets can be treated to be far more resistant to the usual problems that carpets can create when you have a cat or any other pet. They can even be treated so that they do not hold on to pet hair so cleaning them with a vacuum is much easier. There are a variety of treatments available nowadays and they are definitely something that cat owners should investigate. A treatment may add up to another fairly substantial cost, but that will be nothing in comparison to having to replace your carpet just a few months or a year down the line because it has been totally ruined by claws, hair, pet odors and other accidents.
You May Also Like: Candles for Pet Odor
Pros
Comforting underneath both cats' paws and human feet.
Offers a soft landing for cats who like to roam up high.
Huge variety of colors and finishes available for all tastes.
Those that look into carpet tiles can have squares replaced with ease should they need it
Cons
Can hold on to smells and odors easily when not treated initially
Can be difficult to clean when not treated initially
Quite prone to wear and tear, especially for those that own cats that like to scratch their paws on the soft carpet.
Bamboo
Bamboo is not often bandied around as a flooring option, yet it is a great idea for those that are renovating a home with a cat. It is naturally incredibly hard so that it is both stain and scratch resistant – in a way that many hardwoods most definitely are not. Additionally, bamboo is also a sustainable material given how quickly it grows, but also how strong and durable it is. It really is a great choice for those with pets who like the look of hardwood, but prefer the ease of a finish more similar to vinyl which requires far less upkeep to remain looking great.
Pros
Hardwearing so that it is a great choice for rooms that have a lot of footfall
Very resistant to general wear and tear
Resistant to stains from cats
Environmentally friendly.
Cons
Bamboo floors with a darker stain or finish can be more prone to damage from water and scratches from long claws.
Depending on where the bamboo is bought from, and the type that is chosen, it can be fairly expensive.
Cork
Bamboo and cork have many similarities that make cork a similarly good choice for a floor that is friendly for homes with cats. For starters, cork is environmentally friendly as well as having antimicrobial properties that mean that mold and other nasties do not grow as easily on it or within it. This is great for homes in terms of both your cat's health, but also yours as well. Plus, what is great about cork is that it is warm to touch like carpet so both you and your cat can walk on it even in the depths of winter without getting cold feet. Add to that how durable it is, making it perfect for hallways and kitchens, and you have yourself a great flooring option for all.
Pros
Resistant to water and therefore water damage or stains
Antimicrobial properties
Needs minimal upkeep
Absorbs sounds well
Cons
Can discolor if put down in an area of bright sunlight
Fairly easily scratched by claws
Heavy furniture can cause indentations
Laminate
Laminate flooring has grown in popularity over the years as its final look has started to morph and look closer and closer to that of hardwood, with just a fraction of the cost. Add to this how hardy it is as well as how durable it is, even for homes with a whole host of cats, and it can be a very good option. However, it can also be fairly slippery so try to use a finish that has some texture so your cat does not have any issue walking over it.
Pros
Easy to clean
Scratches are hard to see in laminate
Resistant to water
Cons
Some finishes are difficult for cats to walk over
Not as long lasting as hardwood
Stone Tiling
In terms of durability and being scratch resistant, stone tiling is hard to beat when it comes to flooring. Plus, it is easy to clean up any accidents or water spills after they occur. That being said, there are some varietals, that though are scratch resistant, will still require a fair amount of maintenance to stay looking good. These are the more porous varieties so bear this in mind before paying out for an expensive finish like marble. Additionally, stone floors are cold to touch so if you are set on having it within your home, you may want to look into underfloor heating as well to protect your cat's feet.
Pros
Easy to clean
Resistant to scratches
Cons
Vinyl
Vinyl is popular for laying down in homes with cats. Not only is it very affordable, it is also easy to walk on for your cat. Plus, with the wide variety of finishes and designs that it comes in, there is a vinyl floor option that suits all tastes. Additionally, it is very durable.
Pros
Resistant to both scratches and stains
Easy maintenance and cleaning
Does not hold on to smells
Cons
Is not particularly long lasting
If water spills are not cleaned up quickly, mildew can form.
Related Post: Pet-Safe Floor Cleaners
Top Tips For Keeping Your Floor Looking Great Even With A Cat
There are a variety of easy ways to keep your floor looking good as new even if you have a cat.
Remember to clip your cat's paws as often as possible so that they cannot scratch your floor's surface or ruin any carpet pile.
Clean up toilet accidents and water spills as soon as possible to minimize any staining.
Use a mat underneath your cat's feeding stations or bowls so that no overspill can cause any issues for your floor.
Put doormats at your front and back doors so that when your cat comes in, a great deal of the dirt on their paws are removed immediately
Have a specialized area for your cat to play in so that they do not ruin floors elsewhere with over excited behaviour.
Remember to stain or condition your floors at regular points over a year so that their shine and finish remains consistent over all of where the floor is put down. If scratches are very bad, look at having areas sanded and then restained.
How To Clean Up After Your Cat Has Had An Accident 
While cats tend to be good at using litter trays or going outside to use the bathroom in a way that not all other pets are, accidents still happen – perhaps if your cat is still very young or simply unwell. It's always best to see to these accidents as quickly as possible, but when doing so bear the following tips in mind:
If your cat has had an accident, try to soak up the liquid as much as possible and don't rub it into any carpeted area where the accident may have happened. Then, simply use an appropriate cleaning product for your floor and leave it on the area for a few minutes. Then rinse well with cold water and cover with a clean, color fast rag.
If your cat brings dirt into the home, hoover up as much of the debris as possible. Then follow the same steps as you would if your cat had had an accident.
A good homemade cleaning product to use is simply to mix a small amount (about a quarter of teaspoon) of washing up liquid with a mug or cup or warm water. This should be able to clean up either of the above stains without causing damage to your flooring.
A vinegar solution (just two tablespoons of white or clear vinegar mixed with about four or five cups of warm water) will help reduce odors from staying around your home and also minimize the chance that your cat will start using that area as a toilet.
Sources:
Catherine Holden Robinson, The Best Floor Tiles for Cats, The Nest
Dr. Patty Khuly VMD, Eight Flooring Solutions That I Swear By, VetStreet