Don't let your golden years be ruined by the 'empty nest' syndrome. You only need to choose the right dog to keep you company for the remainder of your life. Their loyalty never wavers and their companionship doesn't require anything from you except for plenty of hugs and cuddles, fresh water, and good food. They'll never question your decisions or shout at you for being forgetful. They are, after all, your best and most trusted friends. But which among the hundreds of dog breeds should you choose?
The 5 Best Dogs for Elderly People
Studies show that elderly people can greatly benefit from owning a pet dog. It enhances their physical, mental, and emotional well-being by providing them the opportunity to go out for a daily walk, socialize with other seniors who may also own dogs, and feel genuine happiness in the companionship that dogs bring. Here are 5 of the best dogs that you may want to have in your life.
Boston Terrier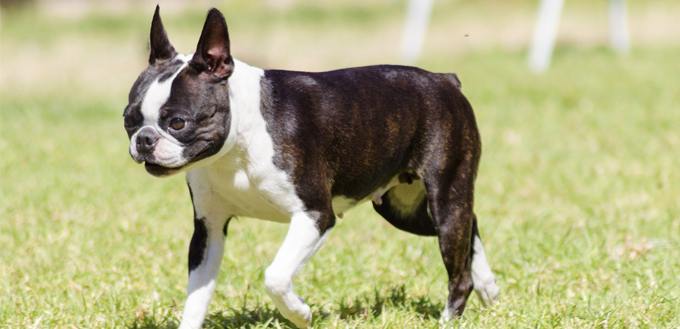 These are bred specifically to be companion dogs of elderly individuals. Why? Boston terriers love nothing more than cuddling up to and spending time with their human masters. They don't require any fancy grooming. They're generally friendly, too. And with a maximum weight of about 20 pounds, they are very easy to handle especially by an aging individual who may no longer have the luxury of strong muscles. The Boston terrier is a happy-go-lucky pooch, very playful yet possesses the intelligence and attentiveness to respond to the needs of their human masters.
You may also like our article on Dog Food for Boston Terriers.
French Bulldog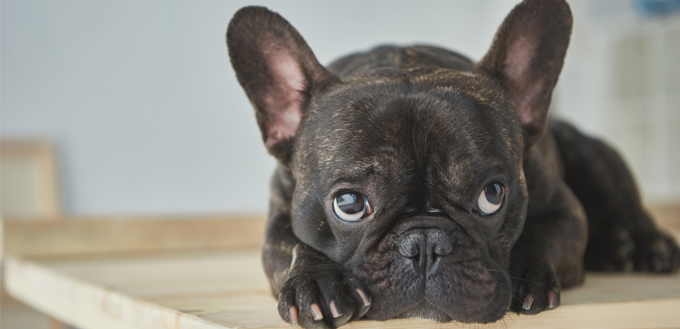 Known for being the clown of the dog world, the French bulldog makes for an amazing companion dog for elderly individuals for its affectionate, playful, alert, and pleasant disposition. It is very easy to care for as it only requires regular brushings. French bulldogs will require some amount of walking outside but a more important concern is to never take them out for a walk in temperature extremes. French bulldogs are lively and very enthusiastic but never yappy or loud. They are also very friendly to other pets which make them ideal if you're planning on getting other pets, too.
Check out our guide on Food for French Bulldog.
Pug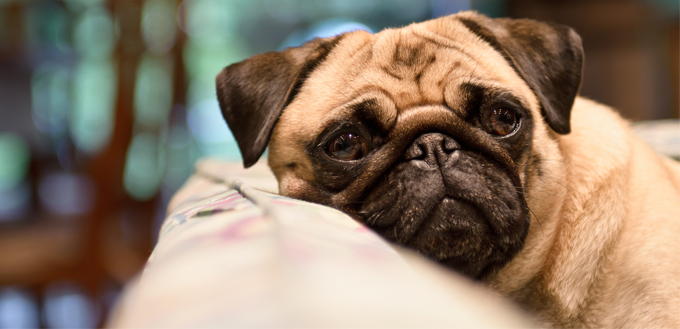 Very eager to please, Pugs have captured the fascination of elderly individuals the world over primarily for their charming and very adaptable personality. They don't require lots of exercise as their playfulness is often enough. But if you live in a rather warm climate, expect shedding to be more frequent. They are small, too, and have very fine, short hair which requires minimal grooming. You'd have to watch after the eyes, though as this can get easily irritated. They make excellent pets for senior citizens living in small assisted living communities, nonetheless.
Take a look at our review of Dog Food for Pugs for more options. 
Chihuahua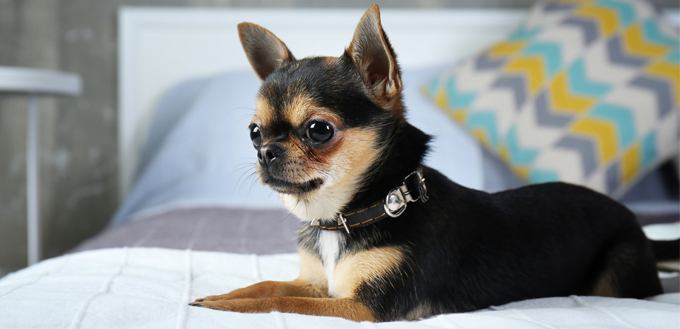 Their diminutive size belies their unquenchable spirit. Playful and love nothing less than being pampered and showered lavishly with affection, Chihuahuas make for excellent dogs for seniors especially those who live in small assisted living homes. You don't even have to take them out for a walk since their vigor and playfulness inside the home is already sufficient exercise for them. Watch out though as Chihuahuas are known for being overly protective and unquestionably loyal to their masters. This means if you're expecting guests every now and then, it would be wise to train your pooch especially if you have grandchildren visiting you.
Head over to our review of Dog Food for Chihuahuas.
Beagle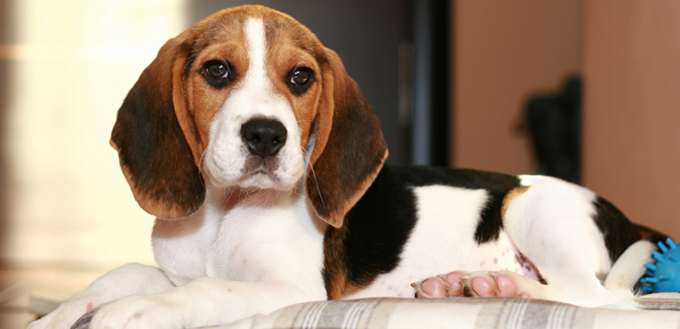 If you don't actually mind taking out a dog for its daily walk, then we recommend the Beagle. It's small yet very agile and has a very acute dog sense of smell. It is very curious and clever, too. It's lovable and friendly and is extremely affectionate of its owner. It doesn't really require very extensive grooming. It only needs some daily brushing of its fine coat and it's done. Sadly, they do shed a lot. As we have already mentioned, they will need daily physical and mental exercises which should be fun as you now have all the time in the world to do it.
See our round-up of Dog Food for Beagles.
Things to Consider When Choosing a Dog for an Elderly Person
Because dogs come in different breeds with different temperaments and characteristics, it is important to understand several things that you may need to consider first before settling on a particular breed.
Owning a mutt is all about matching your needs with what the breed can bring. If you're after companionship, a French bulldog, Poodle, or even a Welsh Corgi would be great choices. But if you're after their loyalty, a Chihuahua, Beagle, or Shih Tzu will be best. If you have a health problem or a special need, a Pug, Beagle, or French bulldog should fit the bill perfectly. If one of your concerns is anxiety, then getting a Pug or a Poodle might be a great idea. And if you're living in an assisted living community, a Chihuahua or a Boston terrier can make for an excellent choice.
You may also like our guide on Dog Food for Corgis.
Your current state of health including activity level 
Understand that dogs require exercise and playtime so they don't get bored and show undesirable behavior. If you have a medical problem that severely limits your mobility, then a breed that requires very little to no outside walks should be chosen. Getting a sedentary dog should also be considered as having a highly active pooch can put a strain on your current medical condition.
Hopefully, you have already decided to stay at home for good since you're now retired. But in case you do intend to travel, as what many retirees in their golden years are doing, then you need to consider who will be taking care of your dog while you're away. Some breeds don't do well alone.
Owning a pet is not cheap. You'd have to look after their welfare, too. From their food to their grooming needs as well as costs related to veterinary care, you'd have to consider these, too.
There's no question that dogs provide exceptional companionship and unparalleled friendship to the members of the elderly population. While these 5 best dog breeds for senior citizens are a good start for selecting the pooch to keep you company for the remainder of your life, you may have to think about other considerations, too.
Sources:
Robert Segal, M.A., The Health and Mood-Boosting Benefits of Pets, HelpGuide
Your Heart's Best Friend: A Canine Companion?, Harvard Health Publishing
AKC Facts and Stats: Seniors, The American Kennel Club