It's not always possible to give your dog free range when letting them spend time outdoors. Safety and containment are key, especially if you don't have an enclosed outdoor yard or your pup tends to escape.
But dogs do love to spend quality time in the fresh air, so on top of their daily exercise, dog tie-outs, trolleys, or tie-down systems can be the perfect solution. From a straightforward extendable cord to a clever pulley setup, these systems enable your pup to have their outdoor freedom while keeping them safe and secure. But which type of system is right for your dog and your space? We check out the best dog tie-outs, trolleys, and tie-downs so you can decide.
Key Takeaways
- If you are looking for a way to secure your pet in an open space, then a tie-out or trolley system could be the answer
- Available in different lengths and ratings for the size of your pet, dog tie-outs secure your pet but still give them the space to move around
- Dog tie-downs, on the other hand, should only ever be used when you need to secure your dog in a smaller area for a short time
- A dog tie-down can be useful if you need to keep your dog still for activities such as grooming and nail clipping or to help with behavior training.
- Any dog tie-out system should only ever be used under supervision, and your dog should not be tethered for prolonged periods.
- A dog tethered for too long or on too short a cable can become aggressive as they are not able to retreat to safety
What is the Difference Between Tie-Outs, Trolleys & Tie-Downs?
Before we start with our review, here's a quick overview of the three main types of tether systems you can buy, depending on your outdoor space:
Tie-Outs
Usually, including a ground stake and a long, durable cable, dog tie-outs are good options if you need a simple but effective way to secure your dog outdoors. The length of the cable can vary, so you must always ensure it is suitable for the outdoor space you have. The stake is secured in the ground and then your dog is attached to it via the cable, giving them the freedom to move around within the 'orbit;' of the central stake.
Trolleys
Effectively a pully runs for your dog; a dog tie-out trolley system takes the simple tie-out idea and adds in greater freedom of movement for your pet. It includes a suspended pulley that moves along an overhead cable as your dog wanders and enjoys his outdoor space. A dog trolley system does take some time to set up, but it is sturdy and effective, making it a great choice for spaces with no fence or enclosure.
Tie-Downs
A dog tie-down is a shorter version of a dog tie-out and involves a limited cable of a couple of feet in length which can be secured to an anchor point. Dog tie-downs are ideal as temporary solutions to tethering your dog for short periods while still giving them some room to move. Good uses for a tie-down include visits to the grooming parlor or, when you take your pup with you for a lunch date, alfresco. They can also be a handy tool for obedience training.
The 10 Top Rated Dog Tie-Outs, Trolleys & Tie-Downs
Pros
Cons
Bottom Line
Rating
How to Choose the Best Tie-Outs, Tie-Downs & Trolleys
For your dog's safety, comfort, and controlled freedom, you need to take some key factors into account when choosing a tie-out, tie-down, or trolley:
Why you need it
It's important to pick the right system for you and your dog. For example, a tie-down is a good choice if you want to limit dogs' movement for a short time for obedience training or grooming. But for longer periods outside for exercise and general chilling, you should consider a longer-cabled tie-out or trolley.
Your dog's weight
It is also essential to know your dog's weight before choosing your preferred system. Whether a tie-out, tie-down, or trolley, the device needs to be matched to the size and breed of your dog so that you can be sure it is strong enough for them when they pull with their full weight. What you don't want to happen is for the line to snap when your pup is in full flight, chasing a bird or rabbit, for your example. And don't forget to check the method of fixing the cable to ensure it is strong enough.
Length of cable
As well as its strength, the length of the cable needs to be appropriate to your outdoor space and your dog's needs. You don't want surplus slack so that they can wander too far or get themselves entangled around an obstacle, but you also need to ensure it allows them the freedom of movement they need.
Durability
You want your new tie system to last and remain safe to use. And this means looking for a setup made from durable material – ideally an anti rusty vinyl cover – that can work well in your outdoor environment. It also needs to cope with the weather and lower temperatures, so opt for an that can withstand the heat, cold, humidity, and rain.
Visibility
When keeping track of your canine buddy, you need to be able to see their tie-out line or cable quickly and easily. A reflective line is an ideal solution as it means you can see your dog from a distance during the day and when the light is lower.
Are Tie-Outs Safe for Dogs?

Used correctly, the best dog tie-outs are perfectly safe for your dog and can benefit from their time outdoors if you do not have an enclosed space. But always read the manufacturer's instructions before setting it up for use. And there are some essentials you must do when using any dog tie-out system to ensure your pet's safety.
Top of this list to keeping your dog tie-outs safe is that they should not be left unsupervised (constant supervision is strongly recommended) or be used for prolonged periods to prevent them from getting entangled. Leaving a dog for a long time tethered can also be bad for their mental health as it means they cannot retreat from a perceived threat and so could develop aggressive tendencies. Dog ties outs should also be appropriate to your dog's size, weight, and needs, and their movement range will keep them in a safe space.
Finally, use a dog harness to give them the most comfortable tie-out experience without causing too much body pressure when they lean their full weight against the full stretch of the cable. Or, if you do need to use a collar, then only ever use a traditional design to ensure at no stage is your dog's neck under undue pressure and their breathing restricted.
The Benefits of Using Tie-Outs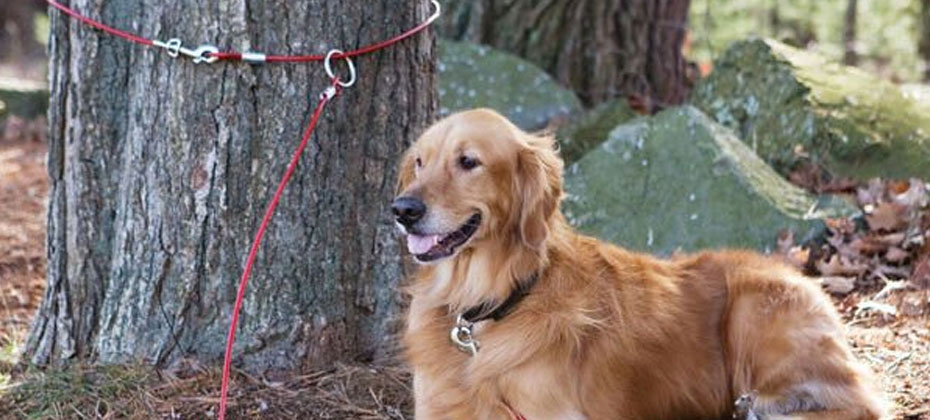 While a tie-out system should only be used when necessary and not for prolonged periods, there are times when dog tie-outs can benefit both you and your pet, including:
For training
A tie-out stake can be a good kit if you are starting obedience training with your pup or young dog. It allows them to make mistakes when practicing recalls, etc., without you running the risk of losing them. 
When you are traveling
Many of us love to take our dogs with us when we travel, whether that's a day away to the beach, a weekend camping trip, or a full-on vacation. But unfortunately, the places we stay and visit often don't have enclosed, pet-safe outdoor spaces where portable dog tie-outs can come in.
For safety in an unenclosed space
Not all yards and gardens are canine-proof, especially if you have a large dog or a pup that is a master escape artist! But all dogs love to chill and play outdoors, particularly when the sun is out. So, with a tie-out cable, your pup can securely join you outdoors for a relaxing, fun afternoon in the garden, even if you don't have a fenced yard.
To keep your pup still
Grooming, health checks, and nail trims are numerous reasons you may need to briefly secure your dog in one place without holding on to them. With a tie-out or tie-down, you can safely manage your dog while keeping both hands free to do the job at hand.
How Long Should a Dog Tie-Out Be?
While tie-downs should have a limited length (generally no more than 3-5 feet), there is no standard maximum length for a dog tie-out. Instead, you need to take your dog's size, roaming needs, and dimensions of your outdoor space into account before choosing the most appropriate tie-out length. Before setting a long dog leash on your tie-out cable, you must also consider environmental safety. And this includes checking for any hazards in the area to prevent entanglement. Your dog's activity level – is he an outdoor snoozer, or does he like to keep pacing and active – will also dictate the ideal cable length.
And finally, how long your dog will be tethered should also be factored in. The longer your puppy is outside, the longer the length of the outdoor dog cable so he can entertain himself and get the leg stretch he needs.
How to Install a Tangle-Free Tie-Out System
If entanglement is the main concern, especially if you have more than one dog, you can opt for tangle-free dog tie-outs. These neat systems feature a base from which the cables can swivel 360 degrees to give your dogs the space to roam without the cable wrapping around the central tether. They can also be as simple as a central spiral in-ground stake, which is easy to install and portable.
Whichever design you choose, always follow the manufacturer's setup instructions. But to help, here's a video guide on installing a tangle-free tie-out system for two dogs.
Can You Use a Harness With a Tie-Out?
Yes, they are advised to use with a tie-out system. A harness offers your dog comfort while keeping them secure. And a harness also means that they won't have any unpleasant pressure on their neck when your dog pulls on the tie-out line.
Different Kinds of Dog Tie-Out Systems
As we have seen, a dog tie-out system is an affordable and effective way to give your dog security and freedom when in an outdoor space. And depending on you, your yard type, and your dog, there are several different types of dog tie-out systems to choose from.
Stake
Super-portable and straightforward, dog stake tie-out is the most common type. Ideal for softer ground, lawns, and borders, you secure the stake into the ground and attach the tie-out cable or line.  These are also good options if you like to travel with your puppy as they work well on beaches and sand.
Corkscrew
A corkscrew tie-out is like the straightforward stake but is fashioned into a corkscrew to give your dog greater freedom of movement and more security in the ground. Corkscrew tie-outs are good if you have a large or stronger dog. They are good for camping trips too.
Swivel base
Ideal for multiple dogs, or if you want to prevent entanglement, a swivel base tie-out is typically a floor mount secured with an anchor. They can also be secured permanently in your yard. You can get multiple attachments for your pets, and more security as many swivel style tie-outs are designed to withstand a lot of dog-pulling. The downside for dog owners is typically the more expensive type of dog tie-out.
Retractable
Besides fixed-length cables, you can also choose a dog tie-out system that includes a retractable line that moves in and out with your dog for extra safety.
Always remember, whichever type of tie-out system you choose, you should never leave your dog unattended or use them for prolonged periods to ensure total pet safety.