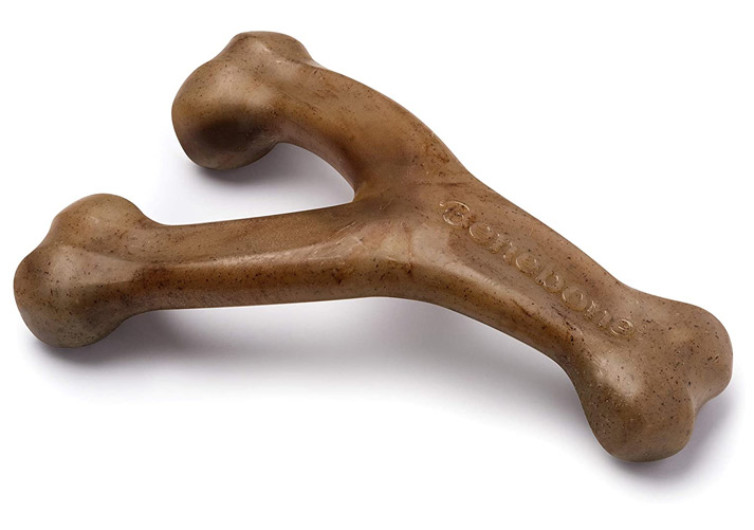 Benebone Real Flavor Wishbone Dog Chew Toy
For young puppies in particular, Benebone Wishbones are lifesavers. No longer will pup parent despair when they return home from a day's work to find that their young pup has torn their cushions and drapes asunder. Instead, dog owners will come into the glorious sight of their puppy chewing their Benebone!
No wonder dogs aren't interested in chewing up your cushions given the array of delectable flavors within a Benebone. The choice is yours between real bacon, chicken, and peanut butter. The chicken Benebone even contains chunks of chicken to spoil dogs' taste buds with an extra burst of flavor every few bites.
However, it certainly is a shame that the dogs belonging to households with nut allergies cannot enjoy Benebone's Wishbone too due to the fact that these bones are made in a facility that nut-based products are created in. Another major shortcoming is that the edges of these nylon bones can become extremely sharp over time. If this does occur, the best scenario is stepping on them and experiencing only a few seconds of mild discomfort, whereas the worst is that these sharp bits of the bone damage the soft tissue of your dog's mouth.
Yet we believe there's nothing a Dremel tool cannot solve to file the sharp bits of the bone down once they arise. Although many owners don't see the point of this, believing that using a Dremel will remove the bone's succulent flavors, the taste within Benebone's Wishbones are actually ingrained into the material. Why not get yours and find out for yourself?
You may also like our ultimate guide on Dog Chews.
Benebone's wishbone is innovatively designed to grant dogs a secure grip when chewing
Made in the USA out of premium ingredients
Keeps aggressive and heavy chewers entertained for weeks on end
Company offers a money-back guarantee if your dog isn't delighted with their wishbone
How Does This Product Work?
It's simple really; Benebone Wishbones work to provide dogs with a durable bone packed full of flavor to chew on. Owners don't have to do anything apart from buy one – the team over at Benebone will take care of the rest.
Although no set up is required, the company do state that owners must keep an eye out on the wear and tear of the bone. After a month, it's likely that aggressive chewers will have completely decimated the bone to the point that it's unfit for use. Light wear on the surface of the bone means the wishbone is still in adequate condition for your dog to chew upon, but if more than a sugar-cube's worth of product is gone, it's time to toss.
Take a look at our latest review of Indestructible Dog Toys.